Well, its time to start planning the build of my next wheeler, my beloved red '80 Brat Rusty

Right now my Brat is pretty much stock with a few tweaks. EA71 with polished 1400 intake and a Weber, factory winch bumper and high roll bar, custom rear bumper to match the front, dual exhaust with X-pipe and glasspacks, and 175/80R13 snow tires.
My plans as of now are full subframe, Nissan 720 T-case, 5-speed D/R, Hi-Po EA81, 4.11 Early Legacy front and rear diffs, 8" lift on the body, 10" on the suspension, widen the front wheel track by 6" to EA82 specs, widen the rear by 7 1/2" to EA82 specs, EA82 front and rear axles, modified EA82 front control arms, modified Gen 1 rear torsion arm assemblies, EA82 disc brakes front and rear, EA82 front knuckles and struts, welded rear, full Dual exhaust with X pipe and glasspacks to the rear, 31/10.5R15 tires on some decent looking 15" 6 lug steels.
With the T-case and 4.11 gears I will have a crawl ratio of 46.6:1 or so, not acounting for the tires. Still a lot better than stock 5 speed ratio of 22:1.
This is what I will be jigging up my setup on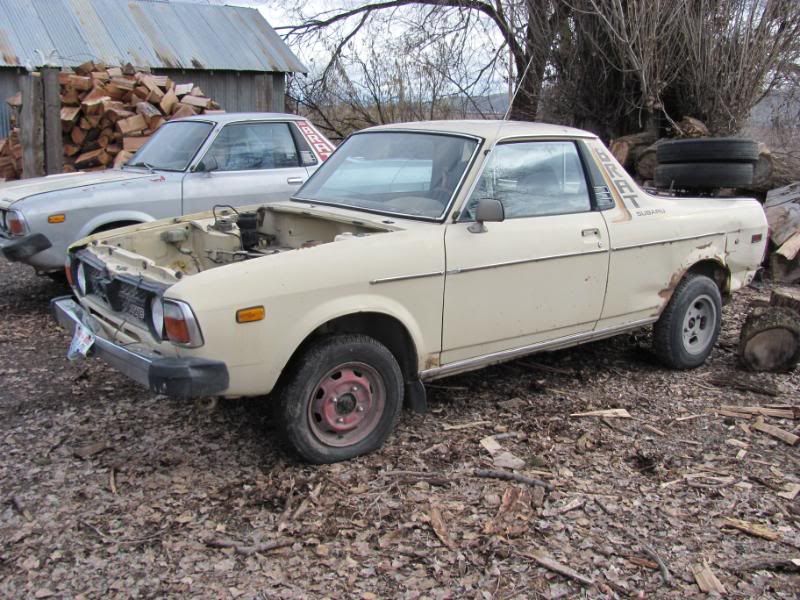 Once the drivetrain and frame and suspension is all set up on this, I will drop my red Brat body onto it. If I am lucky I might have it running by the Walker meet or WCSS12. Right now Rusty is one of my daily drivers, so thats why Im using another Brat to get setup on.
This should be pretty sweet when its done, the Gen 1 body is so narrow and light compared to an EA82 that it should be amazing off-road. I might even splurge and buy some 31/12.5 Super Swamper Boggers for it

Progress pics to come!
-Bill
Edited by The Beast I Drive, 20 March 2010 - 10:04 PM.