Suspension Improvements
For the third Gen Subaru Leone
(also known as: DL, GL, GL-10, RX, RS, GT, GTi, ST, Omega, Winner, Loyale Royale, Vortex and even as Isuzu Gemminett II,
depending on the Market, but here will be referred to, as the "EA82" for easy reference.)
However, since the Second Gen Subaru Leone (EA81 / Brat) uses the same diameter and tall coil springs on the Front, being different on their spring rate and load rates only; you can use the third gen Leone's (EA82) coil springs on the second gen Leones (EA81), also you can use the Alternative coil springs from another automotive makes, which I mention here, on the second gen Leones, but their suspension could get way too stiff and might need a small cut off on the coil spring's wire, to work.
Remember: going too weak or too stiff on the suspension on any car, could make you loose control of it, mainly on irregular terrains, so this could be Dangerous if you don't know what you're doing.
Disclaimer: Use this information, and All the information I post, at your own Risk!
---
Introduction:
Please note that this writeup is intended to give you ideas to make stronger the Suspension, intended for rude use / offroad \ heavy loads; it gains a Sporty feeling, but the suspension could become harder, Stiffer. The modifications written here, has been tested with great results on the third gen Leone (EA82) Wagon only.
My dad purchased this 1985 Subaru Wagon EA82 new that year; I've done regular maintenance and lots of repairs on it since then; when this subie became mine, I did many modifications and named it: the "BumbleBeast"

I've Been part of this Great Club since year 2001 and I've Learned a Lot (mainly here, in this Awesome Website) about how to fix and improve many Things, but I personally have Discovered by myself, many other things about those older subie Models, things which I've Shared here with you, like the following suspension ideas... Let's begin!

---
In this Writeup:
► Shock Absorbers and Coil Springs.
► Alternative ones from non-Subaru cars.
► Their part numbers.
► Photos.

---
First Part:
modifying the Suspension with other cars' Parts:
---
About The REAR Suspension:
In my own humble opinion, the subaru's weakest suspension part is the Rear shock absorbers; no matter how careful I drive, if I hit a pothole with some Load on the car, is almost sure that a Rear shock absorber will say Good Bye...
Those are somehow, the "Achilles Heel" of the Subie:

The trail arms, of the front wheel drive (2WD) Subarus, have a different mounting point (perch) for the Shock Absorbers than their four wheel drive (AWD) counterparts, as you can see in the following photos:
The 2WD ones mounts the shock absorbers in the position where normally goes the constant velocity joint (Axle)...
...while 4WD ones have the said mounting point, raised,
two inches higher on their trail arms, to let the axle pass.
So, Subaru made two different Rear Shock Absorbers for the EA82: The Front wheel drive (2WD) Models' Shock Absorbers, has the base plate for the coil spring, welded to their bodies, two inches (2") Higher than the four wheel drive (AWD) ones, to compensate the lower mounting point (perch) on the trail arm; and both models use Same Coil Spring.
2WD .Vs. 4WD

► Using a 2WD shock absorber, on a 4WD subie, will lift the rear, due to the Higher position of the Coil spring's base.
Then Subaru Suddenly changed the Production of those two, for one "Universal" Rear Shock absorber, which featured Adjustable Base for the Coil Springs, so you can place said base Up or Down (2" of Difference) and also included a "Middle" (1") Position; Despite the Coil Spring's Base position, the Total damper travel of those "Universal" Subaru Rear Shock absorbers, is 160 mm / 6.3" inches.
Here is a Photo of said "Universal" Rear Shock Absorber,
with Part Number and KYB equivalence:
The Subaru Part Number for the Spring Coil's Base (seat) is: 21025GA230
But those Rear Shock Absorbers are Still Weak to handle our Horrid Roads, plenty of Potholes -and even Potholes inside the Potholes- with my Loaded Subaru "BumbleBeast", especially during my Usual offroad Weekend Mountain Travels; and I wanted my Subie to be Taller without a Lift kit in the Rear.
---
Chapter 1:
How to Improve the Rear Suspension:

First I Needed Stronger Coil Springs for the Rear of my Wagon, because Usually I Travel with it Fully Loaded and many people in our very Bad Roads; also I do many Weekend "Mountain Adventure" Family Travels offroading; so, let me explain my own Method for searching and finding suitable replacements:
I took off one of the Old Rear coil springs in order to take measurements of it with my vernier scale (Caliper Tool known here as "Pie de Rey" = King's Foot), and then I carried it as a Sample for comparison purposes, to the local Junk Yards; then I searched, and searched for suitable replacements, among piles of coil springs and strut assemblies, found on many different local Junk Yards, called here "Yonkers" as you can see in the following photo:
Honduran "Yonkers" are different from the regular "PaP" (pull a Part) or any other USA version of a Junk Yard; they receive the cars and disassemble everything; sending the unuseful things such like crashed metallic bodies and cracked plastics to the Recyclers; and then they classifies everything in "Areas" so, you can find in a Latin American "Yónker", one area dedicated solely to Doors, other area dedicated to Engines, other areas for Starters, Alternators, Seats, Headlamps, Struts, Mirrors, Transmissions, etc, etc, etc, let me share with you a photo of a typical Latin American "Yonker" (Junk Yard):
I went there carrying my Vernier Scale and made annotations of the Measurements found on the Coil Springs that could be suitable replacements; then I came home, contrasted those measurements and researched online further information regarding those coil springs that I found to be as possible candidates; because they don't only need to have similar size and shapes; they must be of similar capabilities.
The variables that I compare, are their Measurements, Spring Rates, Load Rates and Wire Diameters, to find the perfect ones for the application. I wanted taller coil springs with similar diameter and shape, but with increased load rate / spring rate, under certain margin, because you can not go too stiff nor too soft on them, otherwise the stability and safety of the car would get compromised.
So after many search and research, I found that the Subie's Rear Coil Springs are almost the Same Size, Tall and Wide than the Honda Accord's Front Coil Springs (1986 ~ 1989) but the Honda ones have Thicker wire and it has Two More Turns than the Subie ones; so I Swapped the Rear Subaru Coil Springs with the Honda Front ones; it Makes the Subie More Capable to Manage the extra Weight when is Loaded, without going too low; also the Honda's Coil Springs does Lift the Subaru's Rear in two inches (2") and its Movement & Handling while Driving in Unpavemented Roads / Pot Holes, becomes Firmer and Sportier. So they gets rid from the Bouncing and Saggy Butt.

The Front Honda's Coil Springs that Fits on the Subaru's Rear, came from the 1986 ~ 1989 Honda Accord, (The Prelude from that Era has them too) it could come either from the Manual or Automatic, With or Without A/C, but Keep in mind that the Hondas with manual trans and without AC, does have weaker Coil Springs than the Hondas with Auto Trans and A/C, so I chose the Stiffer ones.
The Part Number for the Honda's Coil Springs, is:

~► MOOG CC248 for "Moog" Brand.

~► NCP 2775298 for "Napa" Brand.
So, How to get Rid of those weak Rear Shock Absorbers?
My Subie was in dire need of Stronger Rear Shock Absorbers, so after Searchin' and Researchin' a Lot using "my own method" that I explained above, I Found This permanent and simple Solution:
To Swap the Toyota 4Runner's Front Shock Absorbers in the Place of the Subaru's Rear ones!
(Despite that this two photos says: "Subaru 4WD" the shock absorber shown on them, are "Subaru 2WD" the ones with taller spring perch. Sorry, that was an involuntary mistake while editing the photos on a hard day's late night...)

As you can See in these Photos, the Toyota ones has the Same extended Tallness than the Subaru Ones; Also the Toyota ones has the Same Wide Base for the Coil Spring and they use almost the Same Design; But the Toyota Ones are Thicker and Heavier, have a thicker bar, they're more Capable to manage the Stress of Riding in my Crazy Country Roads, especially for offroading with a Fully Loaded Subaru Wagon.

(Subaru 2WD shock absorbers shown on this photo)
The Subie Ones had their Threaded top of Nº 10 mm and the Hole opening on their Base is for a Nº 10 mm Screw; While the 4Runner ones has them Nº 12 mm Screws; So the Subie's Nut on the Base for Nº 10 mm Screw had to be Removed in order to Use a Pass-Thru Nº 12 mm Screw with its own Nut and locking washer.
The Subie's Part for the Shock Absorber's Top shall be Modified too, in order to Accept the Nº 12 mm Screw Size instead the Older Nº 10 mm One, I Just made the Hole Larger; pretty easy!

For Those who want the 4Runner's Shock Absorber Part Number, it is:
~► KYB 341232
in KYB (Kayaba) Japanese Brand
The salesman from the Aftermarket parts store where I purchased those KYB 341232 Shock absorbers, said that those are for the Front of a Toyota 4Runner for the 1998 model year; However, Toyota used the same platform and shared these shock absorbers in the Hi-Lux Surf, and the Land Cruiser Prado / Colorado (J90) Which is a very Popular car here, in LADM (Latin American Domestic Market).
The Following is a Screen Caption of a website that I Saved long time ago, where you can find the Original Toyota's Part Numbers for their OEM Shock Absorbers...
According to online databases, it does interchange with:
~► Monroe D8344
~► Sachs 230631
~► BOGE 27-D67-A
I Tested the KYB 341232 only, any other Toyota Shock Absorber could be "Visually" Identical, but might have some differences, such like even shorter travel, Harder ride, Thicker Body, etc ... So I Kindly suggest you to Stick to the KYB Part Number I Provided, I can not guarantee to work the other ones...
My Subaru "BumbleBeast" Runs very well with that Setup:
Toyota Shock Absorbers + Honda Coil Springs in the Rear,
since many, many years ago...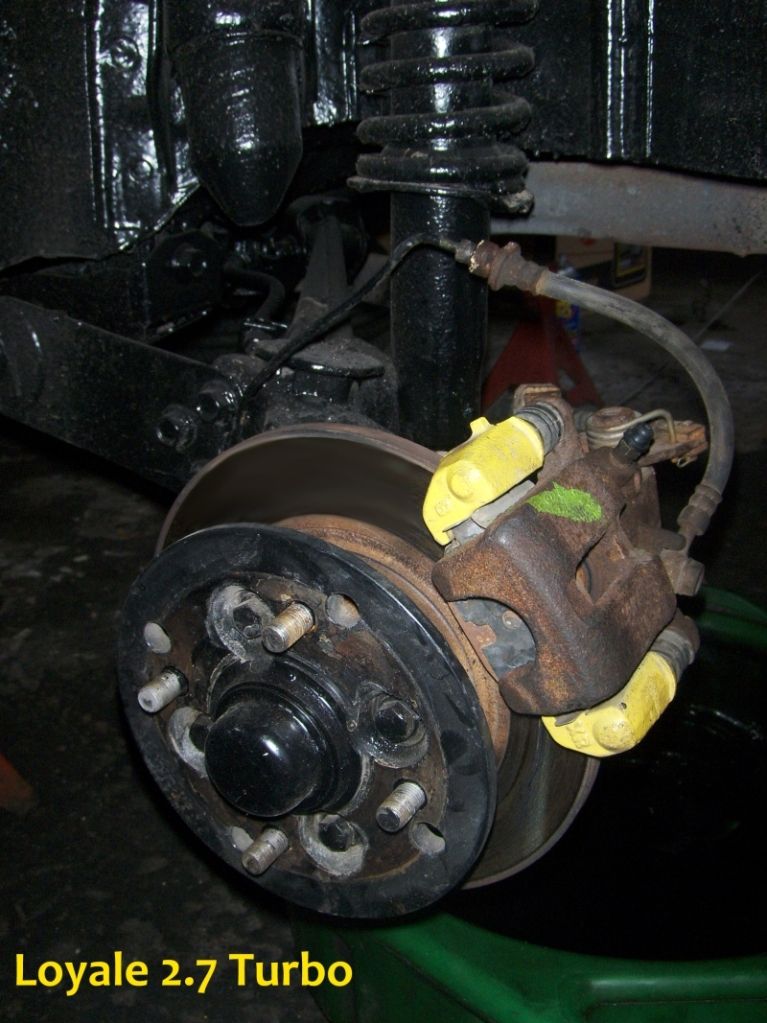 ...despite that they has only 4.3" of total damper Travel.
(as I wrote above, the Subaru rear Shock Absorbers has 6.3")
But that shorter travel is not an issue, because the Coil Springs won't let it go down more than 4" under compression, and the total expanded -extended- lenght is Equal to the Subaru's ones, as you can see in the photos above.
In case you need to do a Rear Alignment on these Subaru Models,
here is the Factory Guide about how to do that:
► IMPORTANT NOTE: You can use the 4Runner's shocks along with the subaru coil springs, to keep the original height of the suspension. If you use the Honda coil springs, the rear suspension will be lifted two inches (2"), stressing the angle of the rear axles in 4WD (AWD) models only. (You might drop the rear differential a little to compensate the lift) The 2WD (FWD) models doesn't have any problem with that configuration.
---
► LEVELING ISSUE: Since Those front Honda Coil Springs does Lift the Subaru's Rear two inches (2"); after that Swap, I had to Lift the front of my "BumbleBeast" an equal amount to compensate, using lift blocks, as you can read the complete information and see many photos about that, ~► Here, but also, below you'll see a photo of said lift blocks already installed.
---
About The FRONT Suspension:
The 4WD (AWD) Shock Absorbers has a 5.75" / 147 mm in Total damper travel, While 2WD (FWD) Shock Absorbers has a 6.12" / 155 mm in Total damper travel. Since I couldn't find any 2WD (FWD) Shock absorbers locally, I installed into my "BumbleBeast", new Monroe Front Shock Absorbers for the XT; this are their part Numbers:
Passenger Side: ~► 71876
.................Driver Side: ~► 71877
---
Chapter 2:
How to Improve the Front Suspension:
Next, I wanted to install Firmer Coil Springs for the Front of my Subaru, as I already did on the Rear, to have equal balance of handling and sportier feeling (Harder / sportier Suspension).
Initially, I searched for stiffer Coil Springs for the Front of this models of Subaru, on year 1999; Because my 2.7 Wagon (now dead) Project, had the Heavyweighed ER27 engine, plus a Fiberglass & Metal sheet Reinforced Front Bumper; I Needed Something Stronger than the EA82's coil Springs to better carry that extra weight.
So, using "my own method" which I described with details above; I Found that a suitable replacement are the front coil springs from a Ford Tempo; which looked pretty similar to the Subaru ones, but having around two more Turns and a thicker wire.

I found those Tempo Coil springs on year 1999, already taken outside their car; (they only had a Mark done with white paint marker on them, that said: '94 Tempo) and originally I used them on my Loyale 2.7 wagon project; but since it is dead (More info, ~► Here) I decided to remove certain parts from it to make my EA82 Weberized Wagon (Now renamed as the BumbleBeast) a Better car, with the Better parts from the two; including the front Tempo coil Springs.
So, I installed those Tempo's Coil Springs on the front of my "BumbleBeast" and those add to the Front Suspension the Same Firm & Sporty Feeling that the Rear suspension obtained with the Above written Modifications.

► IMPORTANT NOTE: The Ford Tempo Coil Spring's total radius -diameter- is Half inch (½") smaller than the Subaru ones, but that is Not a problem, I Drive my Subaru "BumbleBeast" with them since Years ago and they doesn't "Shift" nor make any clunk noise. Somehow these front coil springs from the Ford Tempo, aids to keep the Camber / alignment within specs; other coil springs that has been tested on the front of these Subarus, makes the camber to be even Worse...
Further information on the subject, photos and even a Video can be found, ~► Here.
(thank you Bryan Dudas / Subaru Adventures \ Anderson Design and Fabrication, for your kind words)


According to the info I obtained back then from the Junk Yard's salesman, the Front coil Springs came off a basic 1990's "Second Gen" Ford Tempo with in-line 4 Cylinder engine and manual transmission; Those are "Non-Progressive" Coils, so they measure the Same between each turn. I searched on internet for The Part Number for those Ford Tempo Front Coil Springs,
So those should be:

~► MOOG CC854 for "Moog" Brand.

~► NCP 2775375 for "Napa" Brand.
These are the Lift Blocks I had to use in the Front, to compensate the Rear Lift,
as I explained in the "Leveling issue" note, written above:
► IMPORTANT NOTE: The Ford Tempo Coil Springs I used, came out from a used 4 cylinder Tempo, so they were used and not as Stiff as brand New coil Springs, so I didn't had any fitment problems nor had to trim them; but People who has brought those Coil Springs brand new, had to Trim them up to 1.5 Turns, especially the Moog CC856 because those are "Progressive" which means that they has different spaces between coils and they're intended for heavier V6 Automatic Tempos, and are even Stiffer than the Moog CC854 I Used, so I don't recommend to use those uncut, they might be too stiff for the Subaru.
---
Also, I found that the Front Coil Springs from the Kia Sephia (first and second generation), are almost identical to the front coil springs on the Subaru Loyale; but the Kia Sephia ones have a thicker wire (around 2 mm) and the Sephia ones have a slightly bigger total radius, but they fit on the Subaru's shock absorbers; and the Sephia ones have an increased load capabilities. Let me Show you:
They're almost identical, here are the Sephia's ones, Load Capabilities: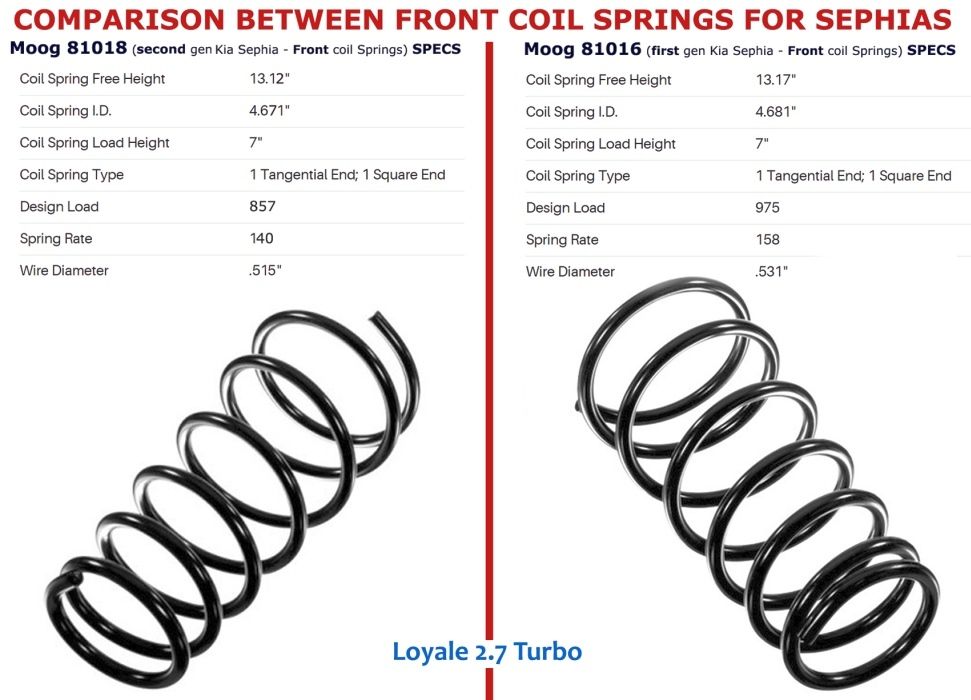 Even the first gen Sephia, has an increased load ratio than the second gen Sephia.
---
The ideas in this writeup are for those who are interested in Improving the Suspension of their Subies (Specially for Off-Roading), let me Tell you again that this Mods are intended for a More Rude Use and Longer Lasting Parts; not for Confort; so be adviced that the Ride will become Harder, with the stiffer suspension.
Despite that, I use my lifted Subaru "BumbleBeast" as daily driver on city roads & Highways during weekdays (60% usage) and offroading on Weekends (40% usage) on our usual "Mountain Adventure" travels with my Family + Luggage, toys, food, etc...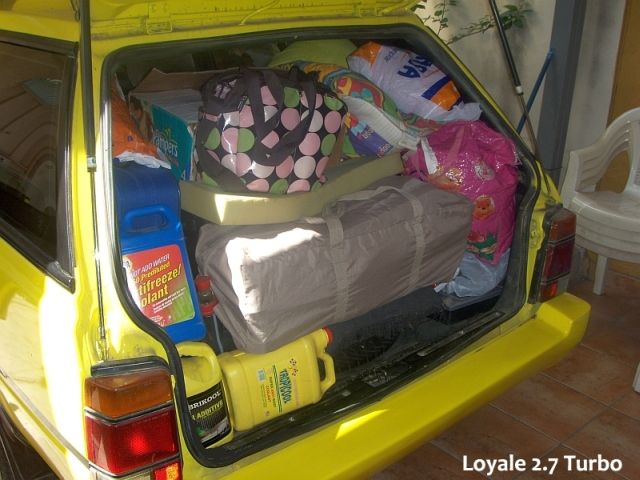 ...to Drive my Modified Subie with those 4Runner Shock Absorbers + Accord's Coil Springs in the Rear, and the Subaru XT Shock Absorbers + the Tempo's Coil Springs in the Front, Changes the Handling & Feeling of the Subie in the same way you'll notice while Driving a Police Car after being Driving the Civil Version of it before.
---
I've Test Drove it Unloaded and Loaded, up to 160 KPH (100 MPH) in Highways...
...Bad Pavemented Roads and gravel off roads...
...and it Feels Really AWESOME!
...

...
but rides Pretty Hard to be a "Family Wagon" anymore.
---

Please see further details on the Second Part of this Writeup, below!
Edited by Loyale 2.7 Turbo, 10 August 2016 - 08:33 PM.