I'm basically trying to get as much assistance as possible regarding the motor i'm putting together for my FF-1 project. I'm not getting much help in the main thread, so I'm going for the actual engine information section for this.
Anyway, here is a short brief for the un-initiated:
Its an old EA motor, EA63 to be exact (1400, 1.4l, 1361cc).
The original motor was an EA61.
The shortblock is a NEW 1.4l dry-sleeve (as opposed to wet-sleeve which is what most 1.4l's are, finding a dry-sleeve 1400 is HARD to do).
The cylinder heads are dual-port (front/rear port) 1400 heads, which I MUST use due to engine mount/crossmember location (cant use single-port heads).
Now, for the serious information...
I'm trying to use a VERY rare Weber manifold on the engine, as seen here: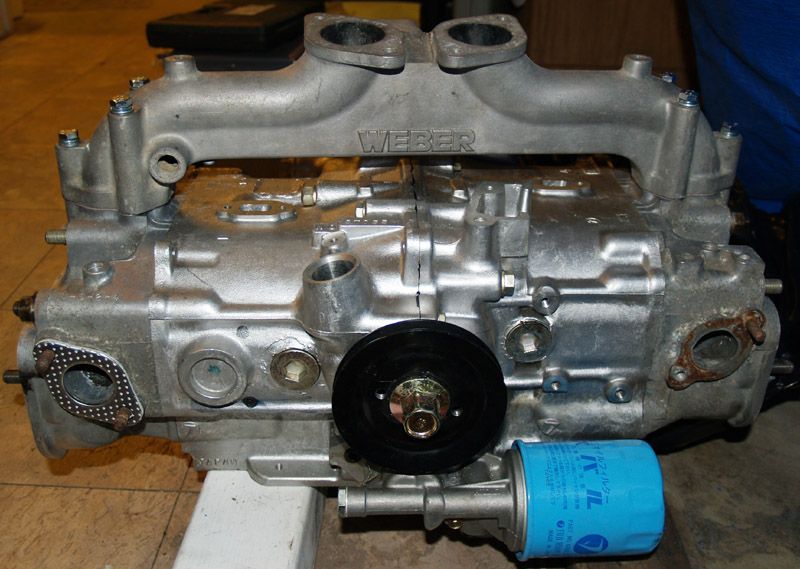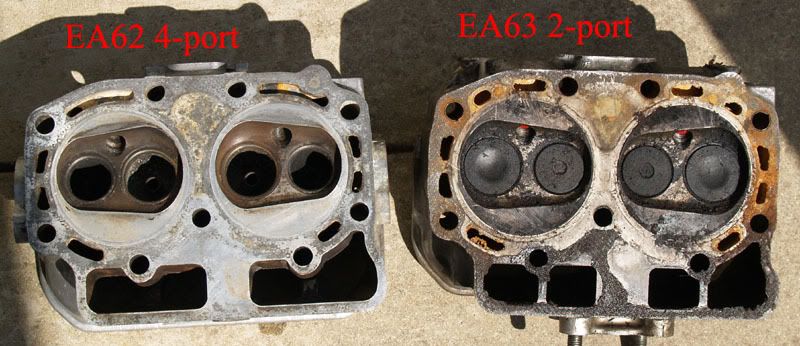 The big issue is the
Weber manifold is 4mm shorter than the stock manifold!
This is because that manifold is designed for a JDM-only "sport" motor (1300G) that had a shorter shortblock. That motor I can't find, and don't want to use anyway due to the fact it is a WET-SLEEVE motor (more headgasket failures, harder to maintain, HARD to rebuild). This manifold will let me use a very nice dual-barrel carb setup, and I spent a LOT of money on it so i'd like to use it

Now the problem:
As you can see in the picture, the manifold DOES bolt to the engine and line up perfectly with
NO HEADGASKETS
installed. I've done all the measurements and figured it is exactly
2mm
each cylinder head that needs to be shorter.
I've started talking to engine machine shops about this along with various old-school Subaru guys and i'm getting mixed information/opinions.
My goal with this engine is NOT a pure-race engine, but a quality, reliable street driven engine.Known Options:
Shaving the heads -
In order to run the manifold, the easiest (and cheapest) option is to shave the head 2mm each side. This will increase the compression ratio of course, however i've been told anywhere from 10.0:1 to 15.0:1 (stock compression ratio is iether 8.5:1 or 9.0:1, depending on the year of the 1400, in this case i'm not sure but i'm guessing 9.0:1). I'm fine with something around 10.0:1 as long as the headgaskets will hold up and i'm fine running and tuning it to premium gas.
Custom thin headgasket -
I've done some homework into custom headgaskets that are thinner (the OEM and aftermarket headgaskets for this motor are 2mm thick) like Cometic and Copper gaskets. From what i've read, MLS (multi-layer steel) headgaskets are best, but Cometic won't make just one set of custom headgaskets.
Copper gaskets i'm getting mixed messages about, with some saying they are a PITA and should only be used on pure-race engines, while others have no issues with them.
Either way, i'd still have to shave whatever the thinkness the gaskets are from the cylinder head to fit the manifold.
Pistons -
I've been thinking that somehow modifying the piston (shaving?) to solve the compression ratio issue with shaving the cylinder heads. Custom pistons are expensive, so are modifying normal ones something that actually occurs?
Other potential solutions -
I've had people say to modify the intake manifold or put some kind of spacer on there. Thats more difficult that one would think because not only does air travel down the manifold but coolant as well...
Any other ideas would be helpful.
My only other solution is to run the stock manifold with a 32/36 weber carb which is what most other people run on old EA motors, which isn't that interesting of an option (plus i'd buy a new one of those with the adapter and such, which runs around $400 anyway. Shaving the heads and using the weber manifold with the carb I have with that will cost less than that!)
Note: I have not calculated the cc of the compression chamber and have never done something like that before, but it has been mentioned to me.
P.S. If you have any other general questions about what i'm doing, or need more photos of something specific, just say so...