A few months back I was gifted a couple of late 80's Yamaha sports bikes. These models encompass a lot of design changes that would be adapted by the industry as a whole for sports bikes.
One was deemed a "runner" and was was a parts bike (bent subframe from a crash and rusty valves from being stored with no airbox.) As you can see it needed A LOT of work,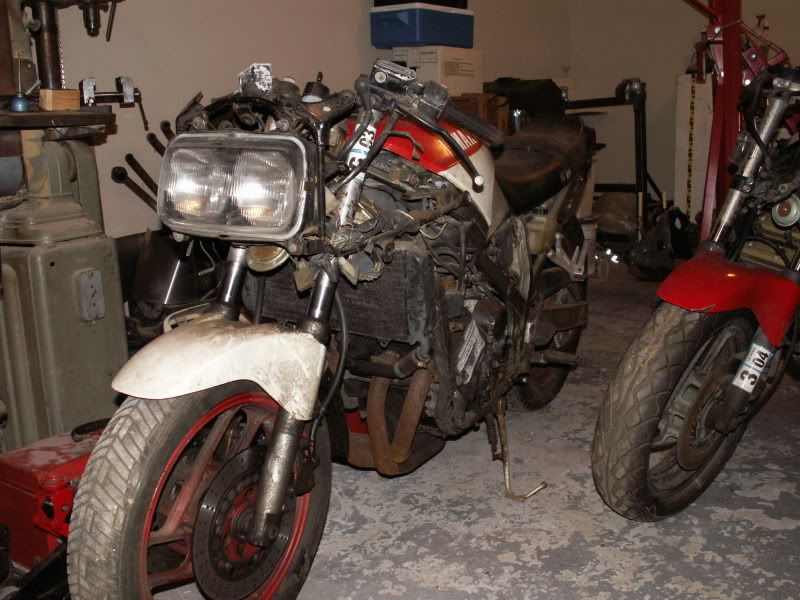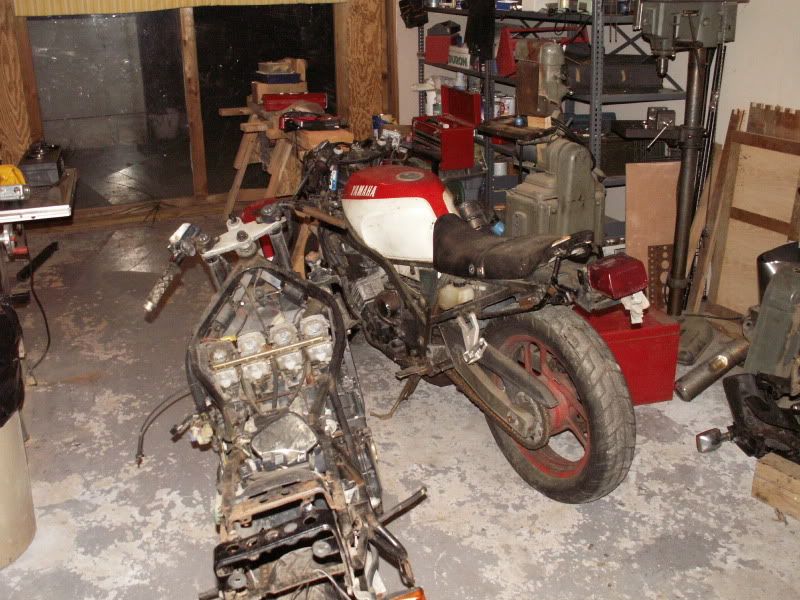 Here it is today, not much to look at still, but man is it fun to ride. Comfortable too for my 6' body.
Rebuilt brakes (all three) with new pads and stainless lines
New battery
Cleaned the tank (vinegar + rocks)
New fork seals
New float jets and bowl gaskets
New o-ring chain
New plugs
New throttle cable
New petcock
Took some figuring to get it to run. The electrical system looked like it had spent a few months at the bottom of a lake so I replaced it with the one from the parts bike which was pristine (given the year.) Got another set of clusters off of feebay. The stock brake setup sucks serious mule so I got a set of 4 pot Sumi's off the bay and I'll make adapters for the calipers. I got the rotors too (all for $30!) but it doesn't look like there is enough clearance between the fork tubes for an adapter. I might pickup an FZR front wheel (where the brakes come from) or look into replacing the entire front end.
I'm still trying to decide what to do about paint. None of the body work (what little I have) is in any kind of shape so I'll probably just complete the rattle can treatment and leave it alone. It won't ever be a show bike unless I can find a set of fairings for it and even then I probably won't put the effort into it. I don't really feel any attachment to sports bikes so I don't think I'd have the motivation to go full out on it. I really just want something to ride around as I've been away from bikes for too long as it is. Some pics of the stand I made to enable me to change the chain,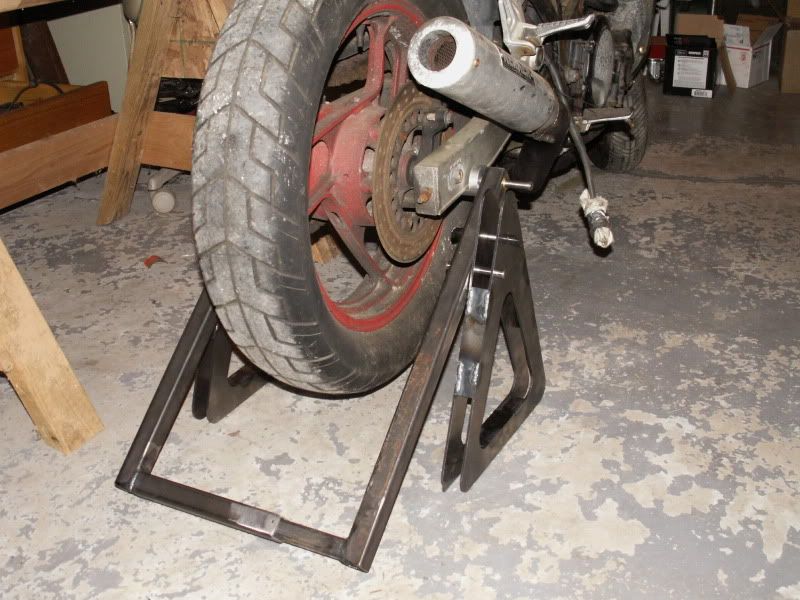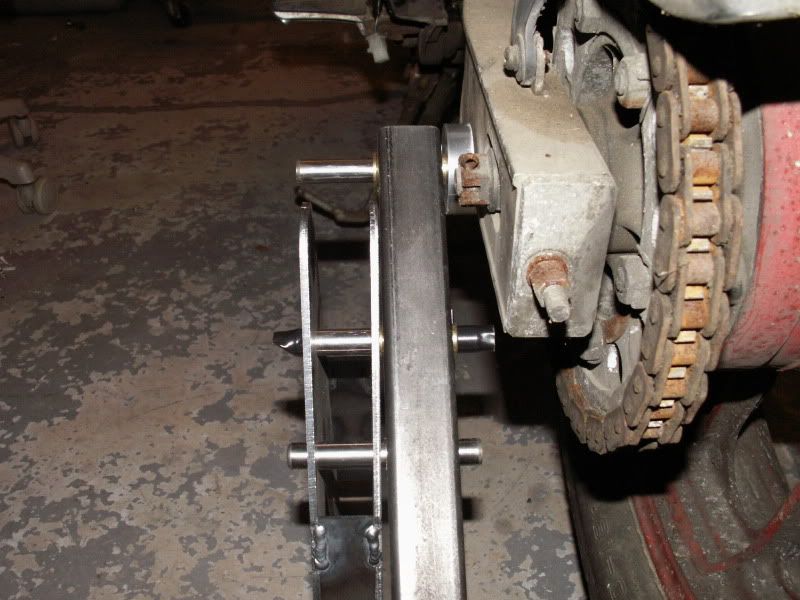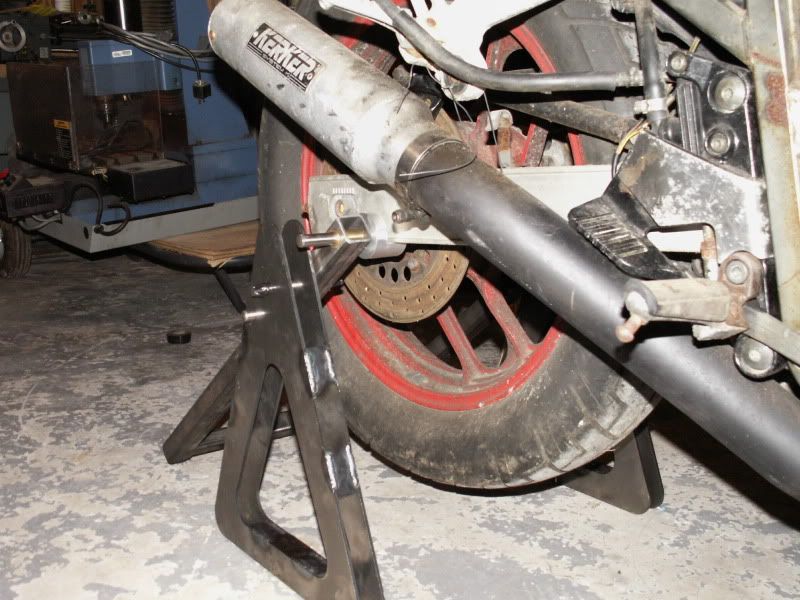 After I've driven it awhile I'll probably sell it and this other bike to buy something newer like a VFR or maybe a KLR650,
This is an '81 Honda 650 Nighthawk that I was also gifted. The PO (a friend of a friend of a friend) said it wouldn't ever run right unless he had the choke on halfway and sometimes not even then. He was fed up and going to haul it off to the scrape yard. They said they would only give him 30 bucks for it so he called me and said if I came and got it I could have it. I was at his door 20 minutes later.
Got it home and discovered within 10 minutes that the band-clamps around the intake boots were all stretched past the point of being able to tighten down. I threw on some spares from the 700 and it fired up and purred like a kitten choke off and all. Took it up through the gears and it runs great.
Still to do,
700 - synch carbs, new tires, ride like hell.
650 - synch carbs, clean tank (pretty rusty), clean carbs, tension or perhaps replace the chain, ride like hell.
Not my bag and I'd have sold it already, but the wife has been wanting to learn to ride and she likes these older cruiser style bikes. If she takes to it then she keeps it. But if her interests wains which it's almost certainly going to (sorry honey but I know you too well) then it'll get sold to finance something newer.
Anyway, that's where my energy has been going lately.
Enjoy!
Will-
Edited by lostinthe202, 01 May 2010 - 02:24 PM.