Long story, but most (if not all) is pertinent.
SO I bought this car about a year ago. It's a Subaru Impreza L 1.8L/Auto with 193K. I'm at about 209900 right now. I use Castrol Syntec 10w-30 and plus octane gasoline. The Knock sensor is out.
Work done since:
New right CV joint
Fixed Head Gasket Oil Leak
New (recert.) alternator.
9 months ago my car stopped turning on while I was leaving work. The engine just wouldn't start up. I bought a new battery. I tried to get a jump from my brothers 91 civic. No luck. I got a jump from m dad a few weeks later and viola! It runs again.
Two months ago I was driving to my lady-friend's house and my headlights lights got real dim, my dash was completely black and my car was driving incredibly weird. I parked my car on the street at her house, and tried to turn it back on. Absolutely NO POST AT ALL. My battery was dead.
The next day I got a jump and drove it home. Nothing power wise worked in the car. I got home and turned off my car. It wouldn't start without a jump. I bought a new alternator and my father and I put it on. Problems gone until 5/6.
The past few months my idle while driving often dips to 200-400rpms, but usually stays around 600-800rpms. Not sure if this is related.
At approximately 230am while driving by Oregon City (20 miles away) my car died on the freeway. I was going about 70mph and I felt like I was losing control (speed wise) of the vehicle. I pulled over and parked. I turned my car off and tried to start it. It tried to turn over completely but wouldn't. It just wouldn't start. I got two jumps from a cop and a tow truck and nothing. I had it towed back to my new place.
At 4am I got home. My battery charger said the battery was completely dead. I hooked up my battery charger for an hour. Typically it always started up while hook up to it (previous two times it died). Even while on starter mode the car wouldn't turn on. It wouldn't turn on at all. Same thing as on the highway, but sounded a lot faster. Later that day (4pm) I went out to my car and tried to start it without help from the charger. It turned right on. I charged my batter for 5 hours (near complete charge) and it was drivable again. I also noticed two plugs in my car were not plugged in. The plug near my alternator that I'm pointing to (Pic 1) wasn't plugged in. I plugged it in. What is it? I also noticed a port with no matching connector. What is this to?
This morning at about 5am I went out to my car to drive. I turned it on without issue, but when I went to defrost my idle went from 1200rpm to bouncing at 100-400rpm. It made a loud screeching sound. I smelt something burning. I took it off defrost and it seemed to go away. I used heat and vent without isses. It was just defrosting of any kind. I was driving and turned it back on and it literally nearly turned off my car while driving (rpms to 0 multiple times in a couple seconds). The sound was really loud.
What is this to? Now that I think about it, my defrost was on while my car broke down the day before last. Are they related? Any suggestions?
Pic 1: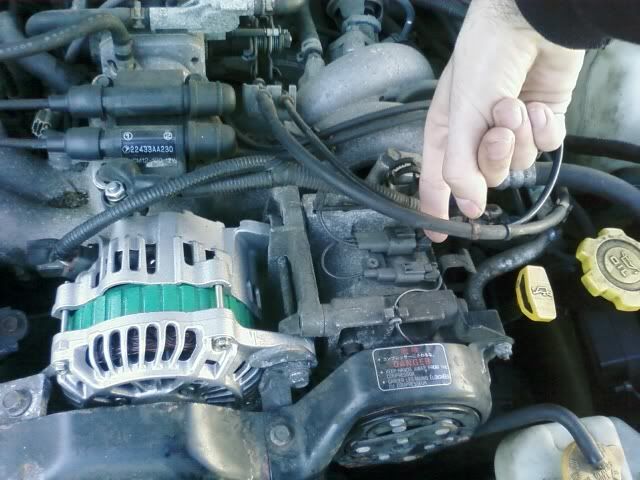 Pic 2:
Edited by Scholzpdx, 08 May 2010 - 08:32 AM.