I'll Try my Best to Shorten this Very Long Story:



Today, I Was Drivin' my Weberized "BumbleBeast" Wagon in the Parking Lot of a Huge Shoppin' Mall, when an Old Gentleman Started to Yell at me: "Stop!, Hey You Stop!" ...

... He Took me by Surprise and I Was about to Park my Wagon nearby, so I Did it and the old man approached Saying:

"...That's a Really Beautiful Old Subaru you Have..." and he Started to ask me Questions about How did I manage to Fit Those Rims in the Subie, also about the Engine's Deep & Loud Sound; Very Kindly I explained some Details... "Weber Carb, I Knew it!" he Said...

Long Story Short: He accompanied me to do my errands while we were Talking about Old Subarus for around a Couple of Hours... even we ate lunch Together.

Resulted that He was the Master Mechanic at the Local Dealer's Repair Shop Long time Ago (Late 1970's to Late 1980's) and he had the opportunity to go in 1983 to FHi in Japan for Training Purposes.

Also he Said that at the Training's end, the Japaneses took the Students for a some sort of "Tour" around their Factories, including their Research & Development areas; he saw some Prototypes and some Engines; also many other Things...

He Said that the Third Gen Subaru Leone (Usually Known here as "Loyale" or EA82) was selling in Japan since 1983 but the Japaneses wanted a New Engine to suit the New Car before Launch it Worldwide.
Well, Looking to the Subaru's History, you can Confirm the date of first Launch of that Model...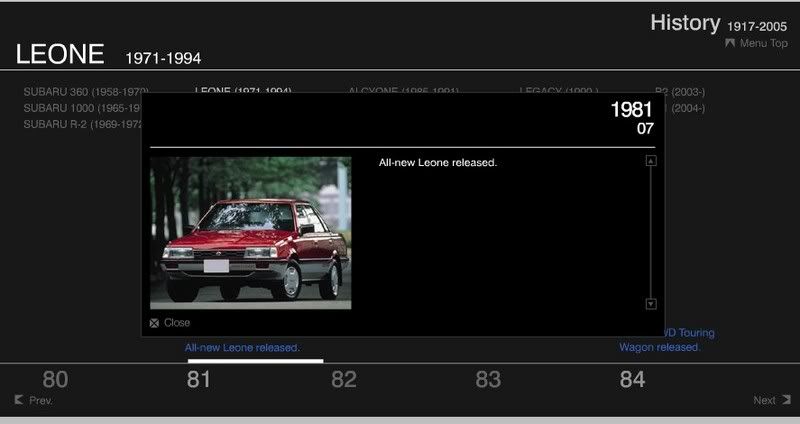 ...they were in the Development of the New Engine for that car; He said that they originally wanted a 2.0L Engine to be their "Top of the Line" Engine for that Model and the Very First Developments were going on that Way, With the USA Market on Mind as their First Costumer.

They Already got the EA81 that was 1.8L so, to Make a Newer EA Engine with the Same Displacement does not make any Sense, Right?

But their Problems were two:

First the SOA's Old Campaign that sounded since 1975: 'Inexpensive and built to stay that way' the Bigger Displacement engine would Killed the "Stay inexpensive" Idea by increasing Fuel Consumption...

And Second: the EA Engine Design Platform was Pushed somehow to its Limits... especially with the addition of a Turbo.

So, the Japaneses Built the EA82 as we Know it, Basically Their novelty was the new implementation of Timing Belts.



The Old Man Shared many more Stories with me, but that about the 2.0L EA engine was the Most interesting to Share here... After some errands together and a awesome lunch time, we've talked for hours, He Left the Place with a Big Smile in his Face, going to do what I Did with my Subaru "BumbleBeast": to Change the Lug Pattern, to fit "Standard" Rims on his Old Subaru Leone...
Kind Regards.
Edited by Loyale 2.7 Turbo, 11 August 2013 - 05:24 PM.