I always seem to get ahead of myself on projects. I am still waiting for a chassis frame in the mail to build my dodge trex 6x6 rc rock crawler (class 2 if any of you follow rock crawling)
Well now I am thinking of building an all wheel steering 8x8 with a tamiya globe liner body... maybe run full leaf springs on it... not sure yet.... Probably run some 2.2 Rok Lok tires or something.... Putting me in class 3.
Rough sketch I made in photoshop (in about 30 seconds

)
The real tires would be bigger than that, but it gives you a rough idea of body perportions and exo-tube work and stuff.
Sad that building this may cost more than a cheap subaru (something like $160 worth of axles and $100 worth of rubber on the road, etc, etc.)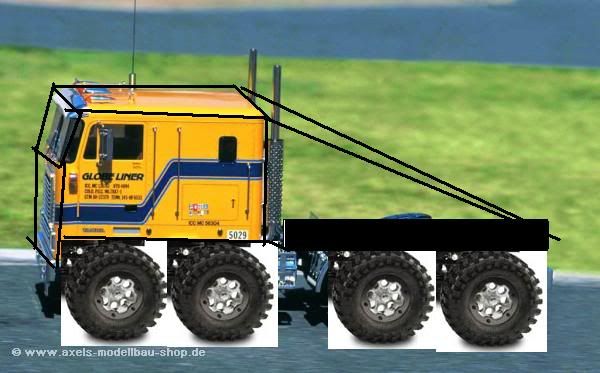 I thought about maybe building a metal box for the back so it looks like a rally support vehicle meets dakar rally truck or something.... with Subaru stickers painted rally blue of course