I have done some searching. From what I have read in other threads it looks like there isn't room for air conditioning and radiator cooling fans when swapping an EJ22 in to an 83-84 EA81 body correct? So the engine options if AC were desired would be limited to EA81 or EA81T?
If it comes down to it, I wonder if an EJ22 swap without AC is worth moving away from an EA81T that has factory AC? Thoughts? Just thinking through some details for one of the worlds longest ongoing Subaru projects:grin:
Thanks in advance
[EDIT]
I stripped down an EA81 Hydro core yesterday and it had a big 2" crack right through the water jacket where it apparently sat without antifreeze in it:(
This was my last Hydro EA81T core. I opened it up today and it looks like it has had coolant sitting in one of the cylinders for a bit too long. I doubt this will hone out. I have pulled about half a dozen of these EA81's down now and all but one are basically junk. Looks like it may be finally time to give up on the old EA blocks as much fun as they are and finish my EJ22 Swap - AC or not:rolleyes: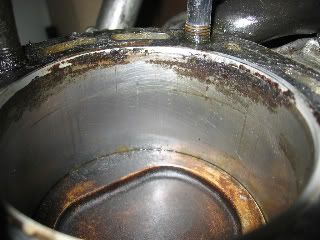 Edited by Crazyeights, 18 June 2011 - 10:42 PM.