First, let me Tell you that I think that such Swap Really is a Bad Idea; but since I've "Been There, Done That" and lots of USMB Members have asked about that via PM to me, I Decided to do this Writeup for an Overall experience Reference.
---
Lets Begin with a brief introduction history: My Subaru Relation Started Long Time Ago... it is a Long Story that I Already had Told here in the Past Years, but Long story Short:

My Dad Purchased in 1985 (when I was Child) a White Subaru Loyale Wagon EA82 Almost new (Came Running from the Dealer in California USA, to Honduras) It ran Good for the First five Years, but then the Smog Stuff (Cathalytic converters, etc) got poisoned with the Leaded Gasoline (Here, Unleaded gasoline became available until 1994) so we Removed the Cathalytics, the Carbon Canister, solenoids, hoses and everything related, even the EGR and ASV ... Now it has a Great Weber Carb, H.I.D. Lights, plus many many more Upgrades and actually is my "Everyday Warrior" renamed as "BumbleBeast".

Then in 1998 a Dad's Friend who had another EA82 Wagon, that was Light Grey with minor rust in the Back of the Body, (His Garage was Short) but a dead Engine, (Ran out of Oil) was in troubles due to the Hurricane Mitch's Damages that almost destroyed my country; so my dad Purchased that grey wagon with the idea to make it a Spare Parts Car for our White Wagon, and by the Way, help his Friend with some Money...

Then, in year 2000 we came across with someone who got his XT6 Horribly Crashed in the back by a Bus and was parting it out... (there are Very Few XT6's in my Li'l Country) ...we obtained its engine and then the Story Begun.
---

To Swap ER27 engine from the XT6 on a loyale takes too much work, time and effort; also needs to be very Creative because it needed a whole Lot of things to be modified and/or created (Built).
The ER27 Looks like a EA82 with an extra pair of Cylinders, but is Somehow Odd: The 2.7 does NOT have 6 exhaust ports like the SVX... it throws the exhaust like This: Two cylinders into one Port and the other Cylinder has one by itself on each side, makin' it to Sound like an Old Porsche. Also The 2.7 timing belts are wider than the 1.8 ones.
Dad and I (plus few other Helping Friends) During the year 2000, did Swapped the ER27 engine from the XT6 into the former grey "Parts Car" and it Became the Project "Loyale 2.7" the Turbo was only a Future Plan that we Had. (That's the origin of my User name)
I Painted in Dark Yellow That grey Wagon (with the ER27 engine) and became my "Weekend Warrior" and since that Swap (Year 2000) I've obtained Lots of Answers to my Subaru questions online here, in USMB; I signed up in january 2001, So even the USMB friends helped out to build that monster. Thank You!
The ER27 engine Bolts to the EA82 Gearbox, we just used the ER27 Flywheel (which is Light weighted, compared to the EA82 one) but keeping the EA82 Clutch's pressure plate & Disc.
The main Problems are:

1. The ER27 is Huge and it only fit on the engine bay Without the A/C condenser, Radiator & Fans; so the Radiator must be Relocated. Also you need to place a (Black) plastic or metallic barrier behind the Front Grille to avoid little Rocks to reach the Spinning engine's belts / timing belts.

You'll need to be a Lot inventive to solve the Radiator problem. I did a Pair of Small Radiators interconnected, with twin fans, which Never were enough for the ER27.

Other USMB Members who have done the ER27 Swap, done it with a (4"?) Lift to the Body, so the engine Lowers by dropping the Crossmember, letting a Horizontal Radiator + Fan Mounted in the Hood, with Hood Scoop & Vents; so the Radiator goes in the Top of the Engine, somehow.


2. The ER27 engine holds itself to the Front, so you must fabricate a Metallic "Arm" to place the front engine mount.

3. The ER27 is Heavy weighted and the Extended extra weight to the Front does the wagon a Li'l Saggy and could be unstable (makes the Wagon to Underbrake & Understeer) under certain situations at Higher Speeds.

I Used the Front Struts from a 4WD Model (Mine was 2WD, the 4WD ones are a Li'l bit Taller) and used Ford Tempo's front Coil Springs in the front of my Wagon, that helped to keep it on level... in fact, leveling that 2.7 wagon was how I invented all the Suspension mods, that you can Read as complete Write-up, with photos, here:
~► http://www.ultimates...ils-on-loyales/


4. You'll Need to Swap the XT6's ECU and Wire Harness.



5. Many things need to be Modified, like the Engine's Crossmember, Power Steering Pump Retrofit, (The one on the XT6 is electronic & Variable) Custom "Y" Pipe, Fuel Pump Upgrade, etc...

The Turbo is doable, it has been Done an ER27T and even an ER27SC ... I saw it on www.xt6.net, also you can find more information and photos, here:
~► http://subaruxt.com/old/Pumped.htm
~► http://subaruxt.com/...er_pressure.htm
But since our ER27 Wagon had some Problems with overheating and Underbraking, we decided to leave it alone until we Solve the Radiator and Handling Problems First ...

... so, No Turbo.

My Dad used to drive that Yellow ER27 Wagon "Weekend Warrior" at our Hometown, while I use to drive as my "Everyday Warrior" the White Weberized EA82 Wagon, 'cos I live so Far Away home due to my Job.
---
My ER27
(XT6)
Wagon Lasted a Decade, Now is
Crashed and Dead
. More info here:
~► http://www.ultimates...-my-27-project/
After we Lost the Dark Yellow 2.7 wagon, I painted my former white wagon in Lighter Yellow with Black Stripes, and became the "BumbleBeast"

(More information and photos following the Link that is on my Signature)

That ER27 wagon was always some sort of "Still in Development, Project Car", always unfinished, (mainly Due to the lack of Money and time, you know... ) But it was fully Driveable and it ran great and Nice at Regular Speeds, but if you Drive Faster \ Loaded / in many Uphills, the ER27 engine Overheated easily with those small Radiators ...

... maybe the best idea for such a Retrofit of an ER27 engine onto a Wagon, is This: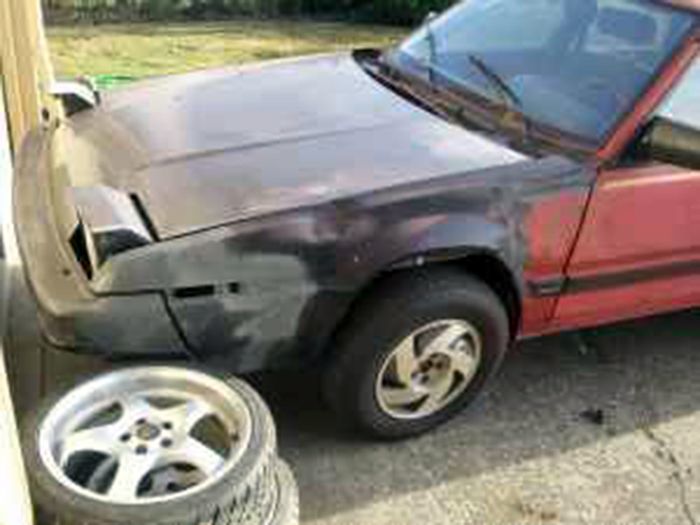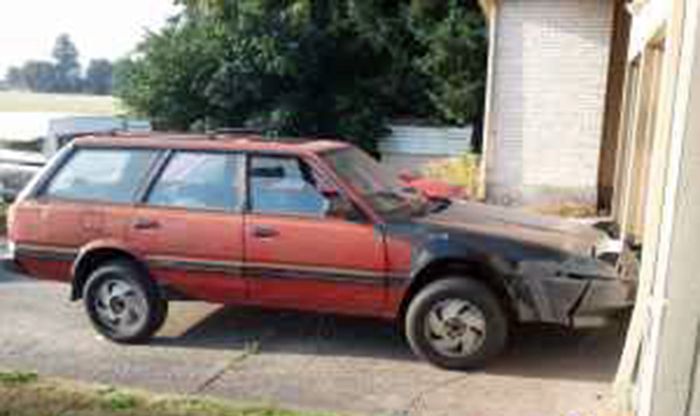 To swap the whole front clip from the XT6 to the Wagon. Now I Know that an ER27 engine doesn't make "Faster" a Loyale, Like an EJ Engine could do, due to the Extra Weight to Horsepower Ratio...

So I really Don't think that an ER27 engine is good idea for a Loyale, due to the troubles of the extra weight going to the Front -brakes and suspension- many adaptations -Lots of Patience, fabrications, time and effort- and the null space that remains in the front of the engine's bay -The radiator does not fit and it is difficult to repair or replace the front of the Engine's Parts- and other issues, Like Losing A/C, plus tires wear faster...

So, instead of that ER27, a Lightweight LADM Specs EJ engine is better idea.

Those Fit Better, Makes the Radiator and everything fits like Stock; also their Power is just Around the ER27 or even Better ... Plus Easy Service to their Front Parts and no "TOD" noise! ...

... I like the Strong & Durable Subaru EJ22 with LADM (Latin American Domestic Market) specs.
Those EJ22 did came to Latin America (LADM) with stock Distributor & Carburetor,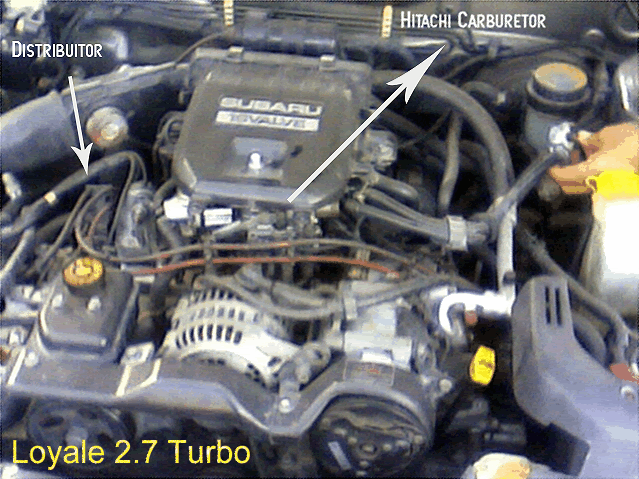 If I could go back in time...
I think that the Subaru EJ Engine is the right way to improve a Loyale, I Hope This information will Help you; please excuse my frankness. If you find this information, useful, let me know by hitting the "Like" button.

Kind Regards.
Edited by Loyale 2.7 Turbo, 25 January 2016 - 03:35 PM.
Words in White Colour are Web Links!