I got my camera working so I got some pictures, and a bunch of questions, I'm looking for opinions.
I'm just going slow and easy on this one, it doesn't matter to me how long the car is laid up, I got other transportation, and I want to make sure I got this fixed right,
I completely tore out the passenger side as you can see in the picture:
Having it torn down this far got me to thinking, how far into this do I want to go? What's going to be "worth it" and what would be a "waste of money"?
When the car is running, it doesn't have a lot of rattles and squeaks other then the loose shields around the exhaust system which I am going to address, for the most part, the car drives very solid and tight.
I looked at all the bushings under the front end (sway bar and lower control arm bushings) and they actually look to be in good shape, so I don't know that replacing them would be a benifit or not.
I checked out the front axel real close, the boots are intact, it doesn't look to be that old, and seems to be in good shape, so my thought is to leave it be and not replace it, but having the car this far apart, should I replace it anyway? (Just for good measure?)
One problem I do have, which is common on all EA82's is the camber, the front tires sit on the ground like this: \\>----------<// the passenger side is worse then the drivers side. And I want to be able to get the best alignment out of it that I can, so I was wondering, should I replace the front strut rod with an adjustable one? I haven't looked close enough yet but maybe they're all adjustable and mine is fine?
This would allow the caster to be adjusted, so is it a good idea or not?
This is the adjustable strut rod: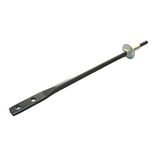 The ball joint felt tight, but kind of rusty, and I knocked the rubber boot off of it when I was pulling it out of the knuckle, my idea is to replace it, they aren't that expensive, what do you think?
Here's the old ball joint: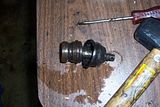 And what about the struts? Mine seem fine, but they do have 150,000 miles on them, so is it time to replace them or keep using them? I was going to use them, but had thought about maybe adding an adjustable camber plate as seen here: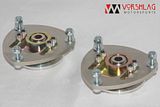 It seems like one would be fairly easy to adapt to the car, they make them for a Legacy, and from what I read, the bolt pattern is almost identical to the loyale, so is it a good idea or not? Would it be worth adding to get the tires on a more even plain like this:
II>------<II I do at some point plan on doing a 2 inch SJR lift.
I did get new bearings for the knuckle, the sealed type I found them on ebay for about $8.00 each delivered: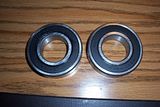 I have yet to clean up the knuckle and still having found a part number for both the front and rear seals, so I haven't ordered the seals yet, the knuckle looks fine to me, not bent or anything so I'm not sure what's giving me the extra positive camber on the passenger side, it's quite a bit more then on the drivers side.
Here's a couple of pictures of the knuckle:
Here's the back: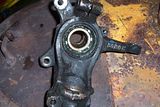 And
And here's the front: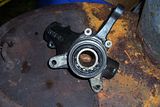 I also scored a good deal on a new in the box Beck/Arnley oil pressure sending unit for $20 delivered to my door, about half of the auto parts store prices, that should take care of the high oil pressure readings I was getting before I unplugged the old sending unit: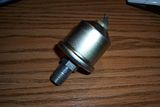 I also still need to buy the new rebuilt cliper, I made an offer on one on ebay but the guy never answered back, and he had quite a bit of bad feed back so I figured I'd keep looking for another good deal.
Edited by Stubies Subie, 30 December 2011 - 05:01 AM.