I change the Motor Oil on my "BumbleBeast" every 3,000 Miles or three months (Whatever happens first), but once per year, prior to remove the old oil, I drive it 'till it reaches normal operating temperatures, then, once the subie is parked at the mere spot where I will do the Oil Change, I shut off the engine and Pour a can of Engine Flush to the old oil, then restart the engine and letting it to Idle for ten Minutes; finally I shut it off again and inmediately I proceed to remove the old oil & filter, while it still is Hot... you won't believe how much dirt comes out... lots of crud and it looks like having different colours ...

...

I've been using "Motul" 20W~50 Motor Oil, ideal for the Caribbean Climates... in fact, the EA82 has been working since its first oil change with that oil number without any problems, 300K miles so far and still Running Strong.

After that Motor Flush treatment, is the only time per year that I'll add an oil additive to the freshly poured oil: a Can of Hydraulic Lifters' additive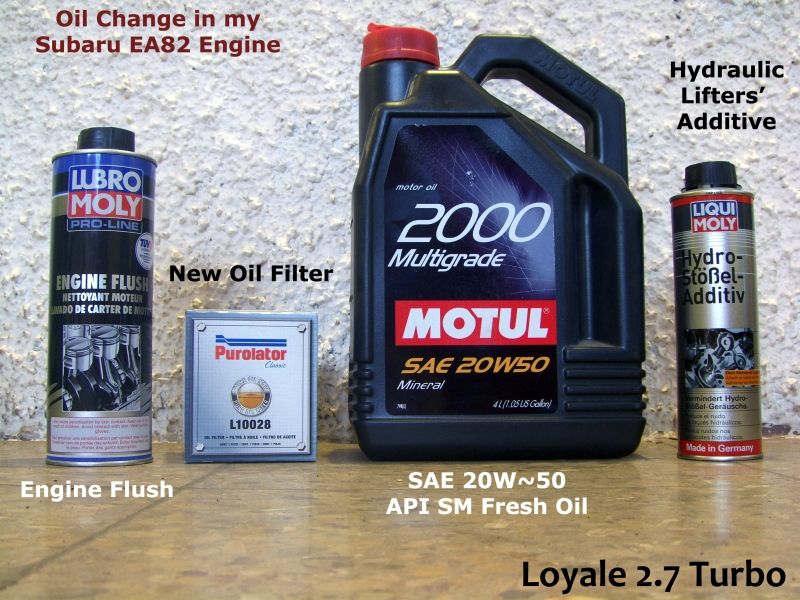 I did a Writeup with useful Information about Motor Oils, It has explanations for common terms for easy understanding; Also it has a downloadable .pdf file at the bottom, which has the results of different motor oils' tested against bare metal, and photos of the results; which are very interesting.

The Writeup is, ~► Here.

Kind Regards.
► Edited to fix the Web Link, due to the new USMB's system.
Edited by Loyale 2.7 Turbo, 10 February 2014 - 12:27 PM.