Here's the only picture I got of it so far: I know it's bad, but better than noth'en: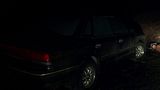 I still need to get it home, and do some fixing on it, but here's the story so far.
The car has 280,000 miles on it, all highway miles, second owner, and well maintained until the tranny went out.
It's a 92' AWD, and has a 5 speed manual, and the way the story goes, is that my co-worker was driving it home from work, it popped out of gear, and they weren't able to get it back into gear, so they rope towed it home about 5 miles with their pick up and it's been sitting ever since. the engine runs like a top I'm told, so hopfully it's got a lot more life left in it over and above the 280,000 miles it's already got.
It's been sitting about 2 years, but gets started up every couple of months or so, and it's pretty nice inside and out, no dents or accidents, no rips or tares on the interior ect.
I got it for $300, I still need to get it home and then figure out what happened to the tranny, but I'm going to guess that it's going to need a new one.
If I can get this one running, I'll be able to park my Loyale and save it for my weekend warrior trips out of town, and use this Legacy as my transportation to and from work …..yup, I'm excited!!
Edited by Stubies Subie, 08 December 2011 - 07:41 PM.