I have thought about doing a build thread for a long time but I wasn't sure that my car would qualify. so here is a little back story...
I received a phone call from a friend in the fall of 2008 stating that he was at a Jeep dealership and they would only give him $200 for his 91 Loyale Wagon and asked if I was interested... of course I was. So after we met up the next day we went and transferred the title and I was trying to hide my face the whole way back to my house because the "tick of death" was so loud I thought it was a rod knock and to tell you the truth at the time I really despised these cars.
So I brought it home and three weeks later after a thorough cleaning and fluid change I was ready to go for the winter. I had just moved into my house that spring, I was worried how the hill to the house was during the winter. My daily driver at the time was a 2003 Dodge Ram 2500 2wd truck and I was not interested in seeing if it would get around in the snow... It barely likes getting around in the rain.
The winter was the worst in recent memory, we had three feet of snow at my house for more than three weeks. I know for you midwest and northeast folks that is nothing but for the pacific northwest that is a hell of a lot of snow. the car performed flawlessly in the snow the TOD was barely audible:D. After the first winter I parked it for a few months, I gathered the parts to fix the TOD and finished not even a week before I had a catastrophic fuel injection failure in my truck... The wagon then became my daily driver, during the next few months I seemed to "fall in love" with it if you ask my friends who don't own Subarus, who would shake their heads as they commented. I really loved this car by now, so planning and more parts hording commenced. Swapping out the 3AT for a 5MT D/R , Five lug swap, Xt6 sway bars, VLSD rear diff and DL headlight conversion.
here is a pic of the progress to date, winter wheels/tires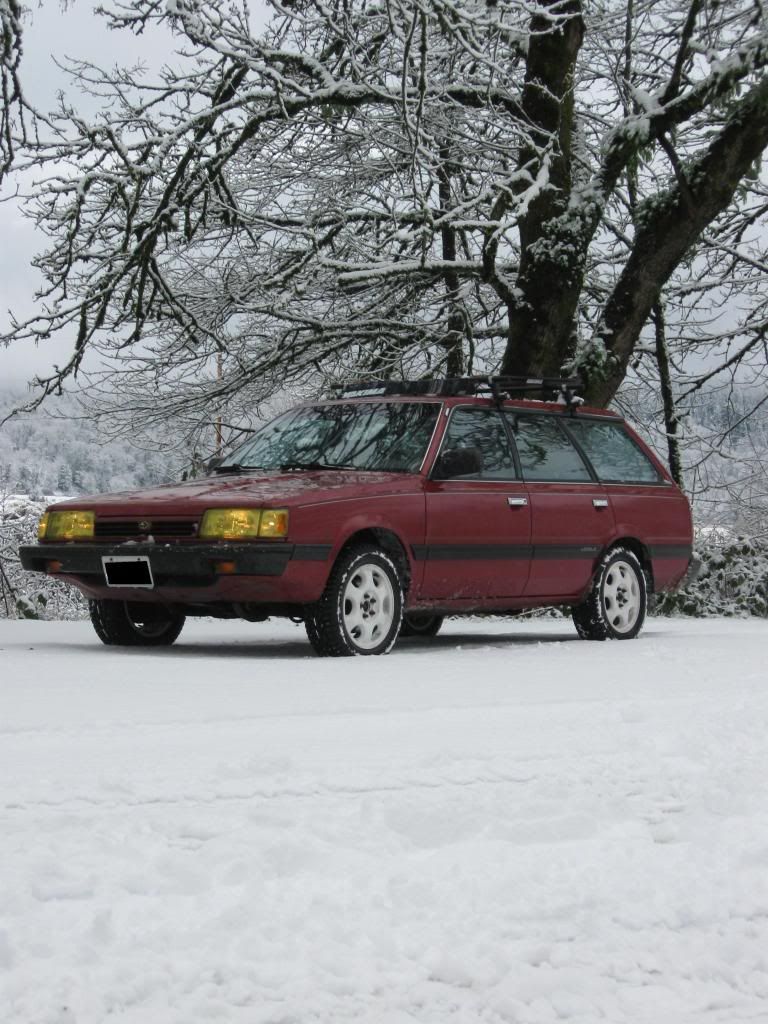 Here is a recent pic with summer wheels/tires and a Yakima LoadWarrior basket. (I still need to paint these wheels bronze)