ok well i have converted a vortex (xt6's smaller brother) from fwd ea82 to ej22 awd and all was well for a while.
now she starts and idles nicely, but hold the revs around 2000 or higher and it starts missing/studdering until the throttle is released, then it idles fine again. while this is going on (thanks to b10 scan tool) the idle air control valve throws a active fault, once the pedal is released and the idle returns to normal the code clears (well stays in the stored codes).
i have new leads/plugs, have changed coil pack and maf
today i have tryed;
2 tps-same result with both
2 iacv electric tops (base is free moving)-no luck
2 o2 sensors- my spare wasnt giving a reading but the result didnt differ
the only thing that gave some change was actually unpluging the tps, i could then hold the revs at any rpm.
so what could throw the iacv code? other then the iacv?
i really want this as a daily, it seems to have come on over time. not straight away.
here are some pictarsssss and my little vid (yes i know i have stuffed up my words *gauge instead of sensor/cant say diagnostic*) enjoy, and any help is invited.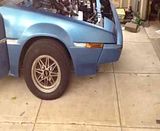 ^^^^last ones a video