Remember the Thread: "Holy Cow! ... Three in a Month! ... (invisibility Paint?)"
(Link, ~►
Here
)
where I Described three Weird incidents that Happened to me & my Subie in a Month?

Well, we have Stablished a New Record: Three in a Day!...

...Let me Explain a Long Story Short:

I Had a Severe Gout Foot attack again
(More info, ~►
Here
)
that lasted a Month, I was somehow forced to Drive my Wife's Car
(Details, ~►
Here
)
because it is Automatic; so my BumbleBeast was resting, unused for that Long inside my closed Garage.

Then, the Last Weekend I Felt Much Better and we decided to go in a Travel to Angels' Valley City, which is an Age Old Turistic City, full of Artisans with great craftmanship;
(Lots of Pics, ~►
Here
)
the Idea was to have a Nice Weekend Trip and also I Wanted to purchase a Great Honduran Souvenir for a USMB Friend in USA.

So, I Loaded my BumbleBeast with all the "Needed" stuff for a family Weekend travel... it Looked like This: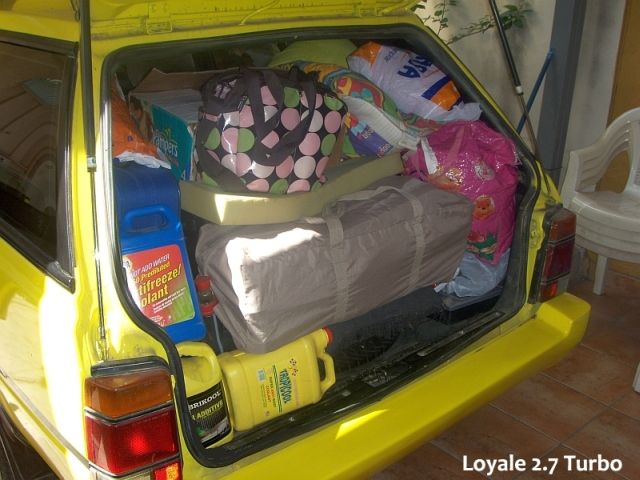 ...then I Started the Weberized engine and took my Wife and my Baby Daughter for the Travel... everything went Fine, but after 45 Minutes, suddenly the Engine Shut off without warning, it felt like if a Timin' Belt had snapped, the tachometer went to Zero readings inmediately...

...

I was Able to use the Vehicle's inertia impulse to pull out to a Side of the Road and then, I Carefully inspected everything on the Engine's Bay...

Everything was Fine.

I Thought it was a Fuel Pump Failure but it Wasn't.

I Tried to Start the Engine without results, it Cranked but didn't came alive, Since the Tachometer stayed Dead at Zero readings even while I Tried to Start the Engine, I Suspected that the Ignition Module died.

So I hasn't another Choice but to use my cellphone to Call to the Insurance Company and ask them for a Tow Truck, it came an hour after I Called: