THE DEFINITIVE REAR E-BRAKE RETROFIT SOLUTION!

► This writeup is intended for the '84 ~ '94 Subaru GL / Loyale \ EA82 Models which are the third gen of the Subaru Leone, however, you can retrofit the Rear disc brakes' system, from the EA82 lineup (third gen), to the EA81 lineup (second gen), and then, what I written here also will apply on the previous generation.

► "e-Brake" and "Park Brake" means the Same for this writeup.



► There are other Ways to swap a Rear e-Brake, but Usually they include expensive and / or hard to find parts, from Legacy or Impreza, even parts from the XT6, etc ... Here I want to explain an Easier and pretty inexpensive Way to do a Reliable Retrofit with Amazing Results.

pay attention to the Important Notes...
Warning! - Use this information at your Own Risk
---

A Brief Introduction:

Those of us who own a Subaru that came with Front e-Brake and always desired to retrofit a reliable Rear e-Brake system, but was afraid about the Parts Needed, the works to be done and the Results; here I will do my Best to Guide you in this Step by Step Photo Procedure to do it Right & Easy.



Different reasons might have each one to do such Retrofitting; mine is that the Front e-Brake on my Subaru BumbleBeast after all these years and thousands of miles of Rude use, became too rusty & worn that leaked brake fluid; no matter if that was just rebuilt... So I Got rid of the Front e-Brake as you can see pics, ~► Here, from Post Nº 61.


First Part: Your Subaru Must have Rear Disc Brakes.

My Subaru "BumbleBeast" already had the Rear Disc Brakes from a Turbo Loyale, as you can see, ~► Here; Having the Rear Disc Brakes makes this Retrofit much easier, because if your subie Still has rear Drum Brakes, you'll need to Find a good Set of Rear Disc Brakes for your Model, Prior to do this Conversion.


Second Part: Background Information.

I've read & Heard about Rear e-Brake conversions, using Nissan's parts, usually because both Nissan & Subaru used Brake Parts made by the same Japanese "Tokiko" Brand, but that parts aren't exactly a Direct fit and you must do certain works to make them Work; as you can see & Read, ~► Here, and ~► Here, but also I've heard that the e-Brake on Nissans with Rear Disc Brakes, is Weak because isn't very well designed...

So, Forget about Nissan parts!


Third part: How I Found the Donor Car & Parts Used.

So, I Went to Hunt for Parts to do my Rear e-Brake Retrofit at our local Junk Yards (Called here: "Yonkers" more info and photos ~► Here) and miraculously I Found in one of those, a Subaru 1986 Turbo Sedan that still had its Rear Disc Brakes intact -beside some Rust & Dirt- also many other useful pieces & Parts.



I Took out a Rear Trail arm from it, to do many Tests with its Disc Brake, in order to Find the Proper Calipers that could Fit there easy, also without any Risk to the Security on the Road.

I Tested Nissan 200 and 240 Calipers there but I Don't liked the way they fit, because was somehow a Little "Forced" and the 4WD subies will have problems with the e-Brake Cable levers on the Nissan's calipers, 'cos they must be in the way of the Rear Axles...

Long time ago, I Read that Certain Honda Accords with Rear Disc Brakes, has very similar calipers to the Subaru ones; ~► Here; So I Started to Search within Hondas with Rear Disc Brakes.
---
Found the Perfect Donor in a '92 Honda Accord with Rear Disc Brakes, like this one: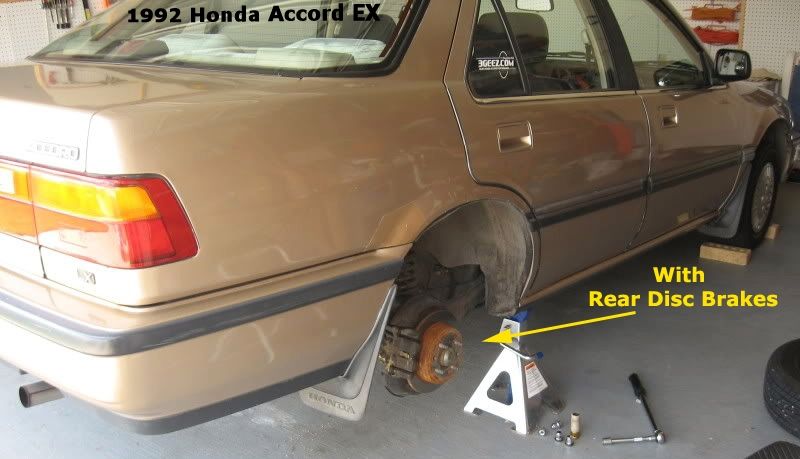 I Removed one of its Rear trail Arms too and I Started to figure out,
how to Fit the Honda's Rear Caliper onto the Subaru's Rear Disc.
This is the Subaru's Rear Trail Arm: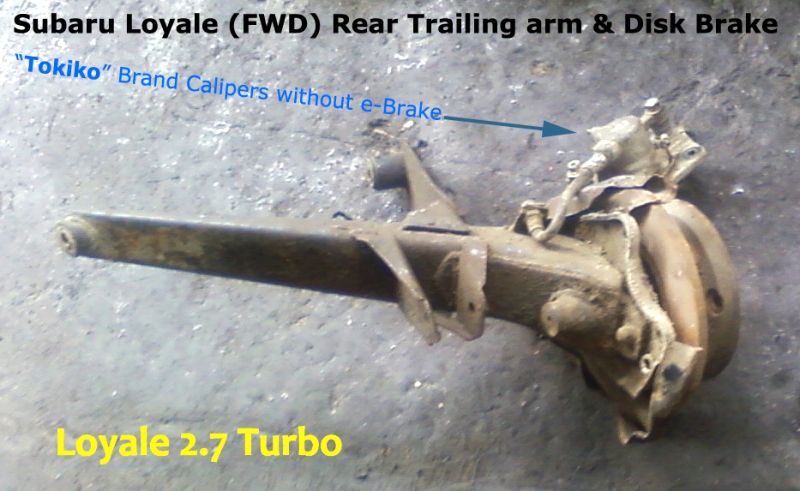 This is the Honda's Rear Trail Arm: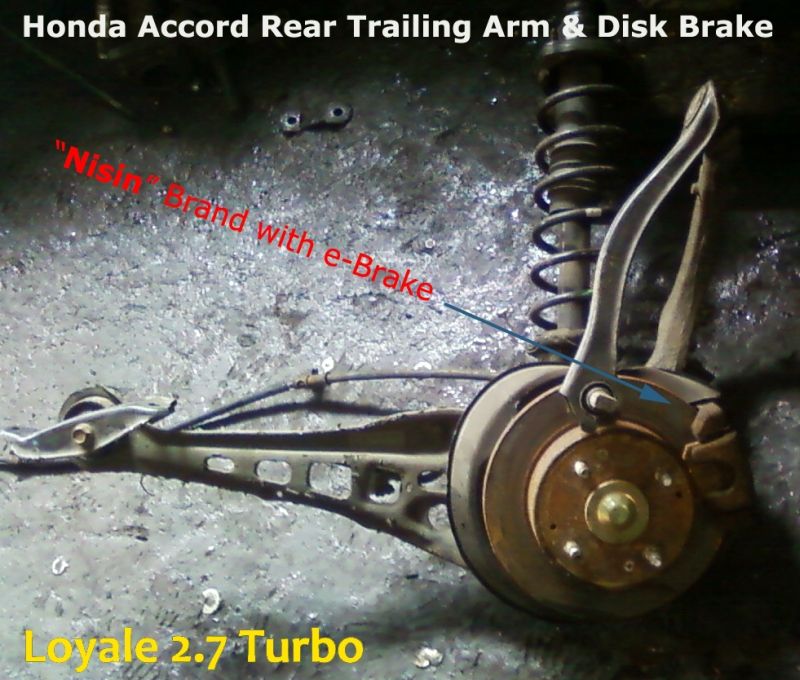 As Written above, Subaru uses the Japanese brand "Tokiko" for their Brake parts, while Honda Uses the also Japanese brand "Nisin" for their Brake Parts; but Despite that both Rear Calipers Looked Very Similar, they're Very Different at the Same Time; because the Honda's "Nisin" has built-in e-Brake and a Special protective Metallic Cover; while the Subaru's "Tokiko" has Nothing like That.

The Honda's "Nisin" e-Brake System Looks very much Better Designed & Protected than the Nissan's "Tokiko" Design for Sure.
Edited by Loyale 2.7 Turbo, 10 August 2016 - 10:26 AM.
Mispelled word, fixed.