As promised, here is the story of the anomily I found around this time last year:
http://s802.photobuc...grr/83 GL Vert/
I've always liked the classics, but funds became tight, and unfortunatly the 74 TR6 had to bail me out:(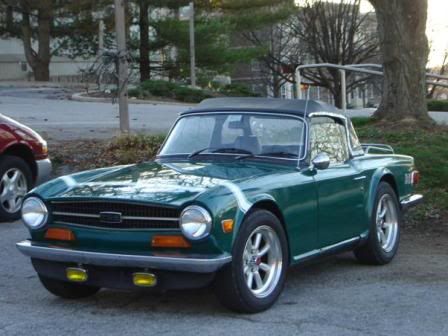 As I handed the keys over to the new owner, we reminiced of our favorite rides past -mine being my 83 GL wagon, then my 88 GL Hatch, each of which I drove for 10 years, so 20 years of driving subies like I stole them, half a million miles between them. I had been subie-less for 5 years. The rust never sleeps around here.
Another fave was my 64 Falcon Sprint which I fitted with triple carbs, and eventually sold to a guy in Australia, when the project got too big for my wallet. Here it is with the hatch in the background-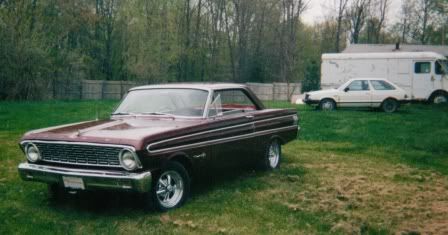 Anyhoo, I began searching for another EA81 car to fill the void. When I read "84 GL convertible" on CL in my area, I was like whaaat??...Had to go see.
Well, the pics on the ad showed it clean and garaged- which it definately
was Not...the PO had driven it up from L-ville to the suby guru south of here to look into getting the carter 1 bbl fixed -and there it had sat -all summer- top and windows down. In the last month, the mechanic (unable to get the carb parts) pulled the top up and parked it on his shop lot under a pine tree-which is where I found it. It had been raining for a week or so, and the glass windows were down, the plastic ones and the top were taking a beating. I think this car aged 10 years over last summer exposed to the elements. The rescue mission had to be done.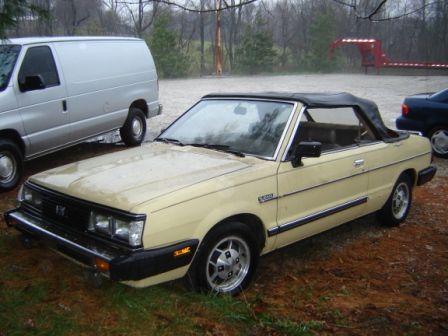 I quickly got it tarped and contacted the owners to make a deal. The mechanic allowed me to take the key and she started right up:clap:
When I saw how clean the engine bay was, I was really There. Better than any of my classics. This thing was virtually unmolested.
Despite the difference in the car shown in the ad, the owner would not budge on the 1500. price, saying there were plenty of calls about it yaddayadda, with people ready to ship it here or there. Fine.
When we met to make the deal, I got right in and pointed it at the road -they thought I was out of my mind: "you gonna drive it home?!!" Hell Yes!!
It had a little stumble, but I knew I could get it up to speed gently and make the hour plus drive home. I was grinning ear to ear the whole way. That good old cockpit felt just like home to me.

I spent the next few weeks drying her out, cleaning up all the pine needles and ressurecting the interior. I couldn't find anything for the Carter, so I went to ebay to find a Weber on the cheap. The one I found had come off a Nissan, the seller said had run until he took it off recently. I got the plate kit from Redline and did a quick and dirty swap to get her on the road asap. I've since rejetted it, but my heavy foot has not let me get much better mpg than 20. Maybe someone can throw me a link to jet sizes etc. the kit from RL was Way vague -and I'm a carb guy.
Now I knew having a new top made would be more than I paid for the car, so I searched for ways to keep what I had together (and still do...)
I went to the local upholstry guy and bought a new sheet of plastic for the windows. The PO had them restitched once, but even that, I felt would be a little pricey. So the hot glue gun went to work. The pics inside the garage show the first attempt -which came out really well. Until I came out of work that first hot day in spring to find my rear window fell out. I just dropped the top and drove my verti all summer like that. Luckily it was a very dry one.
Last week the fall rains began -yeah, I got caught a few times, but I was sill loving it. I went back with the glue gun again and added some silicone to the big rear window for extra support. The most recent pics are at the bottom of pg 1 of the album linked, I think my best work yet -and she is ready for winter. The fabric is a bit stretched out, so I've done some things to take the slack out of it. It needs new hydro cylinders -one leaked and made a mess, so for now it's a manual up/down, and that's ok for now.
It is Crazy how much attention this thing gets around here -way more than any of the classics I have driven. Not a day goes by where people aren't stopping me, giving me thumbs up on the road, etc. It's almost annoying for a low-key guy like myself. Sometimes I forget and give people that -"What are You looking at" -vibe!
Now the picture album is a bit random in order, but I think if you look thru 'em you'll see the various stages of progress.
As a side note, when I signed the title I didn't realize it showed a guessed 86K and was printed last in '97. I had to put a few thousand miles on it before I could make it legal!