I finally got my truck after waiting for it for a couple of months, here' a few pics, just got it home yesterday, 70,000 original documented miles, no rust, runs and drives great, for $1,300
It's been sitting a few years, previous owner passed away and it sat until I bought it. And I haven't even washed it yet, it's really dirty.
It's missing some chrome trim, but over all the body is really straight except for a couple of small dents.
Here's the backend of it.
The interior is pretty much flawless: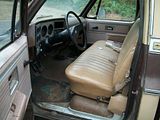 I'm sure I'll have some bugs to work out of it because it sat for a few years, but as it is right now, it seems pretty nice to me.
I took it out in my back yard yesterday and try out the 4 wheel drive, and it worked great, but once I put it into 4 low, it was a bear to get back out, the shifter got stuck. Don't know what causes that, maybe just lack of use? I was told the truck never was 4 wheeled, and everything is tight so it seems like that might be true.