Alright guys, since I have some time before the dealership can actually get cone washers in stock, I figured I'd hit the forums and see your guys' opinions.
I've known for months that my cone washers on the front wheels of my Loyale were shot. I just never actually planned to do anything about it because the nearest Subaru dealership is a half hour drive away, and I'm lazy. :-p Anyways, last Saturday, I heard some popping noises when I let out the clutch. I pulled into a parking lot figuring my axle was coming off the transmission or something, but found nothing. As I was pulling out of the parking lot, I would let out the clutch, hear a grinding noise, and the car would barely move, it at all. After trying reverse and first gear a few times, I gave up and figured my clutch was toast. Pushed the car into a parking stall and got a ride to work.
As I went to bed that night, I doubted that it was the clutch. I could put it into gear perfectly fine, and have had no sign of a slipping clutch or anything. This just randomly happened. Plus, I've never experienced a clutch failure, but I doubt it'd make that ungodly grinding. The only argument towards my clutch going out is the fact that I can no longer adjust my clutch because it's adjusted all the way (if that makes sense). So if I burn my clutch any more, I'll need a new one. So yeah, I was thinking that night that I should see about my cone washer. If there is anything I learned from my last issue, it is to stick with the simple things first.
I drove out to my car in the morning to see. Took off the hubcap and the axle nut (which didn't surprise me that it was loose). What did surprise me, though, is how loose the cone washer was. It just kinda, fell out. A quick inspection revealed the gap in the cone washer was wide enough you could fit a dime in it, maybe even a penny. So, obviously, the axle and wheel are not making a connection. Got it towed home, and of course, it was Sunday, so the Subaru parts department is not open on Sundays.
The next day, now Monday, I called around to local dealerships. There was one dealership that had ONE cone washer in stock, but that was down in Auburn, which is a 1.5 hour drive. I am, however, looking for two cone and two spring washers for both front wheels, so I'd still have to place an order. The only dealership with two cone washers in stock was up in Bellingham, a 2-3 hour drive. I figured it's certainly not worth the gas money (especially with a 14 MPG Ford Mustang GT) to drive out there to get the parts. It'd be more worth the wait. I went ahead and placed an order at the dealership nearest to my house and they told me it would get there on Wednesday, and that they'd call me.
Wednesday, I get no call.
Thursday (today), I go to the dealership and ask what's up. They said they placed the order, but Subaru never actually shipped it out. I had them call around and still no other dealerships had the parts in stock. They were unable to do expedited (overnight) shipping, so I now have to wait until next Monday for the parts. This is why I hate, and try to avoid dealerships! Good new is, however, the guy at the dealership gave me 25% off.

So now the parts will cost ~$35 before tax, versus the original ~$47 before tax (high prices is another reason I hate and avoid dealerships).
So yeah, sorry for the long "story," and here is the main point (I'd say) of this post. Is there a chance I have stripped the hub/axle? When I was trying to move the car, the axle was just spinning. It doesn't look like I've done any damage, but can you guys tell?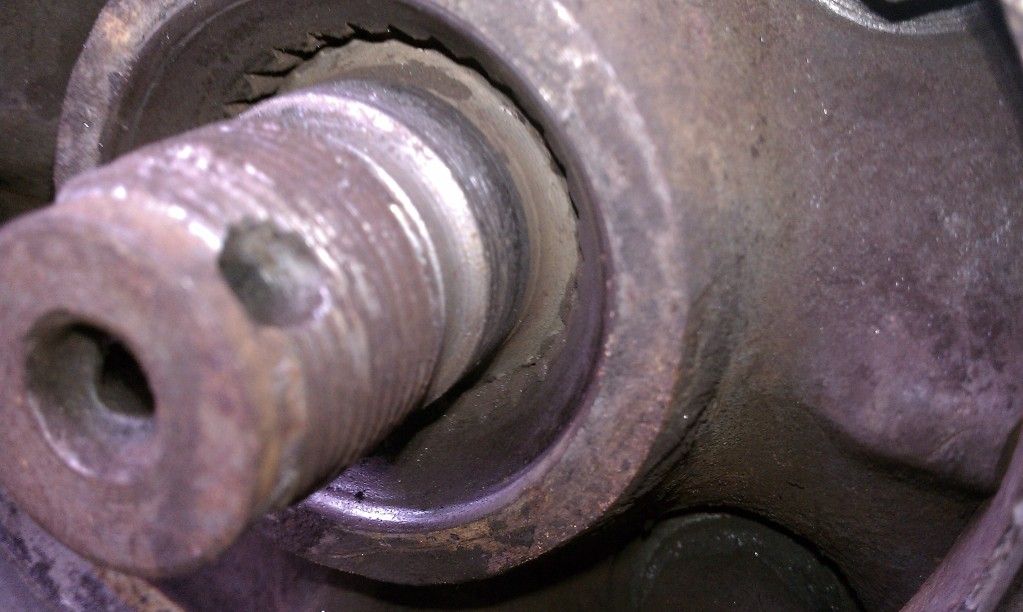 Oh, and here is a photo of my previous cone and spring washer. You can see the gap in the cone washer and the spring washer looks like it's been flattened out.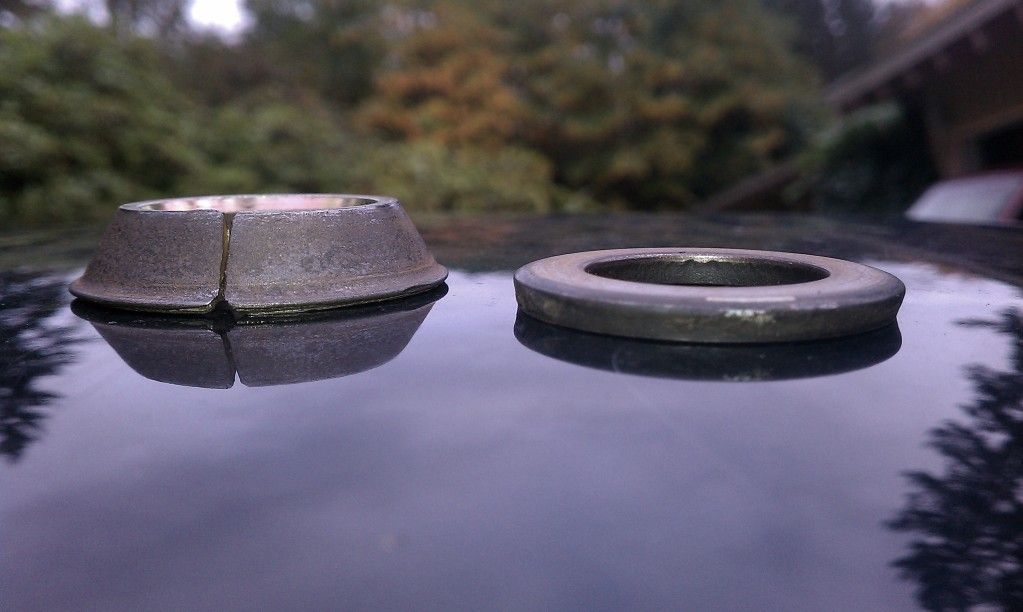 Yeah, again, sorry for the long post. Just to finish this post off, I will post some pictures of what I saw at the dealership today. This is a perfect condition, inside and out, second generation Brat.