Quick question/summary:
What Alternator/AC bracket(s) and accessories do I need from a '97 EJ22 to work on my '96 Impreza?
Here's what I've tried:
1. '97 vertical bracket (#1 below): Works w/the '96 Alt but not the AC compressor - the top 2 bolts don't line up.
2. '96 Vertical bracket: Works w/'96 Alt and the top 2 bolts of AC will bolt, but not the bottom piece. I have this installed w/just one bottom bolt - w/out the triangle piece.
-Car is a '96 Impreza, automatic, that had a dead EJ22 due the PO running it
out of oil (about the only way to kill the EJ22 from what I've read).
-Since it was an AT, it has the EGR.
-I found a '97 EJ22 from a Legacy - complete engine - block/heads/intake manifold (IM)- but no EGR - (NOTE: IT HAD a Flex plate- not a flywheel.)
-Intention was to swap the IM from the '96 to the '97 and put in an EGR port on the '97 head.
-I tapped the head on the '97 - not too tough thanks to this
POST
(other than it was hard to find a 3/8" shank 9/16" drill bit - ended up buying a 1/2" drill).
-The '97 came w/no alternator or AC compressor (as expected), but did have the big vertical bracket that the Alternator and AC bolt onto.....
BUT the '97 bracket is not compatible w/my '96 AC compressor, although the alternator would fit. The top of the bracket on the '97 is curved slightly and won't allow the '96 compressor to bolt up. When I use the '96 bracket the bottom triangle shaped piece doesn't fit.

Here's a visual for the '97 parts- I'm referring to #1 and #13: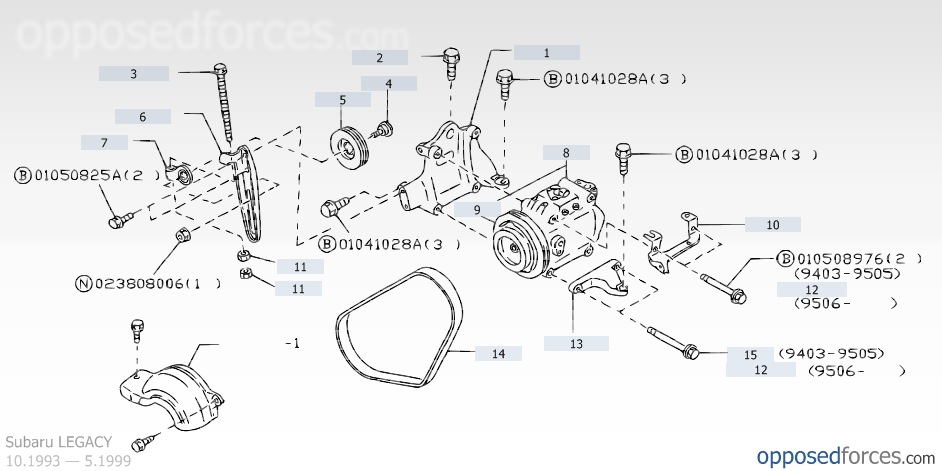 Before I go buying parts, I just wanted to see if I'm making this too hard!
Thanks,
Td
Edited by wtdash, 20 December 2012 - 01:56 PM.