Alright guys. I have a question for all of you. My mom and I started a project yesterday/today. We went out and bought ourselves a 16-foot 1966 Kit Companion trailer. We got it for $660, which considering the age and condition, was a pretty good deal.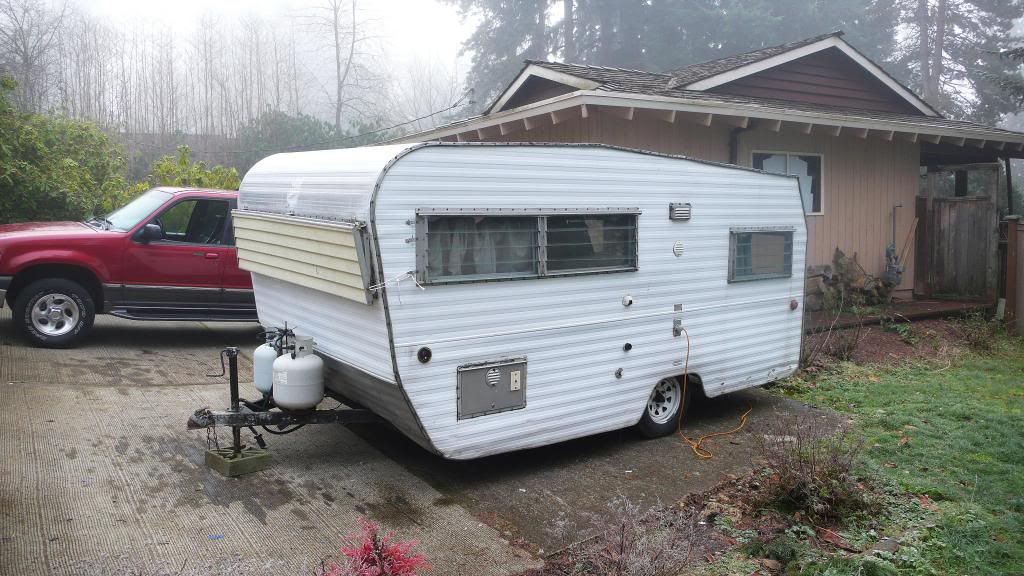 Now, it's got a lot of work before we take it out camping anywhere. For example, we're fixing the electrics on it, the dry rot on the inside, making sure the propane/water work fine, etc.
But what I want to ask is, would towing this with my '90 Loyale be remotely possible? Or should I just keep the towing to our Ford Explorer (in the background of the picture)? I've done a lot of searching on here, and it seems like it's possible, but a bad idea.
We are currently unsure of the weight, but the previous owner and the friend that towed it home for us (we don't have a hitch on the Explorer yet) estimated 1700-1800 lbs. For a Loyale, that's a ton of weight, I know. However, this is why I'm possibly considering it: first and foremost, the trailer
does
have brakes. So if I could wire up the trailer brakes to my car, then I'll have trailer brakes. Second, I would definitely do a rear disk conversion, to get at least a little better stopping power. I'd make sure my pads are new and lines are bled.
I'm more worried about stopping than the actual pulling. I've read that stopping when towing anything 1000+ lbs is pretty sketchy. But I couldn't find if that included rear disks and trailer brakes.
I'd also be concerned about my clutch. Would I be burning up the clutch a lot when starting from a stop, especially in reverse?
So yeah, it's kinda like, would
you
tow a trailer like this? This heavy? I probably wouldn't drive more than a couple hours with it at one time (most of which would be on the freeway). I know I'd be going SLOW, especially on hills. But would this be at all a good idea?
The thing is, I would get a hitch and whatnot and test it in a parking lot. See if I'm comfortable with it. But, finding a hitch for old Soobs is hard. I hear Uhaul can custom make one. I'd also have to get the wiring sorted out. I think with our Soobs, you can get a 4-pin trailer wiring setup, but this camper has a 7-pin setup. And I'm not sure if I'd have to rig something up for the trailer brakes.
So in your opinion, would it be worth going through all that trouble and risk to pull this trailer, or just leave it to the Explorer?