Well I had to put a new alt in my subie the other day and I had a few alternators sitting on a shelf so I decide to see if I could make one work. The one that fit the best came out of a 95 impreza it is very similar to the maxima alternator. Here is some pics
I forgot to take pics of the new alt before modification so here is a couple I got from google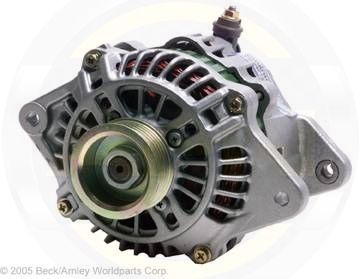 New alt installed but not wired
Old alt had a double pully on it and it turns out that all the parts needed are in the old alt. first thing you need to do is swap the pullys. On the old alt I held the pully with a strap wrench to break it loose, but on the impreza alt I had to hold the pully in a vise to get it off (good thing we don't need that

). The impreza alt has a built in spacer but I found the old alt had just the perfect size spacer on it, so I used it. Then the final thing you have to do to the alt is un bolt the plastic peice on the back that connects to the batt post so the batt post sticks straight out. I had to make an insulater so I took the the one off of the old alt and drilled it out to the size of the post on the new alt. it worked perfectly I did have to use one extra washer but that's easy. Now it will bolt right in the connections are similar to the maxima alt. so you can use the original wiring if you want but I liked having the original plug so I used it. I wired it into a externals voltage regulated subie so my wiring is differant than yours will be. Here is a pic of mine after I wired it
The large white wire is the sense wire and it needs to be connected to 12v constant and the easiest way to do that is to run it straight off the wire that runs to the batt post. The other wire needs to be connected to the charge light so I had to run it around to the old Voltage regulator harness and connect it to the the charge light wire wich is white with red trace. On a internally regulated subie you should be able to use the same wires that went to the old alt. just make sure the small wire is going to the charge light and the the large white wire is going to 12v constant.
Here is a better explanation of the sense wire and how it should be connected thanks to ferox
The sensor wire should be connected as close to the battery as possible. It doesn't go to 12V constant; it "tells" the alt what the actual charge is on the battery, so the alt "knows" how much to charge the battery. If you just hook it to 12V constant, then the alt won't be responding to the battery charge per se and would most likely result in overcharging the battery. We've already gone over this. The way you have it hooked up will work, but it's less than ideal and doesn't account for resistive losses in the alt power supply wire to the battery.
Okay this alt can be found in subaru imprezas from 93-96 1.8&2.2 and that is the only models or years I can find the same alt in.
Edited by mikaleda, 05 March 2013 - 04:49 PM.