The rotor on the right is an aftermarket rotor that I had installed on my wife's 2005 Forester a couple years ago. On the left is one of the original rotors, after resurfacing at a local shop.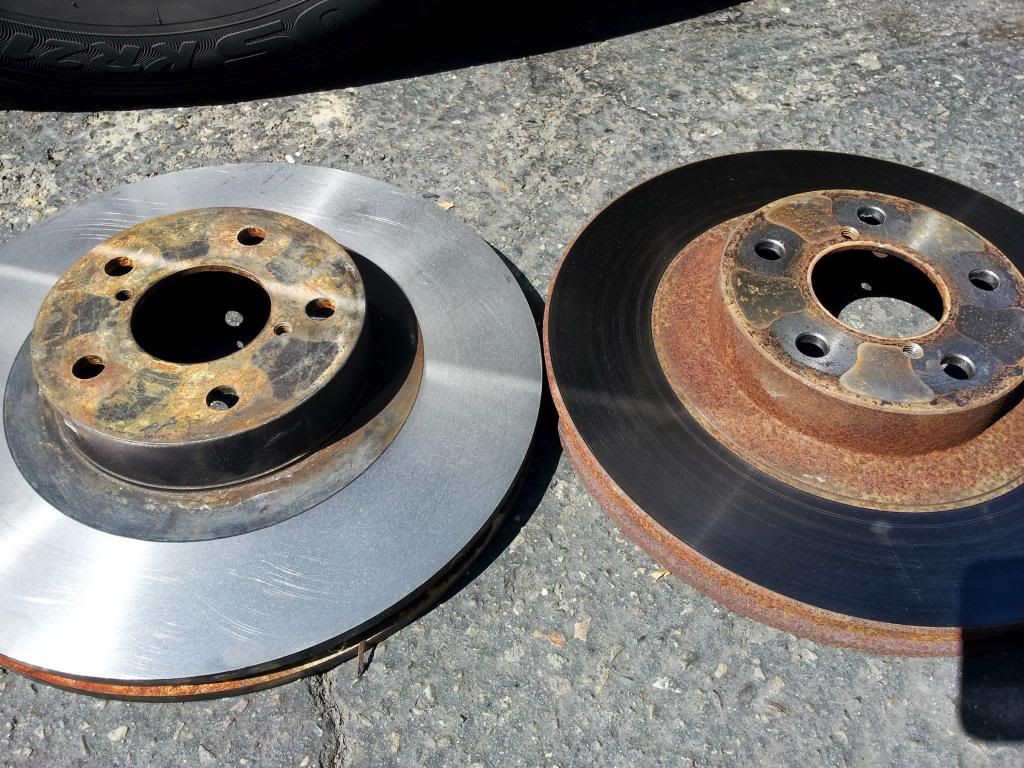 You might be able to see in the photo that the aftermarket rotor has a raised area, about a half millimeter or so, just inside the braking surface. The original rotor is actually recessed slightly inside of the braking surface. That raised area apparently was just enough to cause a moaning, slightly grinding sound as the car came to a stop after a couple applications of the brakes.
This noise was mystifying. Some friends suggested that the rotors were glazed, so I tried roughing up the rotor surfaces a bit a couple times with sandpaper. The noise came back. I disassembled the brakes and made sure everything was in place, no bent clips or anything. Nothing seemed amiss. Added some anti-seize lube to the backs of the pads. The noise came back again anyway.
Finally in frustration I decided to replace the rotors with the originals. One of the original rotors had developed a significant warp (which is why I had decided originally to save time by replacing the rotors when I did the front brake job a couple years ago, instead of leaving the car jacked up for a few hours to have the rotors done) so I had them turned at a local shop to prepare them for reuse. When I compared the original and aftermarket rotors side by side, that raised area was a pretty obvious and visible difference.
The original, resurfaced rotors are back on the car. So far, no noise.
The lesson I learned is that just because an auto parts store lists an aftermarket product for a given year, make, and model, it might not actually be a good fit.