Did this today as a fix for my instrument cluster housing, which had the usual cracked and/or broken screw holes in it for
the left-hand button cluster (Hazards, Pneumatic Suspension, etc). This is the third housing I've had my hands on, and all
three either had this problem or developed it shortly; the plastic bits that the button cluster screws into are rather easy to
damage by even a slight over-tightening due to the type of plastic the housing is made of.
It's pretty simple, but this will only work if you manage to still have (or find after they break off while you're working on the housing) all of the pieces that were once screw holes/mounts. On this cluster, one snapped off a big piece with some of the thread in it, and a
smaller piece near the opening too. The other mount had a good crack developing across it, but was still in one piece.
1: Carefully glue the broken off pieces back on using a strong solvent based adhesive meant for abs and pvc plastics. You can find these glues in most every hardware store. Super glue is not advised, as it has poor shear strength. If, like my housing, one is not
yet broken but cracking, obviously go ahead and run some glue into the cracked mount also.
2: Even with the types of adhesives that weld the plastics, it probably won't be enough on it's own--as mentioned, due to the brittle plastic the housing is made of. Reinforce the mounts with small zip-ties, pulled as tight as possible. Simple. Just make sure you
orient the ratchet of the zip-tie to where it won't interfere with sliding the button cluster back in.
Mount that broke into multiple pieces: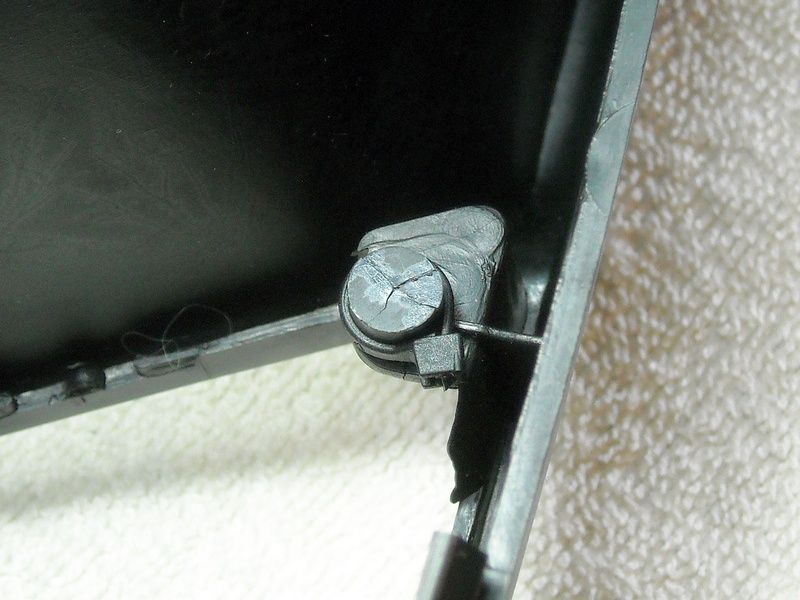 The other one, which had only started to crack
Even if your screw mounts are not yet damaged, I'd recommend adding the zip-ties next time you have it apart, just for some insurance.