hello folks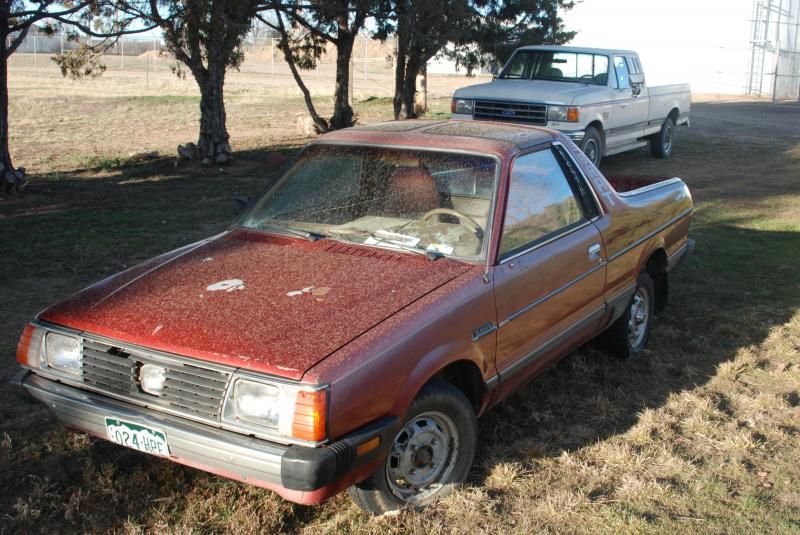 here is my 1982 subaru brat i just purchased. i'm beginning to think it was not worth the purchase. don't let the picture decieve you. this car is a absolute rust bucket.
i am a very experienced mechanic when it comes to american classics. i've owned over 10 classics and all of them were v8s. so this truck is a new style of vehicle for me being a foreign make and having a 4 cylinder engine. i just ordered a chiltons manual for the vehicle which should be in next week.
what engine do i have in my subaru? i can provide a vin if that helps. i cannot find any identifying stickers on the vehicle indicating which engine it has.
i'm attempting to replace the ignition cylinder in the column. of course the key is worn out. and the truck can't be turned off once turned on. so this leads me to the ignition cylinder. i can't seem to find a hole that a subaru mechanic told me about that is near this ignition cylinder that i'm supposed to slide a paper clip in to release the cylinder. i already drilled out the circular plate on the bottom side of the column thinking this was the solution.
should i just buy another column?
also theres a terrible noise coming from the front right passenger tire. i'm guessing it's a bad axle and possibly bearings. whatever it is i can handle it.
another thing that concerns me greatly is the oil pan drain plug is hogged out. someone attempted to repair it and did a terrible job. my question is - on the oil pan on my engine is it possible to remove the entire plug housing that the oil pan drain plug threads into? maybe what i'm looking at is a repair plug. if this plug is removable and is often fixed just by replacing it with another subaru oil pan plug with plug housing then i need to buy one from someone who has one lying around.
if this fix isn't as simple has finding another subaru oil pan drain plug assembly then should i just change the oil pan?
i took a quick peak and it doesn't seem possible to change the oil pan without removing the engine or disconnecting from the transmission and moving the engine forward about 5 inches with all connections on the front of the engine disconnected as well to allow the engine to be shifted forward. am i correct in this assumption?
thanks for any future input.
i hope that with the information that can be obtained on this forum, i will be convinced not to take this truck to the scrapper. i only paid $600 for it but am thinking this may have been a lost cause. i say this because it has many other problems i'm not interested in fixing as of now. the truck bed is completely rotted out. i ruined the tailgate getting it on a dolly for transport. the rear shocks are barely mounted to the fram due to the extensive rust. there are multiple holes in the floor pan. front bumper is messed up. also needs a new hood. and there are fiverglass repairs where there is rust through all over the vehicle. my main goal is to get this thing on the road. if i can accomplish this with less than 1k usd then i think i've done well. i know this car can get 35 mpg and my 72 f100 is getting about 8mpg so this will be a huge improvement if i can educate myself on this vehicle