So! I was perusing the list of craig. Craig's list as it's called. I was sorting through the vehicles listed near me in ascending monetary order. After weeding through all the assholes that set the price of their car at $1, and all the people who are asking 10k for their car but list it at $10, I finally started to get to the meat of what I was looking for. $300 and up I started seeing actual cars for the actual price, but at this range many of them are usually non-running and cottage cheese rust wise. Then I saw the oldsmobile listed for $400.00. One owner car, garage kept for many of it's years, got in to a minor accident but it is running and driving and the price is OBO.

So here's the pictures I saw in the ad;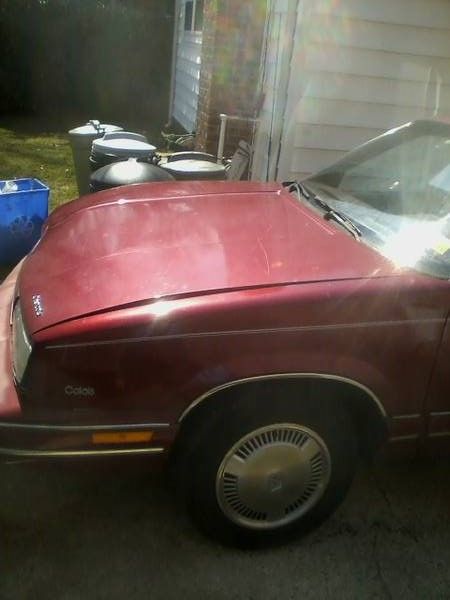 Not too shabby. Even has the venerable "Iron Duke" Pontiac motor.

Long story short, I went and checked it out and had the title signed over to me for $150.00 even.
120,000 miles. Drives straight, feels solid, 90 percent tread on all 4 corners. Front seats are good, armrest is torn, back seat is immaculate, though bent out of shape due to necessary removal to get into the trunk.
the bad is the front obviously. I'll have to source a headlight and a fender, and eventually a grille (why do all the cars I buy have broken grilles!?)

The hood is bowed ever so slightly and the radiator support is pushed back just enough for the hood to not latch.

The trunk lock doesn't work, that should be a simple enough fix.

The pass side door doesn't lock and the key cylinder on that door is destroyed from somebody trying to break in.

The headliner (as with all these GM cars of the time) hangs down.
Driver's side window doesn't go down (crank windows. Linkage?)

I aim to replace the damaged body panels and clean it up. Started this thread just to document pretty much.
Going for plates tomorrow AM and taking a train out to long island to pick it up.
Edited by l75eya, 13 April 2015 - 05:59 PM.