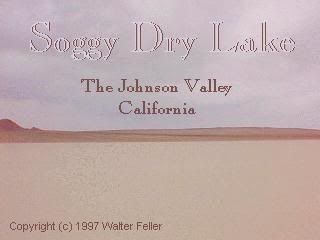 The next rally-x event isn't until the end of February (Ridgecrest). So... many of us are just craving a rally practice run before hand.
Place:
Lucerne Dry Lake/ Soggy Dry Lake/ Johnson Valley OHV
When:
Sunday Feburary 20th
Why:
Pre-Ridgecrest Rally Practice Day
What to bring:
Your Rally Car (or truck or quad or lowered civic), hand held radio if you have one, orange cones if you have any, friends, and whatever else you'd like.
How far is it?
About 2 hours from the OC.
How do I get there?
From almost anywhere south of the San Bernardino Mountains, take I-10 to I-15 or I-215 north. I-15 and I-215 merge to become just I-15; I-15 then goes over the 4000+ foot Cajon Pass, and into the Mojave Desert. Just before Victorville, take the "Bear Valley Road" exit and head east. This will go through south Victorville and Hesperia and Apple Valley and eventually merge with CA route 18. Continue on CA-18 until you reach Lucerne Valley and the junction with CA-247. Go north on CA-247 for a few miles as it crosses Lucerne Dry Lake.
The riding area is off Highway 247 (Old Woman Springs Road) and Camp Rock Road, about 55 miles southeast of Barstow (CA) or about 25 miles east of Victorville (CA). Most visitors access the area off Camp Rock Road driving north off of Highway 247. Staging for many competitive events is at Anderson Dry Lake, about 10 miles north of Highway 247 just east of Camp Rock Road. There is also access north of Highway 247, driving east toward Yucca Valley, at Bessemer Mine Road (to get to Soggy Dry Lake) and Boone Road. All of these roads are graded dirt roads.
What's it like out there?
Well, dirt, a lot of dirt. There are smooth washes, small sand dunes, and just a lot of open room for practicing!
If you are interested in making the trip, please post with a confirmed RSVP. I figure we'll see where everyone is coming from and then meet at a central point at about 10am Sunday. We'll get there have some fun then head out.