I recently got a great deal on a hatch from Jon aka (75Subie) The car is now on the road with 200,000+miles

Thought I would like to share some photos.
That's her sitting in garage bay two, getting some TLC done: Oil change, plugs, plug wires, distributor cap, rotor, and some vavle adjustment. Also got some mint hatch tail lenses from Gabe (JunkYardGabe) had to replace two cracked ones to get it DOT approved :cool:
Theres the back of the car, over all it's the cleanest hatch I've owned. One small crack in the windsheild and a few dents here and there, couldn't find rust on the outside.
After washing out the door edges and sills you can see theres no signs of rust or bondo anywhere. Man was I pleased with it! You west coaster's might not think much of it, but here on the east side where salt is winter's king this is amazing!
Just a little mud on the floor pan, Gee wonder how it got from the logging trails out back onto my car

BTW this is after a power washing.
One ball joint was iffy so I replaced them both. Though the sway bar mounts, shocks, and even brakes where all good. Impressed I was this thing doesn't get any better! For 200,000 plus miles this thing was in tip top shape. There are only a couple of things wrong with it that I could find.
While driving down the highway I notice I was becoming slightly intoxicated, I quickly opened my windows and got some fresh air. This made it very easy to tell I had a slight exhaust leak somewhere. It's actually right where the Ypipe meats there, nothing a little welding can't cure though. Not bad for the OEM from factory exhaust wouldn't you say?
Yep there's the engine, needs some degreaser for sure. This was the only down side to the car. Everything and I mean everything on this beauty works great, except it's got the slight tick of death going on. Yep what a bummer.... well at least for some of us

After some vavle adjusting it got a little quiter, it still has plenty of subaru low end grunt, but around 4500 RPM it shakes quite a bit and looses power. After doing a Compression check I found that cyclendar number 4 has only got 21 PSI :-\ The spark plugs threads are also almost completely stipped out on that cyclendar, and adjusting that vavle seems to have little to no effect. For running on 3 though it's got some marbles though, gotta love a boxer.
So what to do... hmmm PERFECT! drop in a currently being rebuilt motor, BYB lift kit, WRX blue paint job, New Seats, Toyota rims with TLR's, and a 3.9 ratio LSD/5 speed... I think that will make her perfecto!
Have a 264/220 cam going into her, decking, porting, and polishing the heads. Making a custom Maderal bent Y-Pipe and mounting on a set of moded VW dual webers, with a MSD Off road ignition system and high voltage coil to light her up. That should make her Cherry for now! I'll put up some more pics when I get to the next stage

Hopefully I'll have time this weekend to get some of this done, wish me luck eh?
Peace, Fishums
PS: Bay three wants to say hi!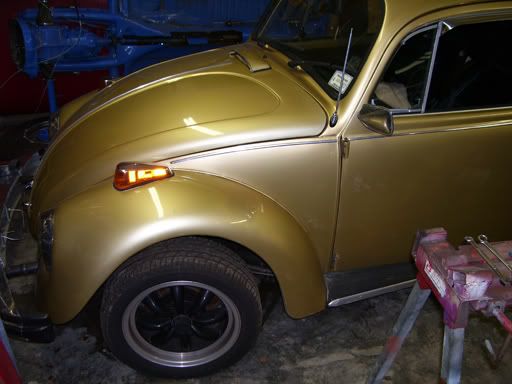 Me low rider bugger :cool: