Hey guys and Girls! How is it going?
After finishing my 82' GL wagon I decided to take it on a nice little jeep trail! Jeffast came along in his chevy Flamer-uh Blazer and both cars did decent! I think the subie did better though. (sorry jeff not being mean) We got pretty far up the trail, and stopped. well we wondered off to look at the trail and I locked the key's in my car. DOH! got it open by hitting the door. ????? Anyways, we got up pretty far after that but my tranny started whining, and I kinda wussed out so we turned around only to follow 3 jeeps that were going 3mph (GAY!!!) But it does really good off road!
Mods are:
BYB lift, 27" Kuhmo m/t's
MPFI EA82 from an XT (spider n/a)
new clutch, cone filter, yellow paint, stickers, and I cut the muffler off. lol
This little wagon moves great!

Jeff will post more pics and a few videos of me showing off for some jeep guys. lol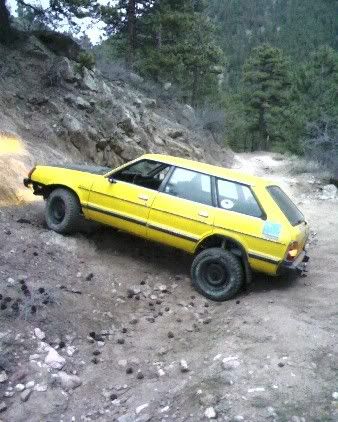 Rick:banana: