I thought I'd post this thread to provide people with some information on a way to restore their cloudy, yellowing headlights. I know this has been talked about tons, I got a lot of info from other threads. I just thought that people trying to do the same thing could benefit from my job.
I didn't have much time to do the job, and didn't want to take the headlights out to clear coat them, so I decided to give the Permatex Headlight Lens Restoration kit a try just for kicks to see if it would help. I figured the $13.50 or so that I paid was worth a shot. The kit comes with 4 sheets of sand paper (1000, 1500, 2000, 2500 grits,) instructions, a pair of latex gloves (didn't need them,) a small cloth, and a bottle of "Plastic restoration polish." I didn't take a pic of both headlights before, so I'll use the passenger side headlight for demonstration. Here it is before: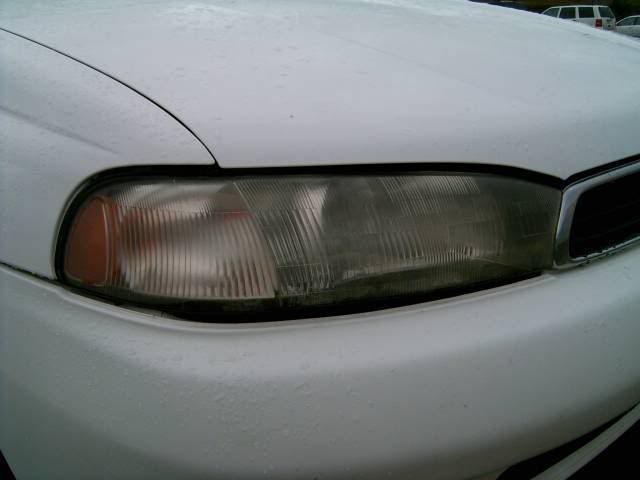 I know a lot of people have restored headlights different ways, and everyone has their own "best" way. I'm going to describe this process so that a newbie can do it, so forgive me if I state obvious things. Understand that this is simply one way to do this restoration and I will not pretend it's the best, it simply worked for me. Wetsanding/clear coating, toothpaste, brake fluid... all those other techniques exist and should be considered when deciding how you want to do your own headlights.
I began wetsanding the lens beginning with the 1000 grit. I sanded for 25-30 min. with this one alone, and kept sanding until every imperfection was gone and the lens was a very uniform matte finish. The time it takes to complete this step will vary based on how bad your headlights are. You can tell it's almost time to move to a smaller grit when the water coming from the area goes from a yellowy milky fluid to a brighter white, more transparent fluid. The spent about 5-10 mins each with the 1500 and 2000 grits, then spent another 20 mins or so with the 2500 grit going horizontally for a few minutes, then going vertically for another few mins. I gradually let up on the pressure, and made sure it was liberally lubricated with water. The result was that by the end, I was basically keeping only enough pressure on the sand paper to keep it against the lens, no more. You can tell that the lens is almost smooth enough when the water starts to bead up on the lens rather than appear to be absorbed.
After all the sanding was done, the headlights should look acceptably clear. That way, they'll be like glass when you polish them. Now it's polish time... it's basically like waxing a car, although I tried to press pretty hard on mine to really work out a good shine. I polished for about 10 mins each headlight, going over it once, buffing, then going over it again, and buffing. This whole sanding and polishing process took about 3 hours for both lights. The end result on the passenger side light, the same one pictured above, was this:
I was very happy with the results. Here is another pic of the driver side headlight completed before I had begun on the passenger side- this is a good side-by-side comparison: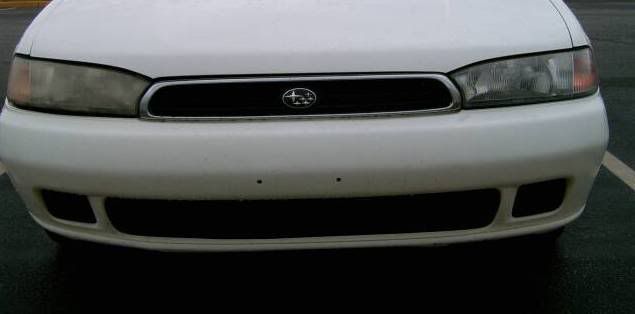 And here Is the end result after both headlights were finished: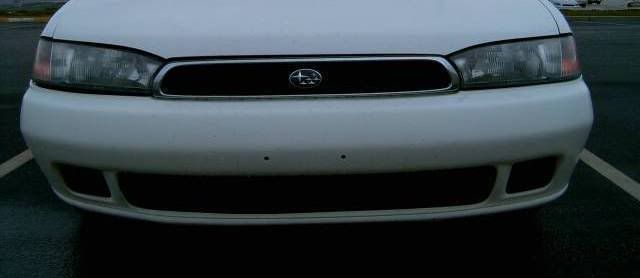 I wanted to do this restoration mainly because my headlights looked like such crap all yellow and clouded, and I also figured my headlights were a little bit dimmer because of the discoloration. After doing the driver side lights I was able to see just how much dimmer the lights had been. Here is a picture of the lights shining on a fence about 8 feet in front of the car- Driver side light has been restored, the passenger side light has not:
You can see that the focus on the light on the driver side is about twice as large as the passenger side. Not only that, but the driver side light projected at least twice as far with a much better intensity, I was amazed.
I'd really recommend doing this, any method, to clean up your headlights. My headlights had dimmed so much it was almost becoming a safety concern.
I'm not going to pretend that this is going to last forever though- once the sun comes out again and I start driving, the stuff that did this yellowing in the first place- UV rays, air pollution, etc, will begin the erosion again. I plan on applying Mothers Plastic Polish to my headlights whenever I wash the car, maybe a few times a year, to ensure that my results stay protected. I'm also going to start polishing the tail lights too to keep them looking good. I hadn't really considered this necessary until now, but this little project made me realize it's worth keeping those lights shining.
Anyway, I hope this helps anyone thinking about doing this themselves. Below is a final pic of what is included in the package- keep in mind this was taken AFTER I was done:
And just for fun here's a close up of the driver side: