Well... it all Started one Weekend, my Dad took the Yellow Wagon to do a Short trip, and he stopped at a Gas station for some gas, then at its food mart for some snacks. While he was sat on the car, correctly Parked at the Food Mart, talkin' by Cellphone, someone drunk driver did side hit the front bumper very Fast...
and this is the Result:

The Damage wasn't much bigger, due to the fact that the bumper was already reinforced with Fiberglass and some added metal assist points, but the car moved around a feet horizontally with the side hit.

Well... dad just got a li'l Head's hit, but he's Fine, O.K. Now ... but my Yellow Wagon's front Bumper was in very sad conditions...

So, I went home (I work soo far away for now) to do the Repair, and I asked a friend who is a Good Fiberglass Artisan, to help me with such material.

First, we took out the Front Bumper. This is a Detailed view of the Damage, includin' some Li'l twist on it's Metallic Base.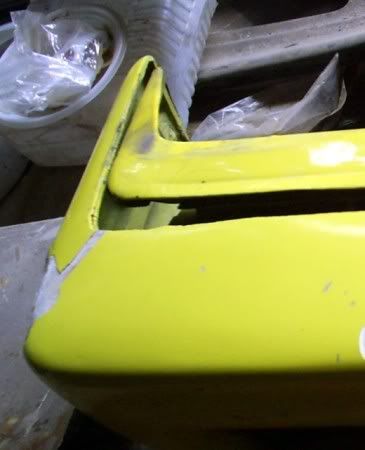 Then, we started to remove out the old finish material
and we Dissasembled it, Repairin' the Li'l Twist on its Base, and Reinforced it with more metallic assist points, a pair of `em did bypass the original plastic cover, The idea is to hold very firm that plastic cover to the Metallic base.
We needed to cut down the Remainin' Reinforcement points...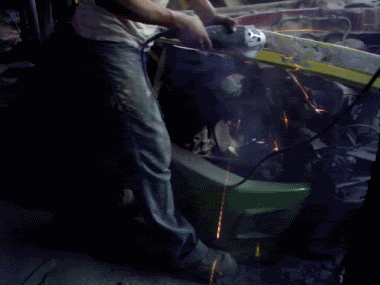 ...This is my Friend, doin' that.

Then, We used sandpaper and covered it with the Fiberglass.
Fiberglass comes like a Fiber Fabric, just cut the pieces you want, and then Spread all over it a Epoxy Compound, mixed with Hardener... Many coats of that Epoxy / Fiber, like you're makin' a Lasagna!

Then, we used Sandpaper on the Already Dryed Fiberglass
(untill Next day's Afternoon, to be Sure that was completely Cured)
And Covered it with Flex.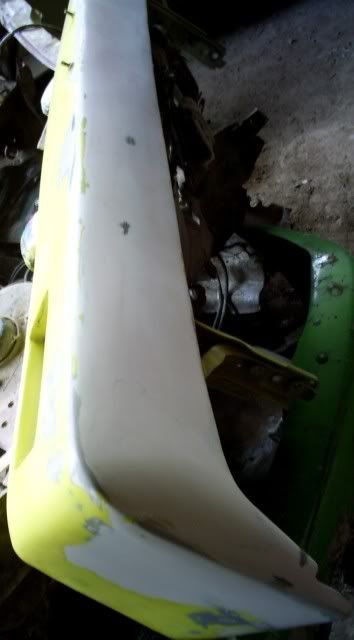 You can Notice a Li'l bit the Heads of the Metallic Assist points,
and the Licence Plate's Screws, that comin' from behind the Bumper.

This is how it ended lookin` at my Friend`s Repair Shop:
(he did help me with fiberglass, I Prepared and Painted it)

And Finally, This is the Results:
My Yellow Wagon's Smile is Back! ...

... I Love it!
The Bumper was Clean, while the Rest of the car was Dirty... But it Looks Soo Good!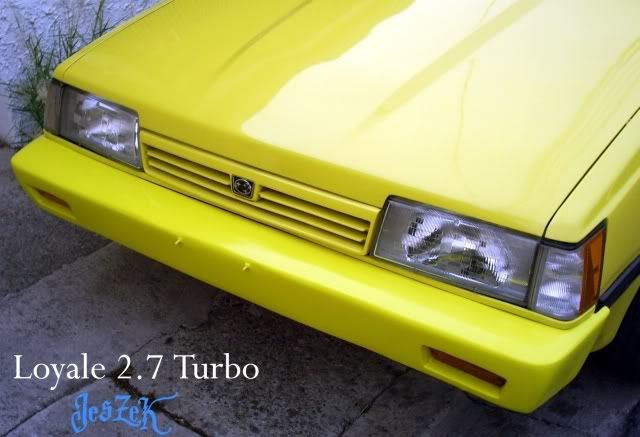 Well... I Hope this Idea could help those who want to Repair or Improve the Lookin' of their Car's Bumpers...
Next to Do: a Hood Scoop... "the InterFooler" ...Comin' Soon!


Kind Regards.
Edited by Loyale 2.7 Turbo, 12 June 2013 - 02:41 AM.