I've noticed over the years that theres a slight issue with lifting Imprezas, the rear trailing link...
The rear trailing length is X amount of length, so when you lift it, it rotates to the point where the rear tire starts to get close to the front of the rear fender as we know: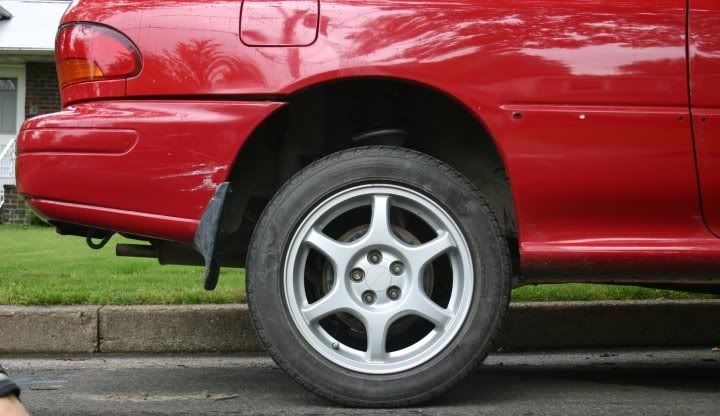 The expensive solution is an adjustable length trailing arm...
However, reading the last Subiesport issue, it was mentioned in an article by the "Team Orange" drift group that they use different rear trailing link BRACKETS to adjust handling on RWD imprezas.
Brackets you say??? Yes, aparently the Foresters and some Legacy's have DIFFERENT brackets that mount the same but actually have LOWER trailing arm mounting points!
BIGSKYWRX over on NASIOC lucked out and actually had one of these brackets laying around, heres the photo:
As you can see, theres about an inch or so height difference on where the bolt to the trailing arm mounts to. This might not help 100% with the rear tire clearance issue, but it will help some, and those brackets can be found off of junkyard cars if you don't want to buy them new

so ya, cheap option!
Anyone want to try it out and post a picture of the results?