Remember the Thread about the Huge PotHole on the Road, where my Subie Almost was "Swallowed"? :-\

http://www.ultimates...ead.php?t=73725



Well... I did Hit a Smaller -but Horribly Deep- PotHole last January in my White Wagon...

...and I didn`t Notice anything Wrong on my Subie after that (I went under the Subie and Checked Everything)...

...Untill last weekend, I Checked the Tires, and I Found Something Wrong on the Passenger`s Side Front Tire...

The Inner Part of the Inside`s Corner of the Tire was "Eaten" ... the Tire was Almost about to Explode... with the Nylon Ply Revealed out!

While the Rest of it was in Good Condition!

I Went to an Alignment Center, and it was Very sad for me to Discover a Camber Alignment Problem on my Subie...

The Camber Angle identifies how far the Tire Slants away from Vertical, when Viewed directly from the Front or Back of the vehicle. Camber is expressed in Degrees, and is said to be Negative when the top of the tire tilts inward toward the Center of the Vehicle, and Positive when the top leans away from the Center of the Vehicle.

So my Subie got the Front Passenger`s Side with Negative Camber

and there is no Way for an Easy Fix, `cos it is Fixed Part.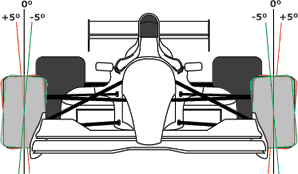 This Image Gives the Idea... my Subie`s Wheel Sees like the Green Line.

I Remember that some months Ago, I Saw a Subaru Loyale EA82 that got Installed a Thick Bar from one Strut`s Top to the Other, right above the Engine (Between the Front`s Struts) and it got Adjustment (?) I Don`t Remember well...

I Rember that the Bar was Attached to the Strut`s Tops with a Metal Plate, that got the Three Holes for the Three Strut`s Bolts and a Center Hole for the Strut`s Top.

So, the Question is: Could that Bar, Be a Good Way to Fix the Negative Camber Issue on my Subie? it goes around -5.5º

Any Idea, Advice, or the Place where I Can obtain that Bar, etc... is Welcome!

Thank you All... Best Regards.

JesZeK