In This Writeup:
► Understanding How a Relay Works.
► Knowing which Wire is for, at the Round Relays.
► How to Swap the Old Worn Relays with Newer, more Capable ones.
► Finding the Location of the Relays on a Subaru EA82 (Third Gen Leone / Loyale)
► Learning to Wire New Relays if Desired... in case you wanna Run Halogens, Bigger Horns, etc...
___________________________________________________________________________________________________
First of All: I Hope this Write Up will Help anyone with Electrical Problems due to bad Relays, Such as Power Windows, Air Conditioneer, HeadLamps, Halogens ...etc... also you'll learn how a Relay Works and How to Easily Wire New Relays.

You Know that when you Switch Almost Anything Electric in your any car There is a Relay Takin' the Main Job of Sending the Power to the Accesory you Switched On; the Switch that you Touch or Handle, is just a "Remote Control Signal Sender" to those Relays.

Very Long Long Time Ago, I had Problems with my Subarus' Electric Powered Windows, and then Long time ago with the Air Conditioneer too, I Found that the Fault of Slow Workin' / Non Workin' Power Windows was due to a Bad Relay; Also The good ol' subies had A/C Engaging & keep workin' Compressor Problems.
An Easy Fix Would be to Just Change the Round Original 22 Amps Relay, But Those Relays aren't Easy to Find, They Need the Whole 12V Power to engage Properly, they are Expensive, and they are only 22 Amps Rated ...

... Beside that at this point of the wirings' life, their Sockets (Plugs) Could be burnt too...
In my Own humble opinion, the Best Solution of All is to Swap There Bosch Standard Relays. I've Done it to the Main A/C Relay, the Two Auxiliary A/C Relays, the Power Windows' Relay, and the two HeadLamps Relays.
I'll Explain How To do that swap Here, with Photos.

Bosch Standard Relays comes in Many Quality Brands, Not Only Bosch (By the way, I Saw Bosch's Made in Portugal, Germany and Brazil, rated at different Amps) There are many Other Brands that Make the Bosch Standard relays, like Hella, Wagner, Flösser, Osram, Sylvania, Potter & Brumfield ... etc ... so They are Easy to Find, They are Cheaper than stock round relays, and Give Better / Faster Response; they just need as Little as 8 Volts to Engage, also Bosch Standards are more Reliable, and are Rated from 30 Amps to 40 Amps, so They'll Last Longer too ...

...
Warning! - Please Forget about Cheapo bad quality relays.
In Example, This is a photo of a "Potter & Blumfield" 40 Amps Relay, Made in USA,
The one that I've Swaped in, instead the Main A/C Relay Under the DashBoard: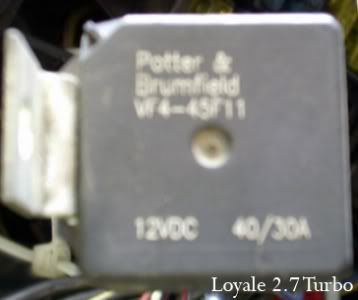 But to Swap a Bosch Standard Relay in your Subie, You'll Need to Cut off the Subie's Plug and Weld there a Bosch Standard Plug ... Or use an Adaptor. I'll Explain How to do That Too, is Easier than you Could Imagine, but keep Readin' Carefully, and Do Not Forget to Remove one of the Battery Terminals prior to Start Cutting / Welding any Wire.
Please: Be Careful While doing this, follow this instructions at your own Risk.
The Plugs' Swap is needed to be Done just once for each Relay Unit; then in the Future if you Need to Change any Bosch Standard Relay, the Plug Stays, you only Need to Pull the old Relay from it, and put there a Fresh New Relay; and That's it!

Edited by Loyale 2.7 Turbo, 07 November 2013 - 11:47 PM.