So I hadn't heard form anyone.
And then thinking of what the weather was like and the crappy roads I figured it best if everyone just wheeled in thier own neck of the woods.
So I headed out to Goat to see what the snow was like. See how far I could make it but not push it too hard.
It was enough to stop all the truggies and frickin' monster trucks I saw up there from getting to the top.
But not the Soob!

I went up to the top once when I got there and had to break trail. (there were some tracks but they were covered over by almost a foot in some places, so proly from yesterday)
Then I played around lower for awhile.
Decided to go back up one more time as I had seen a ton of crawlers and such (it was packed up there today) heading up that way and figured I'd show up to make them go "WTF?!"
To my suprise there was alot of tracks that followed mine up. But all showed signs of stuck and recovery and turning around just after the gate.
So I was the only one that made it up there today.

And I even threw my 13's back on so I could use the chains if needed. (I did have them on for piece of mind, it was icy in spots and seeing lots of rigs lose it made them the right choice)
Later after dark I ended up running across Mike and crew. And we watched idiots come sliding, spinning, careening, ditching, ect. on an icy corner from the safety of a side road.
A few pics from the top. The snow was not so deep up top due to it being so dry and windy. (Goat's about 4,200 ft give or take)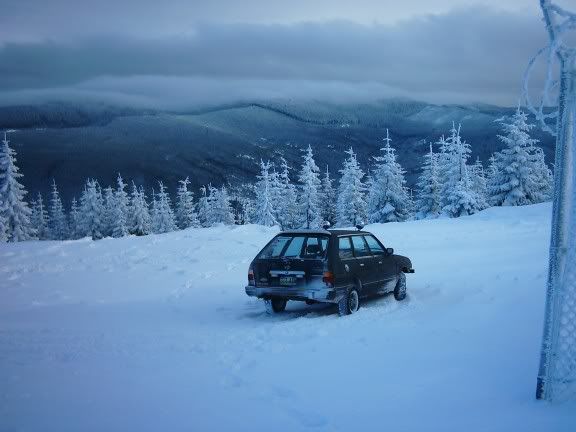 * Scoobyclimbs: I got your message. The roads around here sucked. Proly best to not be driving all over today. The trip to Goat was crazier than the trip up it.
Next sunday is an R/C crawler board trip up Lolo. Not much wheeling though gonna be just to go run scalers in the snow.
Edited by TeamCF, 15 December 2008 - 01:59 AM.