Sooooo through a no fault of my own, I'm the proud new owner of 2 VW TDI motors. The motors are new in that they have never been run. They were purchased from VW new but never saw their new home but instead sat in storage since purchased somewhere between 1998-2001.
I don't really have much interest in VW cars, not really my aesthetic. What I do like however is subarus, older ones in particular. I drive a '96 OBW as my DD and I love the thing in terms of reliability and even mpg (I squeeze 30mpg average out of that puppy), but in the "looks" department I kind of feel like I'm driving a high-top basket ball shoe.
I've also got pleeeeenty of room (30 acres) to store stuff like, oh I don't know, a fry-oil refining operation so with the appearance of these motors I got to thinking...
I have done a TON of reading and searching on the topic and there are definitely some hurdles to overcome. But as the saying goes, given enough time and money anything is possible. Time I've got (well sort of), money I don't got, but really the expensive part is behind me and that is the motors (you seen what those bad boys are fetching on feebay??).
Also, I happen to be a machinist with access to CNC mills, lathes, welders, a laser cutter, and soon a wire EDM (muuuuaaahaaaaaaaa!!!!). So any fabrication needs will be met. I figure I can relocate just about anything that needs relocating, it's just a matter of figuring out where to put it.
This is my build thread. I'll keep it updated as I progress through the project with pics when applicable. So without further adieu....
Here's the vehicle. One 1988 GL-10 purchased cheap with a blown clutch.
This car was purchased by the PO from the original owner (his ex-girlfriend's parents) and subsequently used and abused as a, "get trashed and drive through the woods shooting at stuff" rig, see exhibit A...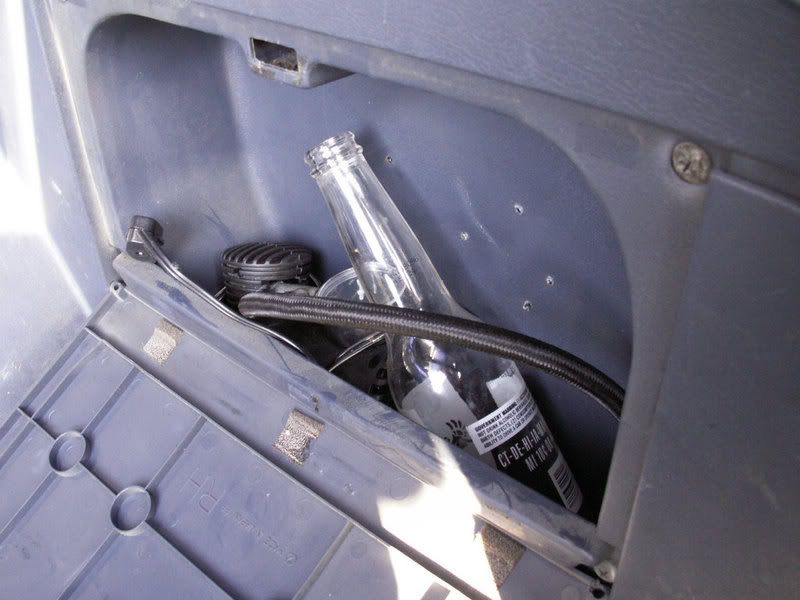 . He yanked the auto and stuck in a push-button out of I don't know what. The interior is salvageable, just a little dirty, though it is missing some of the console pieces.
It's currently sitting on 14" steel pugs hidden behind some legacy hub caps (up for grabs if anyone wants 'em). I don't know what I'll do for wheels. I'm still sorting out the motor's power so once I know that I'll know what size of wheels I'll be after.
I'm on the hunt for a 5spd D/R with a 3.9 diff which has the closest matching gear ratios (with a d/r option) in subie trans that I can find to the various VW trans that came with diesel engines. Whatever difference there is in torque I'm going to have to make up with larger tires. Hope the axles can take it!
I very well may need to have a "power hump" in the hood, I haven't gotten that far with measurements so I don't really know, but if I do, I thought maybe of incorporating an intercooler into that hump (it all makes sense in my head, trust me...). But I'm not breaking out the plasma cutter until I know my apples from my oranges.
Here's the engine. I whipped up a stand for it last night and brought it home. I've got some locking casters for it and, once I locate my trans, I'll be putting a cross-member on the stand to hold the trans and give the assembly some more stability. I plan on mating the trans and motor on the stand so I can get a good look at everything including the starter engagement to make sure I'm all good. I also want to get the motor running on the stand to make sure I don't need to reseal anything (it has been sitting for many years so who knows...)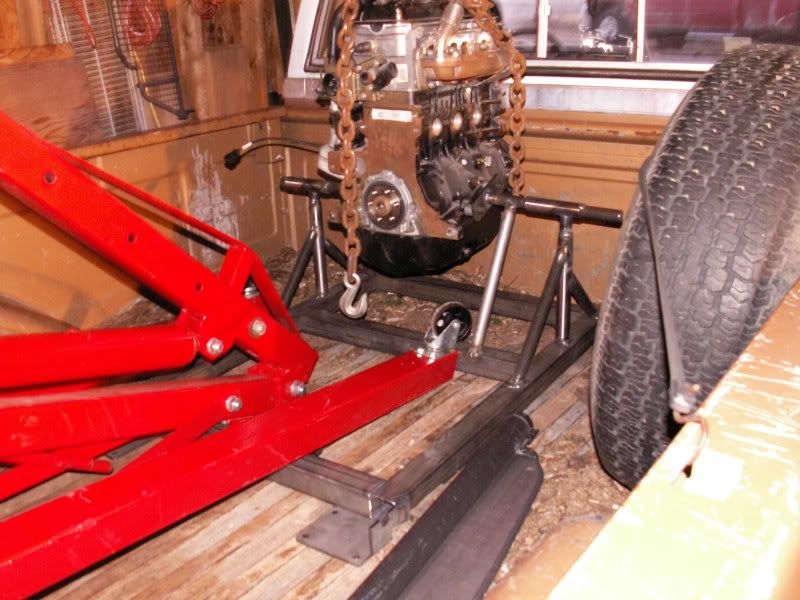 At the very least, I'm going to open up the injection pump and reseal it and make sure things look OK in there. A buddy of mine is stuffing a Cummins 4BT into his Land Cruiser and when, after some unsuccessful attempts to start the motor, he rebuilt his injection pump this is what he found...
http://s141.photobuc...injection pump/
I get Mon and Tue off, one for MLK day and one for the inauguration ( I work in DC which is going to be a real barrel of monkeys) so my plans for this weekend are to hit the JY and look for my Trans and rear diff., then pull the motor out of the GL10 and take some measurements of how things are looking space-wise.
If I get my trans, I'll get started on my adapter next week. I have been on the hunt for a roasted, toasted trans to cut up so I could jig it up in the mill and get my points for an adapter. But I haven't had any luck with that. Luckily, one of the other toys we've got kicking around the ol' shop is one of these....
http://www.faro.com/...tent=pro&item=2
...I don't know how to use it, but there's only one way to learn eh? I figure I'll give it a whirl and cut out a template to try and see if I have it right.
OK, that's all for now. I'll write more when I have more!
Will-