I picked up Superu(visiting PDX) in my outback , then swapped rigs to my hatch and headed out to TSF. I got to FIrebreak 5 and was stoked...I cleaned that difficult section of tight , rocky ,muddy using the Font wheel drive to pivot around a bolder. Jason (Team CF calls on the CB (lucky 13) I told him were on firebreak 5 and I'm cleaning it...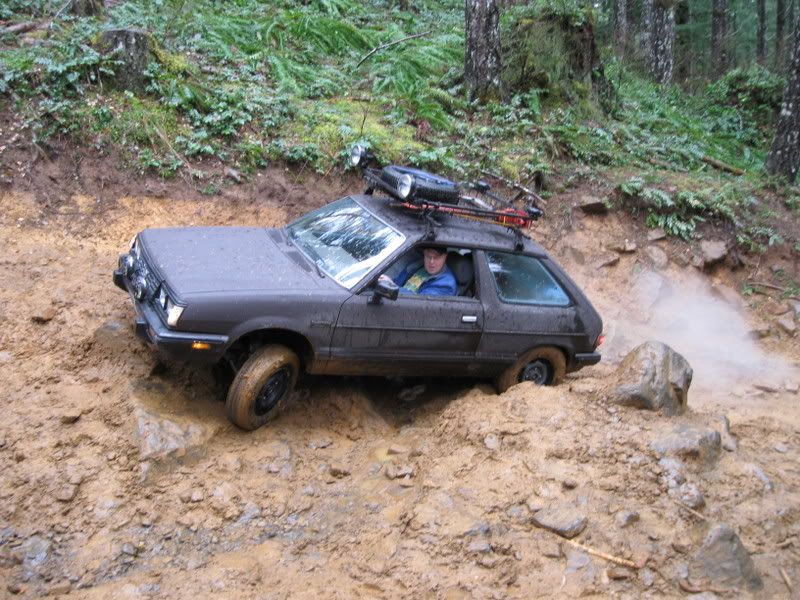 Team CF arrives..
Then a minor setback of hanging the rear diff on a rock. I jacked up the back and stacked some rocks under the rear wheels to give me that extra clearance then pulled ahead in front wheel drive to keep the rocks form kicking out under the rear wheels . It was so slick that the car wound up sliding all over the place....so picking a line was just luck..
I only got a minor ding in the lower drivers rocker,door...
Just getting through that section this time of year ups the difficulting rating..summer time it would be easy..
At the top intesection we met back up with team cf...I was snowing on and off..then I let Superu ride with team cf the rest of the day as I headed off to work...we saw a nasty rollover wreck just down from the summit a chev 4x4 totalled...on hwy 6.
I was a good day I was happy to have cleaned that section of firebreak 5 ...It made my day...

I'll post pics soon and superu will have some in a couple weeks when he gets back home..Good times

Edited by scoobyclimbs, 06 March 2009 - 01:39 PM.