it's been mentioned a couple times here, but I have new motivation to show it off (see below...), so here goes a real-live thread
bought it about 2.5 years ago. since the day it arrived, it has never been beyond the alley. didn't exactly get a steal on it, but I don't think I got ripped off on it either, and yota's with an auto trans are pretty rare (turbo being even more rare, but I don't care about that

).
pretty soon after I got it: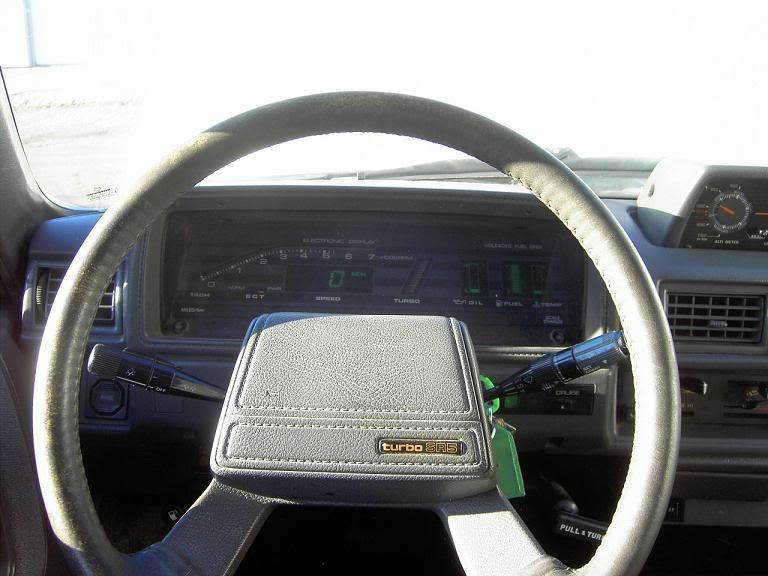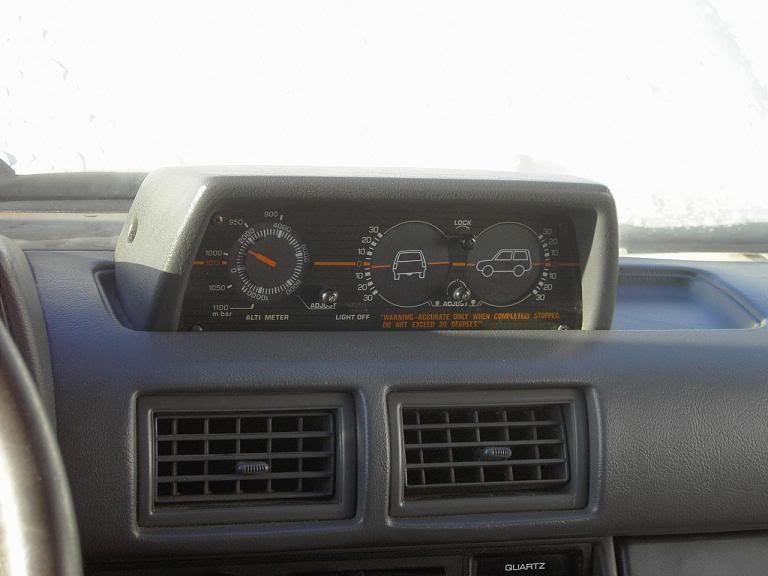 background....
I bought it from a guy in Grand Rapids, MN who salvages cars. in ~'97 he purchased this truck at insurance auction. it had been stolen, and the 2 guys that stole it drove it through a store front to rob the place. the impact blew the radiator (as well as destroying bumper/headlights/grill/hood/fenders), so they left it and took off on foot. The insurance company totalled it out. So he bought it, fixed it, put tube bumpers, step bars, an add-a-leaf, wider wheels with low backspacing, and 31x12.5 tires on it, and sold it to his sister-in-law. She lived in Colorado for much of that time, so it hasn't been exposed to salt for more than 10 years.
about 1.5 years before I bought it, they put a few grand into a brand-new head, turbo, and radiator. and about a year later, her boyfriend "changed" the oil.....and it quickly developed rod knock. we don't know much, other than the fact that 300 miles later, she noticed the noise and the fact that oil pressure gauge read nothing. she had it towed to the dealer, and they charged her for oil, and a drain plug (and labor)......
he bought it back and sold her a newer 4runner, and he planned to put a chevy 4.3 V6 into it, but never got around to it, so he put it up for sale.
that winter, I dropped the oil pan, and found these in the bottom:
all 4 thrust washer halves, one pretty thoroughly deformed

and painted the valve cover and air pipe
replaced them, and the main bearings (rod bearings measured well within spec, mains were borderline). started it up, and it was no better. I put it in gear and put the brakes on to see if the noise went away under load.......and noticed that as soon as the turbo started to spool, it started burning oil like crazy. great, seals in the turbo are shot!
so I started looking for a new motor.
last winter (a bit over a year ago), I noticed a rusty 4runner that had been run into a pole and been sitting for a month or so. offered the guy $200, we settled on $250:
too rusty to be worth fixing, but a good engine donor. didn't actually get around to parting it out until last August.
but I did paint the ugly rump roast wheels on the white one: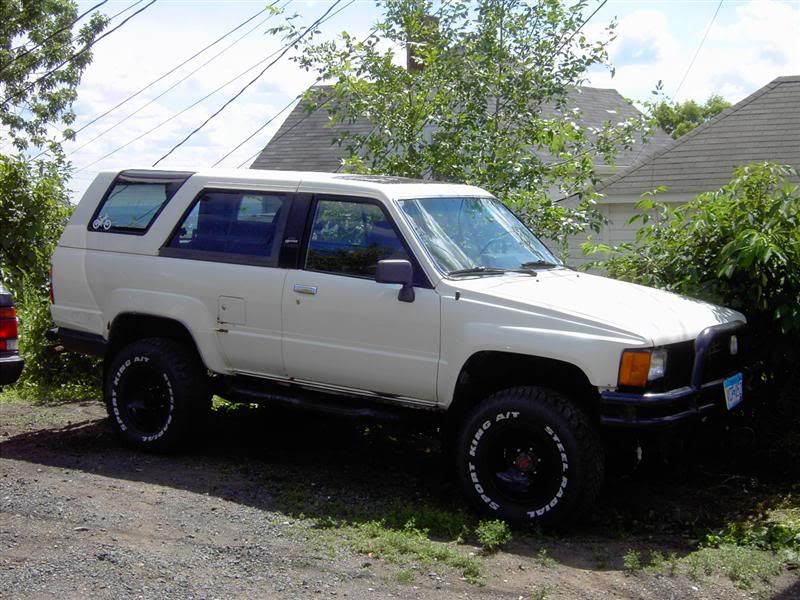 last november, I finally had the remains of the parts truck hauled away:
last wednesday was the last time it ran on the original motor. on thursday I started tearing it apart.
I used the N/A block, head, and lower intake manifold. and the injectors, upper manifold, valve cover, sensors, solenoids, MAF, and wiring from the turbo setup. yesterday, it ran again on the new motor. while I let it run to make sure I got all the air out of the cooling system I saw the ramps just sitting there......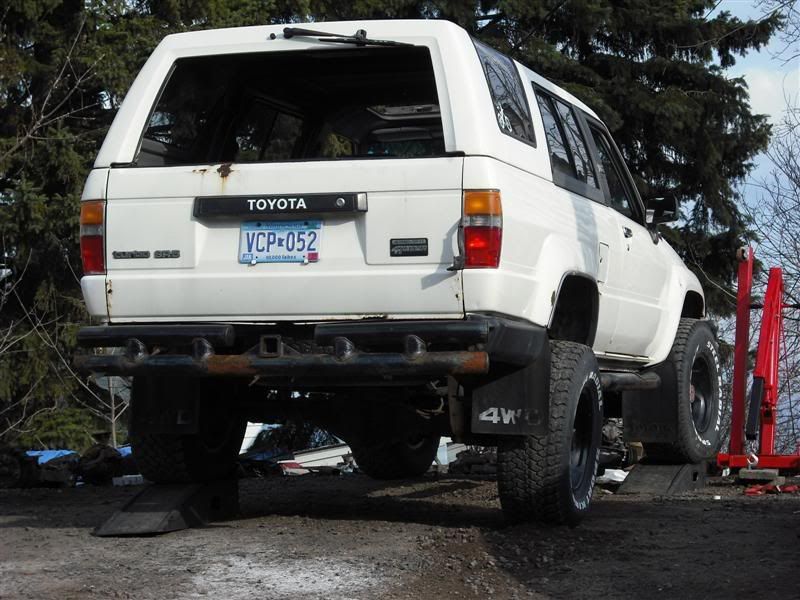 CT-20 turbo:
unfortunately, the header I bought is for an older truck. I knew the flange was the same, and that an 02 bung would be needed......what I didn't anticipate, was that one of the primaries on the header needs the space occupied by one of the torsion bars for the front suspension (wouldn't be there on an older solid-axle truck). so, stock N/A header is back in it.
hopefully the weather won't suck too bad tomorrow, and I can get the brakes bled before work (not delivering....). Still have to put the front diff in, and disconnect the sway bar.