Last Weekend I Went in one of my Usual Trips, but went alone...

...and during it, we Got a 7.3 Degrees EarthQuake in Honduras! ...

...
---
EarthQuakes are very Rare in Honduras, my Country is the Only One in Central America without Volcanos, To know More about that EarthQuake, click Here: ~► http://en.wikipedia....uras_earthquake

Many Many Roads got Severly Damaged; some Broken areas, Missing Bridges, Flooded zones, etc... Believe me: it is Horrible to Drive while the Road Shakes ...

... especially at Very Late Night times while Feeling Sleepy ... I Usually Drive at Very Late Nights, That's Why I Have the 5,000K dual beam H.I.D. Lights.

Let me share a Photo to show you how some of the Roads Ended after said Earthquake: This is a Picture I Took Some Days After, the Yellow Painted Line was the Center -Middle- of the Road; part of the lane disappeared, Also some roadside Houses Went Rolling Downhill, literaly: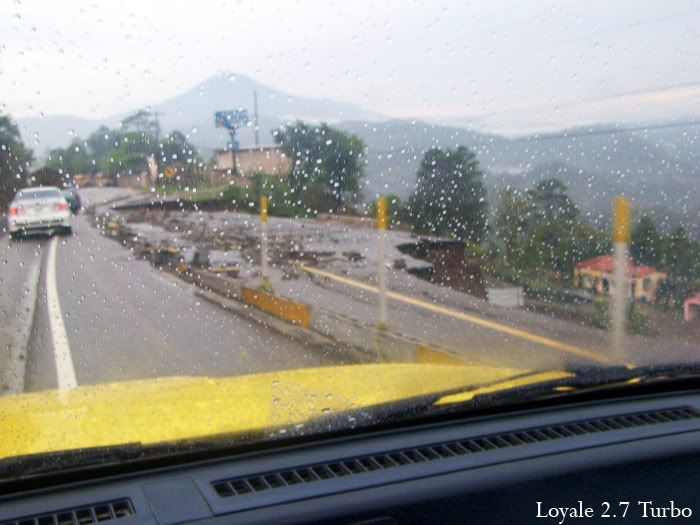 So, Right After the EarthQuake Shaked it All (Even my Butts, Seated on my Subie), I Decided to Still continue driving...

I Was driving alone in an Old two-way Road Within the Woods, at Around 2:30 AM in the middle of a typical Caribbean Downpour Night when the EarthQuake Suddenly Happened ... then I Felt Scary Like I Was in the Middle of Nowhere with dancing trees all around, So I Choose to continue Driving -But pretty Slowly- my beloved Subaru "BumbleBeast" because I Was Nearby -Around 20 Miles- of my Destination town.

Some few Miles After that, I Had to Cross thru a newly formed Pond that had a Hidden -Under Muddy Waters- Break / Stones at Some Point ... Both were New Obstacles (Pond & Pavement Break / stones) Due to the EarthQuake... I drove in first gear as slow as I could, but suddenly, my Subie Fell and had a solid Impact Sound under the Driver's Front Wheel ...

... I Know that Maybe it was a truly Stupid Idea to Continue Driving after such Earthquake, But I didn't wanted to get stranded in the middle of nowhere, within the woods.

Then, when I was almost Reaching the Town, My Subie Totally Lost the Brakes! ...

... somehow I Was Able to Drive like That because no one else was on the streets, I drove very Slowly and Parked it Outside Home, with the tires Turned to the Sidewalk.

So, the Very Next Day I Checked Everything ... I Don't Know How it Happened, but some of the e-Brake Parts at the Caliper of the Driver's side Wheel, got Damaged; the Small arm that activates the Piston on the caliper, where the Cable goes attached, was Bent; Also All the Brake Fluid was Coming from the Rear of the Caliper's Piston, so the e-Brake's Bolt-Like Pin got bent and had a ripped O-Ring.

I Just Removed the Parts, Straighten the Bent pin and used a New O-Ring to Seal the Leak: It Works as Long as I Don't attach the e-Brake Cable there Again ...

... because I tried to re-attach it and if Someone Pulls the e-Brake Handle, Everything Works Fine but the O-Ring will Break and Leak Again for sure! ...

... So, the e-Brake is no longer Working anymore, I left disconnected both Cables to avoid brake fluid leaks.

I am Really Tired of that e-Brake System which has gave me many headaches and Now, after the Hit, it seems to be Damaged beyond any repair ... it Always have Been considered by me as one of the Worst Parts of My Subie, along the Timing Belts and the Factory Rear Shock Absorbers.
I started another Whole Thread, only for the Front Calipers' Swap Questions.
It is Here: ~► http://www.ultimates...nt-brakes-swap/
---
Kind Regards.
Edited by Loyale 2.7 Turbo, 19 May 2015 - 09:20 PM.
Read from Post Nº 12 to Understand