Hi! ...

... I Have been Off-Line for a While, Since my PC`s got Damaged.
Last Week I Went in one of my Usual Job`s Trip...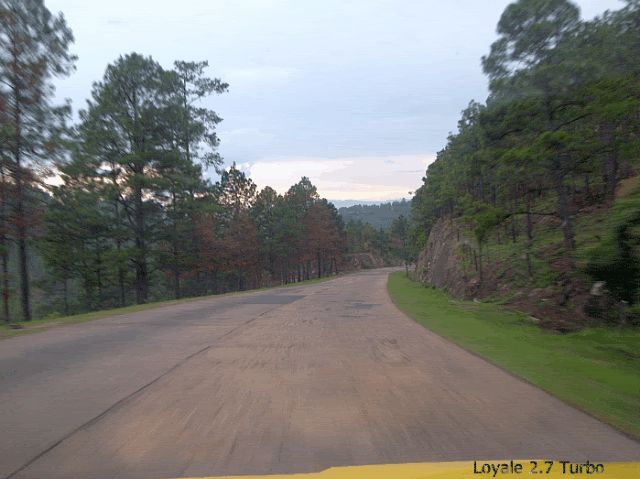 ...and Last Week we Got a 7.3 Degrees EarthQuake! ...

...
(EarthQuakes are very Rare in Honduras, my Country is the Only One in Central America without Vulcanos... To know More about that EarthQuake, click Here: http://en.wikipedia....uras_earthquake)
Many Many Roads got Severly Damaged; some Broken Parts, Missing Bridges, Flooded zones, etc... Believe me: is Horrible to Drive while the Road Shakes! ...

... at Very Late Night, while Feeling Sleepy! ... I Usually Drive at Very Late Night, That`s Why I Had the H.I.D. Lights.
See How some Roads Ended:
(This is a Picture I Took Some Days After, the Yellow Painted Line was the Center -Middle- of the Road, Also some Houses Went Rollin` Downhill)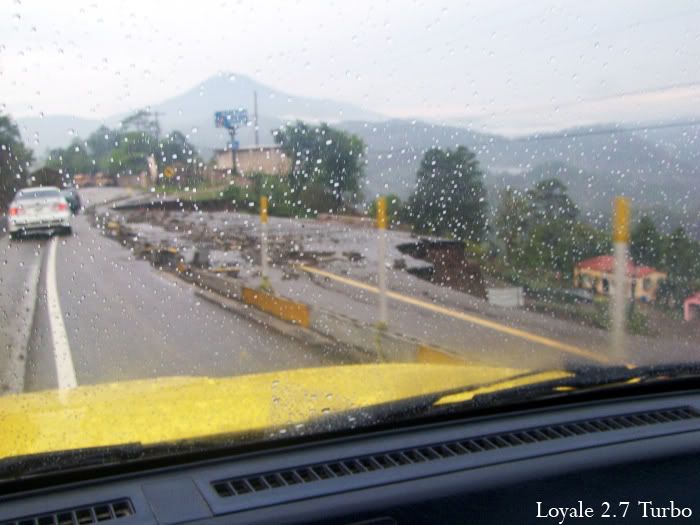 So, Right After the EarthQuake Shaked it All, (Even my Butts, Seated on my Subie) I Decided to Still continue to Drive...
I Was a Li`l Bit Scared, `cos I Was in an Old Road, Within the Woods at Around 2:30 AM of a Tropical Rainy / Stormy Night when the EarthQuake Happened... then I Felt Scary Like I Was in the Middle of Nowhere, So I Choose to Drive

-But Slowly-

`cos I Was Near

-Around 20 Miles-

of my Destination Point.
Some few Miles After, I Had to Cross thru a Pond that had a Hidden

-Under Muddy Waters-

Break / Stones at Some Point ... Both were New Obstacles (Pond & Pavement Break / stones) Due to the EarthQuake...
Then my Subie Fell one Side and had a solid Impact Sound under the Driver`s Front Wheel ...

... I Know that Maybe was a Stupid Idea to Continue Driving, but my Subie Did it!
Then, Almost Reachin` the Town, My Subie Totally Lost the Brakes!

I Was Able to Drive like That, very Slowly and Parked it Outside Home, with Tires Turned to the Sidewalk.
So, the Very Next Day I Checked Everything... I Don`t Know How it Happened, but the e-Brake Parts at the Driver`s Wheel got Damaged, the Small Stick-Like Part that is Pulled by the Cable was Bent; Also All the Brake Fluid was Coming from the Rear of the Caliper`s Piston, so the e-Brake`s Bolt-Like Pin got a Broken O-Ring.
I Just Removed the Parts, Straighten the Bent Stick and used a New O-Ring to Seal the Leak: It Works as Long as I Don`t attach the e-Brake Cable there Again... :-\ ...if Someone Pull the e-Brake Handle, Everything Works Fine but the O-Ring will Break and Leak Again for sure! ...

I am Really Tired of that e-Brake System... it Always have Been considered by me as the Worst Part of My Subie, the only one that I Really Dislike; I Have Fixed it Many Times all these years with the Original Subaru e-Brake Kit

(You Know: Changing the Triangle Shaped Pushing Parts, O-Rings, Boots, etc...)

and it will only Last Working Good for Few Months...
Now I am Thinking that Maybe is Good Idea to Leave my Subie Without e-Brake at All.
So,

The Question is

, Since I Believe that the Whole Wheel`s Brake Assembly is Damaged and I Want to Change it / Swap there a Better one:
Which other Subie Wheel`s Brake Assembly will Fit my Loyale`s one?
in Order to Just Take Out the Original Brake Assembly from the Wheel and Swap there another Brake Assembly that just Fit There without Much Mod and Get Rid of the e-Brake Nightmare.
Any Advice is Very Welcome!

Thank you for Reading Such a Long Post...
Kind Regards.
JesZeK
Edited by Loyale 2.7 Turbo, 10 June 2009 - 02:26 AM.
Read from Post Nº 12 to Understand