Just wondering what the community thinks I might be able to get out of my car if I were to sell it, as I am really contemplating doing so...
87 GL10
-EA82T just rolled over 100k and developed the subaru tic :-\
-Auto to D/R 5spd Swap w/ matching rear diff (open)
-Interior is in good condition only problems are headliner drooping and front door panels have ware at the top
-Intermittent wipers dont work nor do the first 3 blower levels
-New Dueller APT 3's on redrilled nissan rims, also have stock rims + tires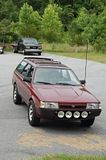 I will probably lift it an inch or so in order to keep the tires from rubbing slightly, and a few other necessary things before I sell it if I do... I will post up more complete pictures tomorrow... I was hoping to list it for $2000 maybe a bit more, what say the community, just right or to much? I am on the east coast (north carolina) so I know the demand isn't to high out here so my asking price may be a bit optimistic...
thanks,
caleb