A couple people asked for this in my last thread. So here it is, my guide to sanding and polishing your yellowed or faded plastic headlights.
What you'll need...
Headlights :-p
Wet/dry sand paper in varying from about 400 to 2000 grit.
A bottle of plastic polish
A small bucket of water or a spray bottle with water
A buffer with a medium or fine cutting pad, and a high speed polishing pad.
Masking tape.
A hand full of clean, dry, cotton cloths
So your headlights look something like this...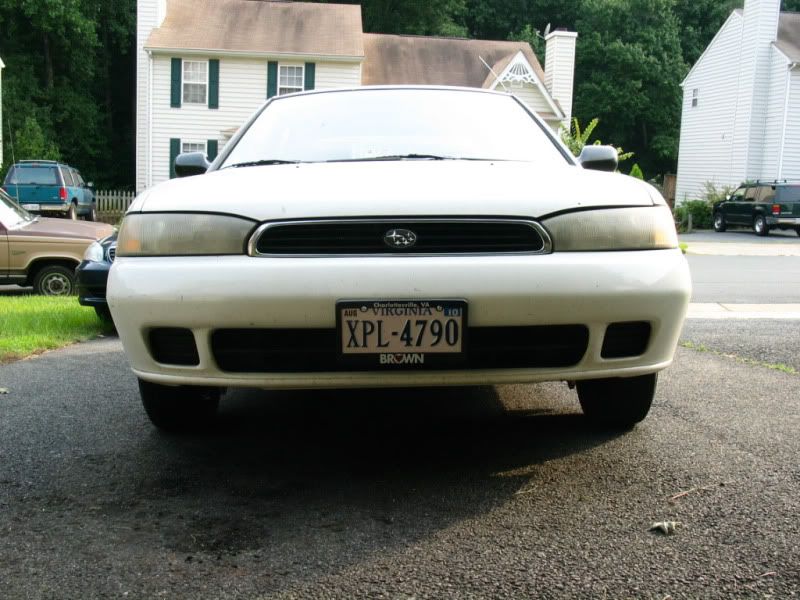 First off, not only does it look bad, but it also cuts the light output of your headlights which can make it hard to see, and even downright dangerous to drive at night. And in several states, lights in this condition will fail safety inspection.
There are several fixes for this. You can replace the headlight assemblies, which can cost hundreds of dollars. You can use toothpaste to clean them up. Or you can use a slightly more permanent solution which is to sand away the oxidation and polish the surface back to a like new shine. Follow this up with an application of a Clear coat safe for use on polycarbonate (plastic), and you get a layer of protection that will last for years without needing any further attention. Most automotive grade clear coats will work for this, but its best to find a knowledgeable supplier in your area to make sure you get the correct type of product. There are some hobby/model grade clear coat sprays that I've used and seem to work well, but how long they last I can't say since the vehicles they were used on were not around for very long afterwards.
I'm mostly going to cover the sanding and polishing in this writeup.
To start, you want to clean the headlights. Bugs, dust, road grime, stuff like that should be removed so that that you don't contaminate your sand paper.
Next mask off the area around the light with masking tape. Any kind of painters tape will work, I used purple because it was the first thing I grabbed out of my shed. You want to mask everything up to about 3 inches away from the edges of the lens. You may want to double up the tape in the areas immediately surrounding the lens.
I have the grille removed here, because the bolts holding the headlight housings in all needed to be tightened.
I started out with 400 grit 3M paper. Dunk the paper into your bucket of water or soak it with a spray bottle and get it good and wet. Spray some water on the surface of the lens and start sanding. Wet sanding keeps the sanding scratches uniform across the surface, it also washes away the dust that comes off when sanding so your paper doesn't get "clogged". You can't really sand with dust. Keeping plenty of water on the lens will make it easier to sand and keep the paper clean. You'll see the water almost immediately start to turn a milky yellowish color.
That is the oxidation being removed from the surface. Eventually this will start to turn white.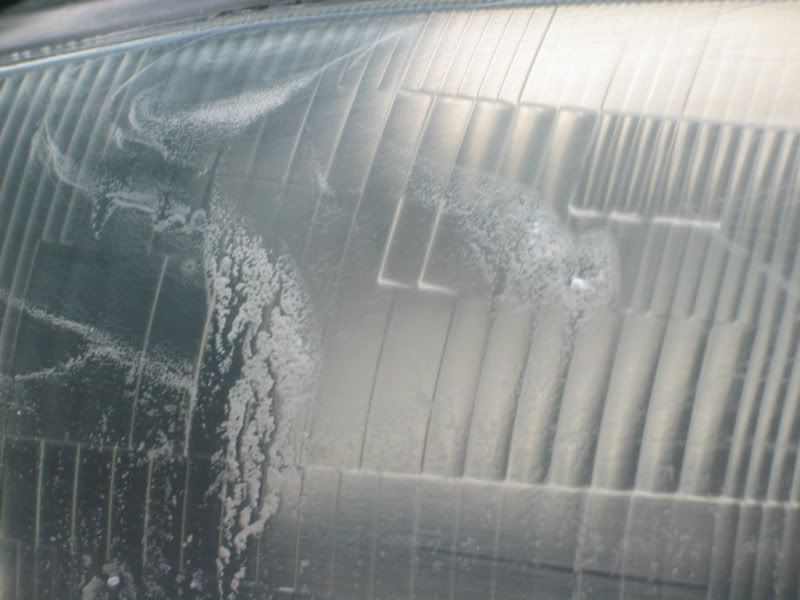 The white is clean plastic. You want to work your way around the light and continue to sand until you get rid of all of the yellow.
When you've finally made it down to clean plastic wipe the lens off with one of the rags and move on to the next (finer) grit of sand paper.
You'll have something about like this on your lens... These next few pics didn't turn out very well. I couldn't get the camera to focus on the scratches well enough to show a lot of detail.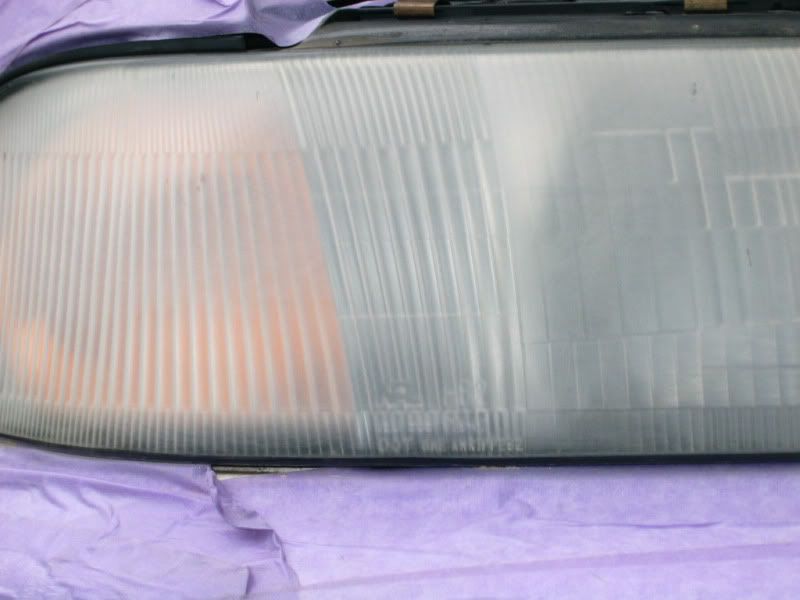 Your second paper should be in the 800 - 1000 grit range. I used 3M 1000 grit wet/dry. The idea here is to completely remove all of the scratches made by the course paper used before. Same basic procedure, sand around the light until the surface is uniformly covered in the marks of the finer paper. The surface will start to feel smooth under the paper when you start to get through the scratches.
Wipe the lens clean from time to time to check your progress, and see if you've made it all the way through the scratches from the previous paper.
Again once you've made it through switch to the next finer paper. You can make a pass with 1500 grit if you'd like. I jumped right to 2000 to finish off the sanding. Remember to keep the paper and lens wet.
You should end up with a very fine scratch pattern. With no evidence of the previous scratches showing through.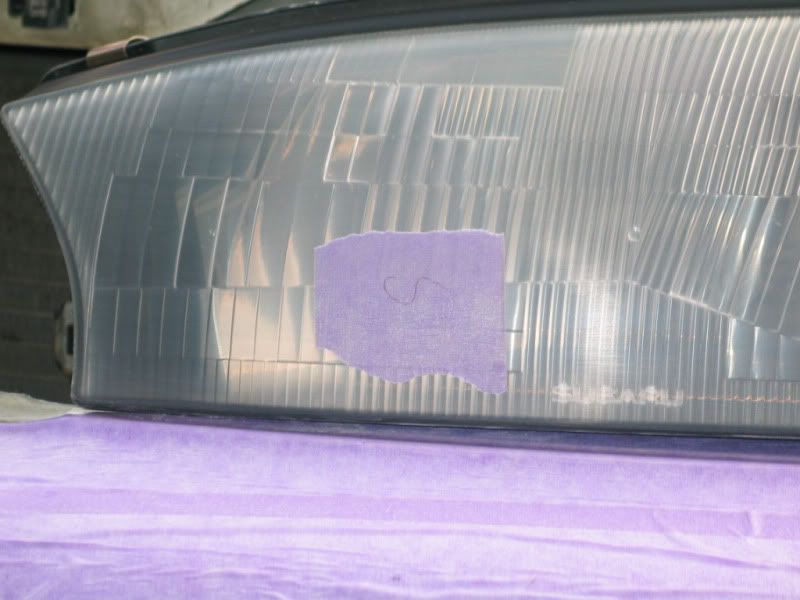 I used the tape to give the camera something to focus on. If you look closely you can see on the left side of the pic where there are some slight marks left over from the previous paper. It started to rain on me so I had to kinda hurry up.
Wipe it dry and put a bead of polish across the front of the lens. I used Meguiars PlastX. There are plenty of other plastic polishes out there. This is a product that I' have a lot of experience with and I know it works well. Its also often less expensive than other polishes and has a few conditioners added to it to help keep the plastic clean for longer after use.
Now time to break out the buffer. I used the cutting pad first on fairly low speed to spread the polish around on the lens. Once the lens is evenly coated you can increase your speed to medium speed. Continuously move across the light from side to side and top to bottom. Don't rest in one place too long or you risk melting the surface of the lens. Buff until the polish has dried away. Switch to your fine polishing pad and repeat the process, only jump up to a higher speed with the buffer. (about 2500 rpm should be plenty. Don't want too much heat here.)
This will be your end result.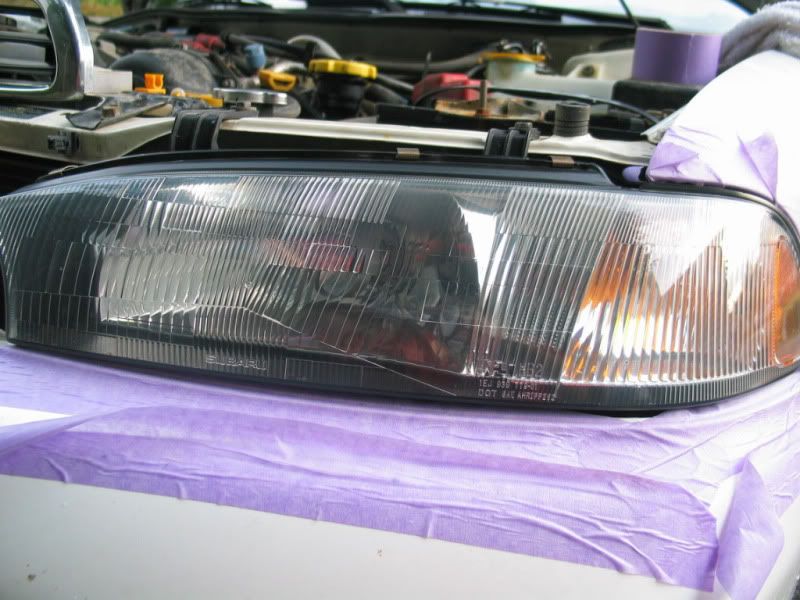 The surface will be shiny and free of any deep scratch marks. This should only take two passes with a buffer. If the surface comes out hazy looking, use a finer polishing pad. If you can still see scratch marks from the sanding, re-sand using at least 2000 grit paper and re-polish.
Now you can take this whole thing a step further like I mentioned before and spray the lights with a clear coat. There are also some kits out there that have a wipe on sealer included that should work fairly well. If you want to do the clear coat, I'd recommend removing the light assembly from the car. Clean it with wax remover or alcohol. And spray it somewhere that dust wont get all over the lens. Be very careful not to get runs, because they will distort the light output and may cause the beam to reflect somewhere that its not supposed to. (such as into other drivers eyes) Do two to three coats, and allow about 48 hours for the clear to fully cure. You want the surface to be as smooth as possible. If you can see an orange peel like look on the surface, wet sand the lens with 2000 grit paper and polish with a finishing compound. (3M Finesse It works awesome for this).
Edited by Fairtax4me, 11 August 2009 - 10:55 PM.