Yet another post from me, but I have installed manual steering in my '90 Loyale. Grabbed a variable ratio manual rack from a junkyard '86 DL. Paid $45 for the rack itself, and then an additional $11 or so for the new belts. The manual rack has about 222K on it, which is similar to what my transmission has. My car's body has 262K, and my engine has 117K. I was surprised I managed to install it in one day (although it took me about 8 hours), since there were a few problems along the way and I took a bunch of breaks.
My power steering was leaking and making noises (probably air in the system), so something needed to be replaced anyways. My old EA81 had manual steering, and I missed it. So, I told myself that I would install a manual rack when the opportunity arises, and it did.

Mostly just a bolt-in swap. I unknowingly didn't have the right alternator bracket, so the belts didn't fit properly. Luckily, I had the other kind of bracket in my garage and I got it to work (I think it's bolted on right). The swap totally screwed with my alignment, even though I was trying to be careful with keeping the steering wheel and wheels straight (even on the parts car). Without string or two tape measures, I just had to eyeball it. My first judgement was slightly off. I just kept driving, adjusting, driving, adjusting, driving, adjusting, etc. I've got it to a point where it's almost perfect. When I'm accelerating, it pulls slightly to the left; when I'm coasting, it pulls slightly to the right. On average, it goes straight.

Not to mention that slight differences in the road cause the car to pull on way or the other (e.g. if the road is banked, the car will pull to the downhill side). So it's kinda hard to get it perfectly straight.
This basically completes my "DL conversion." I don't have the quad headlights or the minimal instrument cluster (without tach, voltmeter, oil pressure). But otherwise, I've basically got a DL now. Non-turbo, manual windows, manual mirrors (fender mirrors), manual steering, manual tranny (D/R 4WD; not a DL option, but whatever), non-intermittent wipers, no A/C, no hill holder, and manual seatbelts. When I get a chance, I'm going to install rear discs, but just like the D/R tranny, why not install it?
Without A/C and P/S, look at all that room in the engine compartment!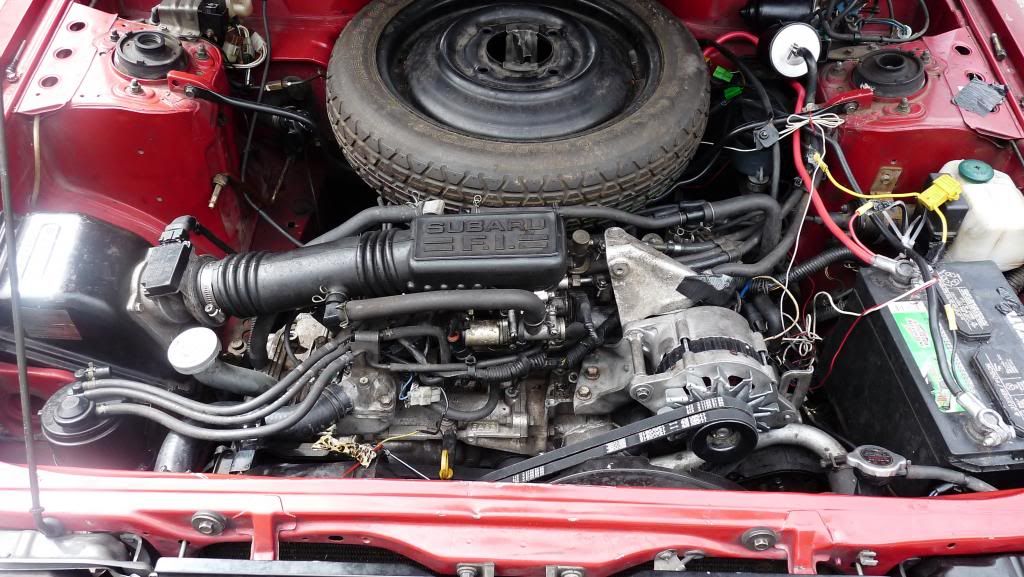 Edited by jj421, 26 June 2013 - 01:46 PM.