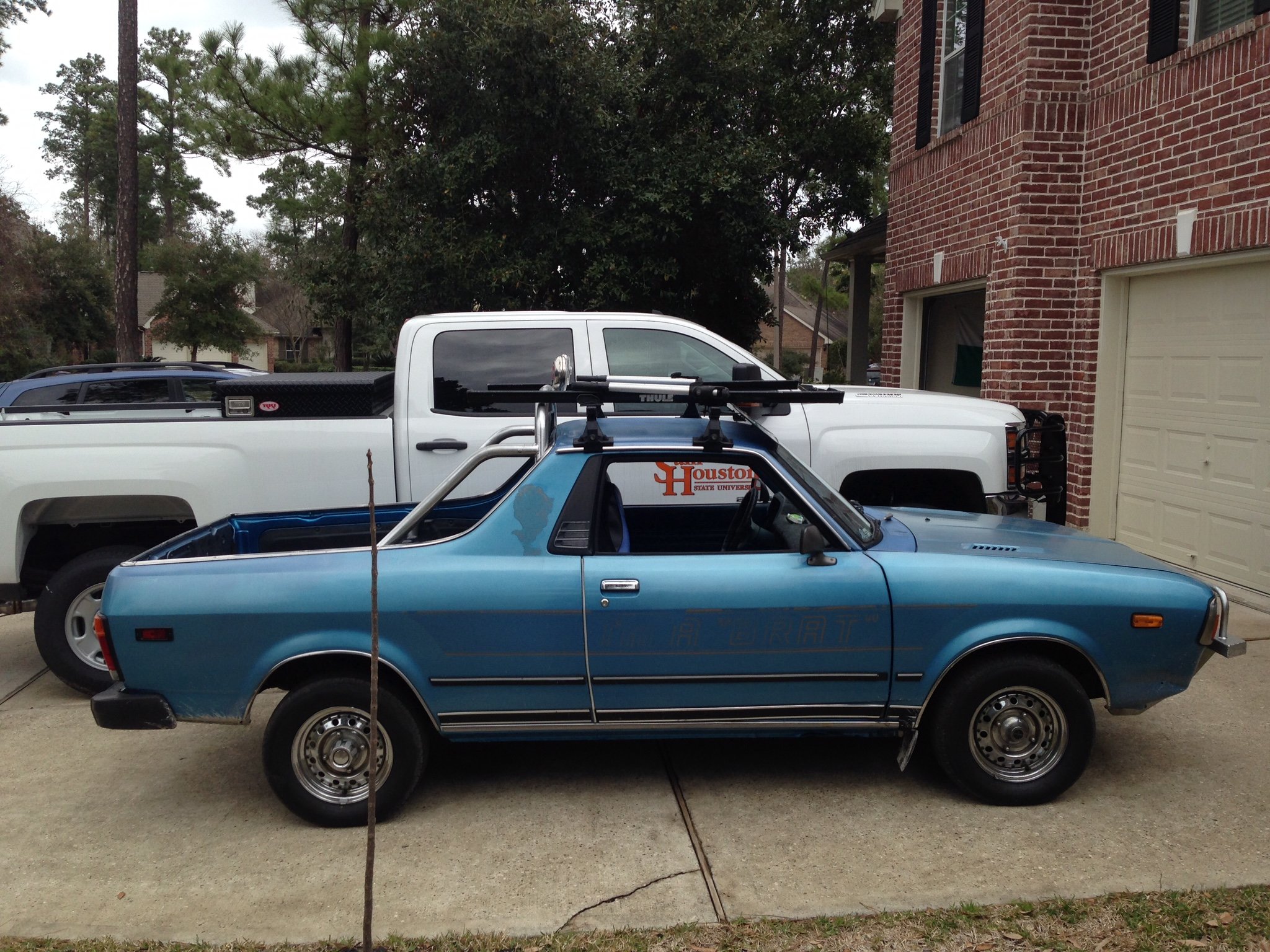 Posts

45

Joined

Last visited

Days Won

3
Profile Information
Gender
Location
Referral
Biography
Vehicles
TXJayhawk's Achievements

Advanced Member (3/11)
2

2

Bearings were done in May so all good! I drove it to the dump with yard clippings-looks like they tried the spare hubs and rotors as a used pair was in my parts box in the cab. It is driveable-just passed the safety inspection. I have a vented rotor set and used hubs and calipers from a 1983 Brat if needed in the future.

So just got this back from the mechanics who did the brake work in the spring. The front rotors were still pulsing so I had them take another try to fix it. They had it since July 5! In the end, they didnt charge me anything and they were not able to get the rotors turned. I think it just sat in their lot for five fricking months! Sorry for griping but WTF! They claimed that this model needs to have the rotors turned while on the car? Is that true?

Looks like a project! Just got my 81 back from the mechanic. Second time trying to get the shimmy out of the front rotors. Little bit better but still giving plenty of room to cars in front of me. I replaced all the brake lines with new ones (got off Rock Auto). Calipers are super rare but you can always upgrade to new hubs, rotors, calipers from a GEN2 as those parts are (may) still be available. I

I got them in 2004 when I bought a used BRAT for parts off a guy in Jacksonville Fl at the NAS. See photo below for picture of the side rails on the parts BRAT THey are the original ones that SOA sold. He had them on his BRAT. I dont know of any other way to mount them other than drilling. I am in the process of respraying the paint so now would be the time to go ahead and mount them. They have been sitting on a shelf for 17 years and are in great shape.

Has anyone added the OEM stainless steel side rail bars to the 1st generation BRAT? Do you just use stainless sheet metal screws and predrill to get started? And neoprene rubber under the feet. These are the original aftermarket ones that SOA sold.

Going with the all blue with black rockers rough primed still needs fine putty work finish fine area prime then paint and decals

My 81 Brat is back from the mechanics with lots of new parts-brakes, steering, suspension, electrical. Still drives like a 40 yr old Subaru! Time for a respray of the original faded in areas (hood mostly) Blue paint. I have bought Eastwood GM Mulsanne Blue but am thinking of also spraying the tailgate, hood center bulge and side vents, and roof (A pillars and area above chrome side rails) and fender bulges gloss black to match the roll bar, front brush guard, lower valence, and rocker panels (which are in Rocker panel black textured paint to hide the rust repairs). Question is stick with the blue all over or add the two tone blue and black?

Yes it's a very old Thule rack which I bought originally for my 87 GL wagon , mounts to the rain gutters

Currently at the mechanic (just waiting on a new fuse box), all new brakes front and rear, including calipers, brake hoses, brake pads, hardware, rear wheel cylinders, drum linings, master cylinder), new suspension bushings (sway bar, lower control arm to rear cross member), new rubber coupler, new steering rack, alignment; rewire the fuel pump properly, bypass the broken hazard switch with a rocker switch, and new modern style fuse box in place of the old glass style. Was it expensive? Yes, but having owned it for 22 years, hopefully another 22 will make it all worth it! Next up, filling in all the little scratches and a home done paint job (Eastwood Mulsanne Blue flake), original Brat decals, and original aftermarket chrome side rails to be installed. Todd in Dallas has wheels, stripe kit, and seats that I need to pick up soon and then it will be done for now.

Just did the clean and pinch trick with the fuse holders for my 81 Brat and it worked great. Was going to swap in a new style fuse box but will save that for later. everything electrical is now working and lights aren't going off randomly -just in time for the annual safety inspection.