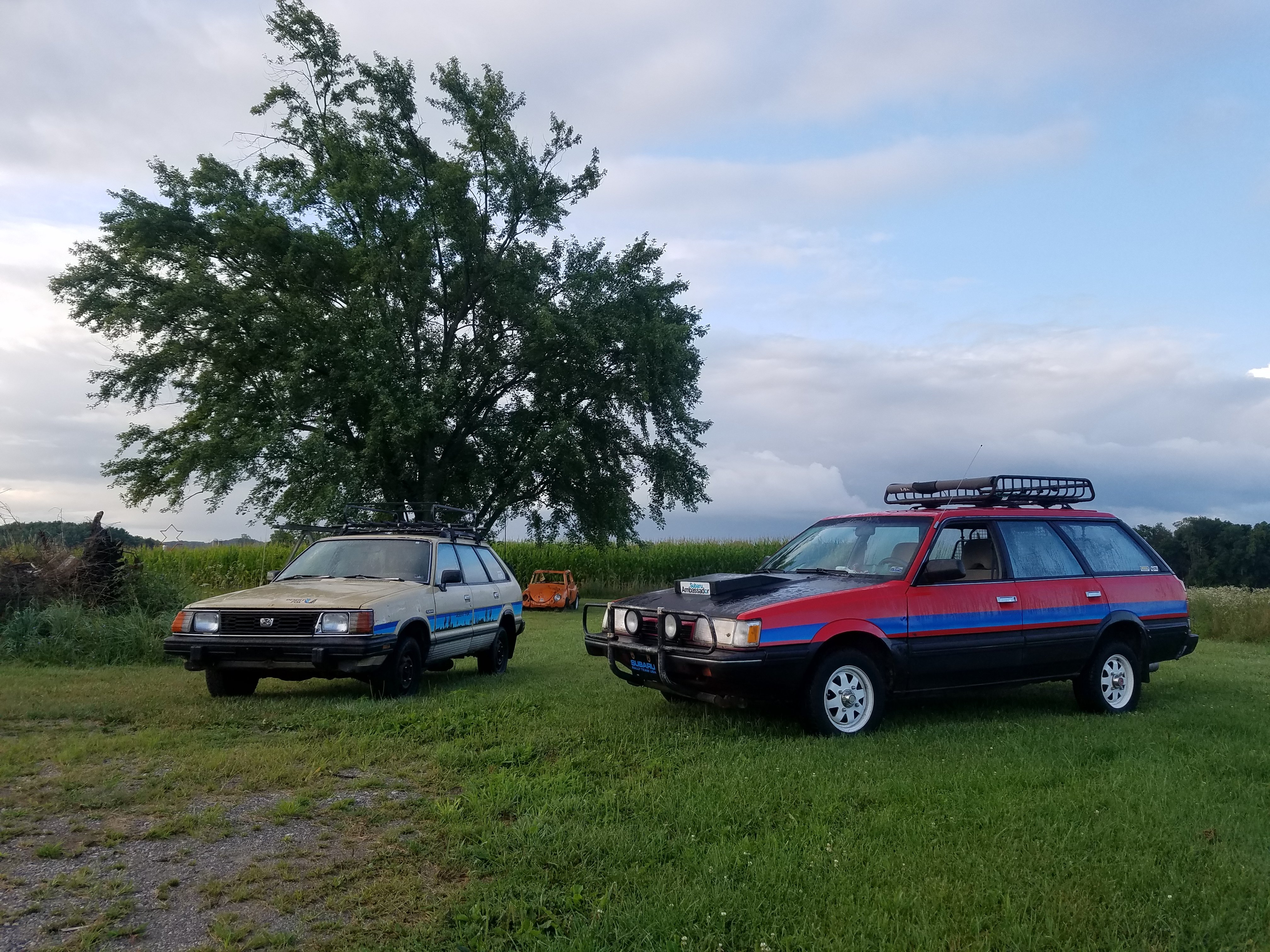 Content count

28

Joined

Last visited

Days Won

3
Community Reputation
10
Good
About GrizzlyFox
Rank

Member


Birthday

November 22
Profile Information
Gender
Location
Occupation

Automotive service technician

Referral
Biography

Mechanical_misfit before the last forum update. Western Michigan old school Subaru stuff and anything rad.

Vehicles

69 360, 84 dl, 88 gl, 77 dodge m880
Recent Profile Visitors
The recent visitors block is disabled and is not being shown to other users.
Good info Mack! Keep me updated. In trying to find time to get over to the junkyard and grab the proper distributor.

Well, looks like a carb disty is on my list along with the Weber. I will report back with my results.

Any ideas on hooking up a carb disty? I assume it has a completely different type of control module. I couldn't find any relevant data on our shop computer. I would like to swap a carb disty in place of the spfi one if I do continue to keep the carb in place.

The car has seemed happiest at about 12 deg timing. The spfi distributor does not have a vacuum advance. Fuel pressure is regulated to 7psi if I remember correctly. It no longer has the stock pump, but an aftermarket inline unit with an old school adjustable regulator. I think I'm going to check with the junkyard here locally and see what they're gonna charge me for an intake, throttle body, and the other spfi pieces and compare from there. The easier solution will be a carb at this point, I believe the return fuel line is cut off, and I'll probably need a new fuel pump as well.

Just did some digging on our shops Alldata manual, and it does say that the ecm controls timing using signals from both the crank angle sensor in the distributor and the throttle position sensor. It also mentions going into a fail safe mode, which makes sense. I guess that couls mean it won't advance timing under load without an input from the tps. I wonder if the MAF would play a role in timing control as well.

I've wondered about it going into a limp mode, but haven't been able to find any info on that while searching. Also, given that its slowly developed the current carb issues, i figured the disty and ecm were still happy to cooperate. I shouldn't have said that all sensors are missing. , the coolant temp sensor is still there.

Good to hear from someone who has some seat time in a carbed auto car. I've had autos, and carbs, but never a car that was both. It seems that my 3at spfi loyale wagon was a pretty capable highway runner despite the high rpm. It's also an option to find and install all the spfi stuff, but given the age and availability I think the Weber might be more economical and easier to service. I am still using the spfi distributor and computer, just with every other sensor disabled and missing. It was that way when I found it. Fuel pump is wired to a relay and switch. Before the current carb issues, the car had no issues keeping up with traffic. I just would like a little more get up and go.

I've always wanted one too. Very cool little rig.

Hey gang, So as of now, my 88 GL wagon, aka Mountain Grizzly Mk2, is my daily driver. I have owned the for some time now and have been slowly upgrading it to better suit my needs, and as things have worn out I've tried to retrofit and overall improve on it. When I got the car, it had way too much carburetor, a 600cfm 4 barrel. It was originally spfi. I used an ea81 intake and carb that I had kicking around to make it more driveable, then swapped to an ea82 carb and intake in hopes of better performance. Now about a year later, the new old stock carb I used is giving me some trouble, and I think before I bother with a rebuild it may be time to swap to the Weber. My main hold up is wondering if I will see a decent gain in performance. The car being a 3at is hopelessly slow, and I'm wondering if my money is better spent swapping in the 5 speed. I have a source for parts but nothing on hand for the swap. I'm not looking for a hot rod, but just something that will do 65mph without taking forever to get there. As it is now, the car is struggling to maintain speed climbing small hills, and has to be driven at full throttle most of the time to hold a steady 55mph. More info on the car itself. 195/60/15 winter force 2 tires, 6 lug swapped. Engine is originally an spfi ea82, xt6 pistons, full rebuild around 30k miles ago. Delta cams, 2.25 in exhaust from the header back to a turbo muffler. Engine is making a solid 20in vac at idle

Weighing my options for a Weber swap. The ea82 carb seems to be down on power and has decided to no longer want to idle when cold. No obvious vacuum leaks but I haven't had time to look more closely. Also, when was the last time you saw an 88 towing a 68? I had to get rid of our 360 shell because we are planning a long distance move and didn't want to haul it with us. I gave it to my boss who is into micro cars and will do something with it. Still very happy with this car. It does every thing I ask. Commute, plow, tow, and get us out into the woods.

The 854 tempo springs have no issues holding the weight of the snow plow! Can't wait for more snow to try it out. Not that I really want any more snow.

Nice looking right, and it sounds like it will be all sorted out when you pick it up.

Car alarm ? I leave the keys in mine. If any thief can figure out how to start it, they can keep the cold blooded old rust bucket. Seriously though, a hidden starter switch or fuel pump switch is my best recommendation. That and don't leave it locked, or any thing worth stealing in the car.

Here are some extra pics of the Grizzly this summer. It's been a great little chase car for our camping trips. Until money and opportunity permits, we have to take two vehicles on our trips because they're not enough seatbelts or room in the cab of my old Dodge. I am holding out hope I can find a 70s club or crew cab dodge to haul my camper.

I ended up installing my new springs this evening. I did not reinstall my upper strut lift because the stiffer springs make up for them. I actually think the front sits higher now with the new springs than it did with the old ones plus the lift blocks. The maiden voyage as far as snow plowing was Sunday morning. We had some pretty wet snow, maybe 3 inches. The car was able to push my long drive way without issue. Problem being the antique superwinch died. I have since picked up a harbor freight winch today, but have to reengineer my winch mount and wire it all up. I also have to build some kind of light bar to mount some headlights and turn signals to get them above the plow when it's raised up. Overall, I'm so happy and proud of how far this little car has come. It is a true Swiss army knife vehicle.