Hey all,
I was reading an email that Gary Gross sent me about how easy it was to install an MSD fuel pump on his XT6. This same fuel pump I have on one of my XT6s but I didn't see how it was installed. I just purchased it and had it installed, not knowing the modifications involved. Gary said the fitment of this pump in the XT6s place was excellent. The only thing that had to be changed was to crimp the electrical connections.
A light went on in my head and I looked into my FSMs for the RX turbo and the XT6. Turns out the stock fuel pump for both cars are EXACTLY the same. Same capacity (60L or 15.9 US gal or 13.2 Imp gal), Same Location, Same Type (Electromagnetic pin roller), same discharge pressure, same Flow (95L or 20.9 gal), same EVERYTHING. The pump we both have on our XT6s is this:
http://store.summitr...p&part=MSD-2225
It's an MSD inline (external) fuel pump rated for 43 GPH.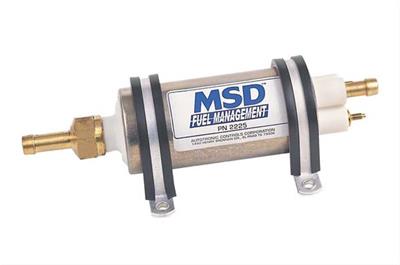 If I'm right, it won't be a direct bolt in but with some slight modification it should be able to fit our EA82Ts as well. I'm almost confident about it. At least this is one part of the fuel system I won't have to worry about.
"Made in the U.S.A., the pumps are ideal as "boosters" for nitrous oxide applications, or as stand-alone pumps for multi-port EFI systems on engines up to approximately 500 HP."