Headed over to Scoobyclimb's neck of the woods.
Went up Peavine rd. (spelling?) headed for the coast range.
It was kinda icy in spots but not too bad. Till we came across a Bronco in the ditch.
Tried to get it out but they had blown up it's drivetrain at some point. And had bald tires. (seemed to not be going into gear, or could have been the clutch)
Yanked and dug for proly about an hour (give or take) but could not get it to pop out of the rut.
A large bulldozer of a truck showed up and got them out and into a turnout.
So we went on our way.
I got in a nice powerslide at an intersection that even got the front inside wheel in the air. (wierd bump in the corner and it was uphill) I wonder if Scooby saw it in his rearview.
The road got gradually more slick at that point. Still no biggie though.
Made it up to a pretty high point but not to the top like we wanted.
The snow was just too nasty. About an inch of powder with almost a foot of wet icy stuff you could stand on but a sube couldn't. So it was kinda like driving through wet cement.
Got a couple pics though.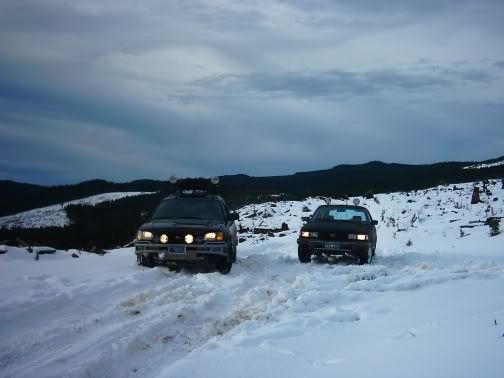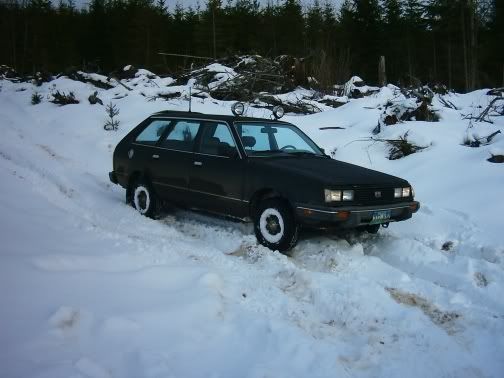 Still had some fun though. Just seemed like there were alot of people up there that should not have been. On the way down we came across a couple cars trying to get up a hill. (they had no chance)
I think it was an old Accord, and an Olds Alero.
All young kids. And I noticed very bald tires on both.
We pushed their cars around so they were pointing back down hill and told them to go home. It got deep just up the road from where they were getting stuck. They thanked us for the warning and help and we were on our way again.
Overall an interesting day. No chains or pulling on each other's cars was required.