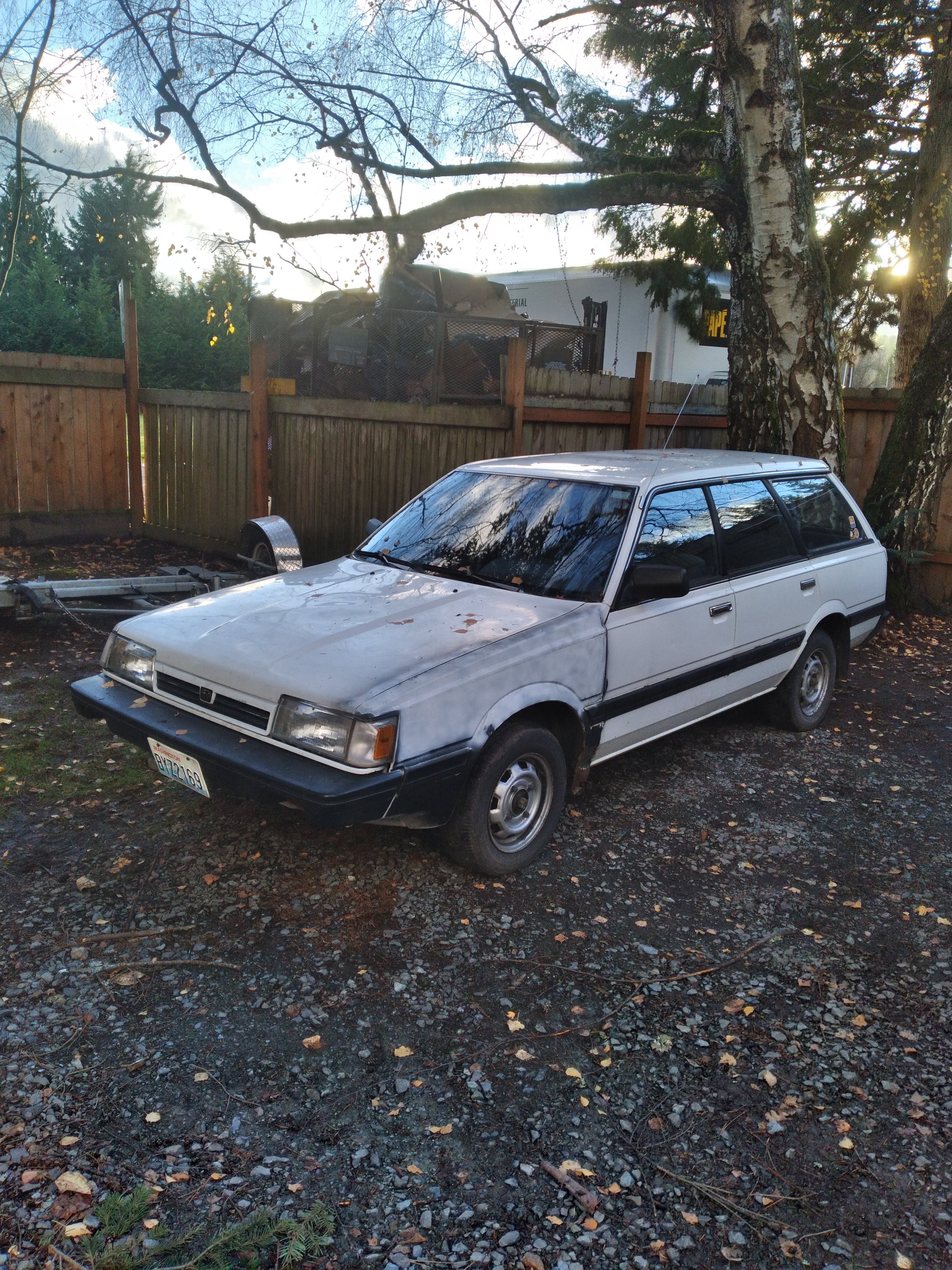 Posts

9

Joined

Last visited
Profile Information
Gender
Location
Occupation
Referral
Biography

I'm a 19 year old high school graduate with a white 1992 subaru loyale wagon

Vehicles
Recent Profile Visitors
The recent visitors block is disabled and is not being shown to other users.
J41YD3D.'s Achievements

Newbie (1/11)
Hello everyone, I have something simple I need help with. I rubbed a fence on the passenger side ripping off the passenger rear quarter cladding and I'm not sure how to put in back on. The clips are still intact but the trim has come off completely. What do I do, someone help me! My car went from vintage to shot box in a matter of seconds. Thank you everyone, enjoy the rest of your day!

It definitely was and to make matters worst I had the 2nd cylinder and the 4th spark plug wires mixed up. She runs no problem now. I guess that's why many people didn't respond because they realized I was an idiot soon to figure it out lol.

Recently I pulled and resealed the whole ea82 engine in my 92 loyale wagon. I have since put the engine back in and buttoned up the engine, but I haven't had any luck starting it. I realized my mistake first off, the timing was way of. I set the passenger side and driver side camshafts to 12 o' clock. After watching miles fox on YouTube I'm pretty sure I have that issue fixed. However, I set the timing to the middle mark of the three marks on the flywheel. I started the timing with the drivers side setting it to 12 o' clock then putting the belt on and rotating it 180 degrees so now it's at 6 o' clock. Then I moved to the passenger side set it to 12 o' clock, put the timing belt on and proceeded to rotate it 180 degrees. After that I set the distributor to the first cylinder, while on the center mark on the fly wheel. I then rotated the engine until I got to the 0 mark on the flywheel but the cams where no longer at the top and bottom but I didn't think much of. I thought I was solid so I put the motor back together and tried turning it over to no avail, played with the distributor for a while to no avail. I know I'm getting spark and fuel. Cranking it doesn't give an uneven sound like it's only running on a few cylinders. It's even all the way through. I smell gas after cranking it and I backfiring through the intake. This is the first time I've ever rebuilt an engine so I need so help I'm lost. Cheers!

I'm in the process of rebuilding my EA82, I tore it apart after having a blown head gasket and decided to replace all gaskets and everything that looked like it'd give me trouble later down the road. I just started rebuilding the left side of the engine standing in front of it. I put the head gaskets on after having the block cleaned and these resurfaced, and cleaned all the head bolts to reuse them. Started putting the bolts back in to discover I have somehow only 4 short bolts, but there are 6 spots for the short bolts. It took me a second to figure this out as I thought the treads were bad, tapping them over and over again only to realize I'm not getting stuck but bottoming out in the hole. The long bolts don't sit flush in the more shallow hole. I don't understand how I have too many long bolts but I was wondering if there's anywhere I can buy just the short bolts? If I need to I'll buy a whole set but I know for a fact I only used the short bolts on the other side in the 3 middle holes. I've searched everywhere for head bolts for the EA82 but to no avail. If anyone could help I would really appreciate it. Thank you for your time, have a great night!

I have another question, I was worried that I might mess something up removing the heads out of time. So I should be fine just removing the heads, and If so, can I turn the cam pulley back to where it is in time? Does I need to spin so many times before it's back in time? What's the process? I appreciate the help, thank you for your time.

I didn't mention this before but the engine only has 156xxx on it, but your saying to just focus on the head gaskets? How long do the rings and bearings typically last? I'm guessing it's quite the process to split the block, should I worry about anything else while the motor is out? Thank you for your time.

I'm currently rebuilding my ea82 out of my loyale. This will be the first engine I've ever rebuilt. It was supposed to be just a head gasket job but I thought if I pull the engine I might as well do it all while it's out. The task at the moment is tearing down the front of the engine. I set it to tdc with the three marks and I took the crank pulley off. Everything is still in time but when I was pulling the cam pulley on the driver's side I managed to knock it off time and I cannot put it back in time because the compression from the cylinder stops me from doing so. I don't really know what to do now, I had the idea of just continuing to spin it until the marks line up again but I'm not sure how many times I'd need to do that. I really have no clue where to continue from, can I get some help??

I was not aware that these vehicle were front wheel drive if not in 4WD. I'll make sure to check that out.

Hi, I picked this rig up a few months ago and just figured out its "stuck" in 4wd. I pushed the button to disengage the 4wd only to be left with a motionless vehicle. If it's not in 4wd it doesn't move. I was hoping that it wasn't as serious as needing a whole new transmission but I've tired everything I could find on these old forums. I've tired going to the mechanism that activates the 4wd and that's actually about it. If theres anything, please help me! Thank you for your time!