A.M.E.C. will be holding a "high" speed autocross on the pavement of Albany Saratoga Speedway 4/10ths mile oval on November 7th. This is not your usual parking lot deal with tight gates and twisty corners. This is for people who like to open it up and carry some speed through the pylon gates as they traverse the recently uncovered asphalt in Malta.
When
: Saturday November 7th 2009 (rain date November 8th) Registration opens at 8 AM. First car off at 10 AM.
Where
: Malta, NY - on Albany Saratoga Speedway's Paved oval!
Why
: Because AMEC used to put on some of the most well attended fastest autocrosses around at Albany Saratoga Speedway. This was from the late 60's until about 1976 when they covered the track with clay. "Back in the day" AMEC would pull 80 entrants to an autocross when other clubs running in parking lots were getting 30 mostly because of the venue. The course will be simple and fast, yet challenging. You will get 2 laps per run with a few gates here and there and a slalom on one straight away. A minimum of 3 runs per car and more if we can fit them in. We'll run right until dusk.
To give you an idea of the course, take a look at a pic from one of our events in the late 1960's: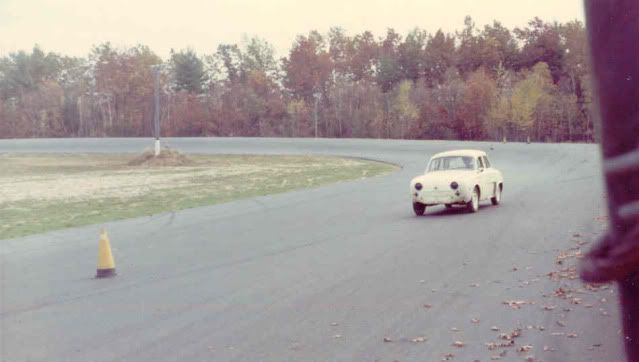 Scoring
: Will be with an electronic scoring system.
Cost
: $40 per driver. Spectator admission is free.
What to bring
: any car that is safe to drive, street car, or race car, a helmet built in the last 15 years. Once again, spectator admission is
free
so bring your family and have fun watching from the grandstands. The track will have food for sale and bathrooms.
Awards
: Yup we will have trophies, this is a fun event. There are no year-end points battles so you can come for fun and will get a trophy if you do well in your class.
Classes
: There will be a minimal number of classes for ease of registration and classing:
1. Stock Up to 2.5 liters
2. Stock Over 2.5 liters
3. Prepared Up to 2.5 liters
4. Prepared Over 2.5 liters
5. Modified Up to 2.5 liters
6. Modified Over 2.5 liters
7. Open Class - Open wheel and home built race cars
STOCK- Street driven with no modifications. Air filter and intake, cat back exhaust or coffee can muffler allowed.
PREPARED- Street driven with modifications to the engine and or suspension.
MODIFIED - All other street type vehicles. Anything with DOT "R" compound tires. All turbo cars.
OPEN - Open wheel and home built race cars.
Pre-register
: If you would like to attend please let us know, this is an expensive day of fun for our club and we need a certain number of participants to break even. To let us know if you will be coming send an E mail to Dave Burnham at racing48 [at) nycap.rr (dot] com or call him at 518 875 6956.
Edited by Mike Kamm, 03 October 2009 - 06:57 PM.