Hello all,
So as of a few weeks ago, the idle on my '86 Brat dropped so low (to less than 100) that she'd stall after a couple of seconds at idle. However, when driving, performance is normal.
I Imagine I'm going to have to take a look at the carb, there are various leaks, and I'm sure it's got a lot of gunk stuck in emulsion tubes...etc.. While I've never rebuilt / cleaned out a carb before, I know someone who's very good at it, and that will be helping me.
Until then though, did some experimentation and developed a little quick fix that I'm not quite sure about being legit, but the result is an idle of about 1000.
Here's what I did: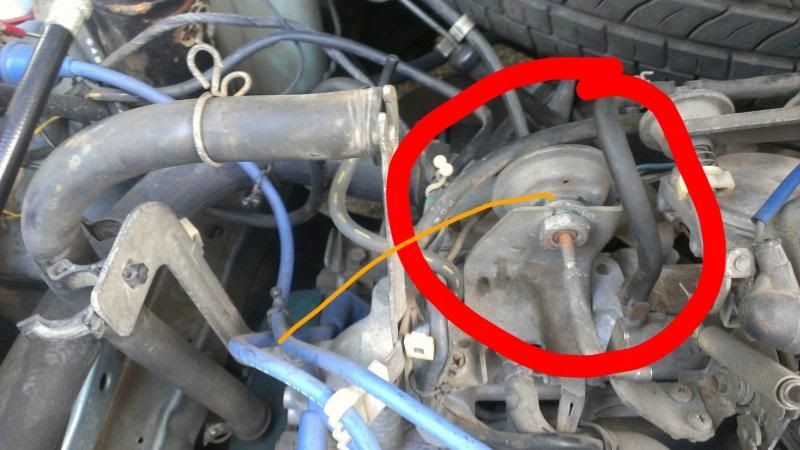 In the picture above, noticed that there's a vacuum hose attached to some kind of thing-a-majiger (circled) that when the car is on, opens the throttle a bit.
To get the car to idle again, basically fooled around with this, so that it opens the throttle more. Ended up moving the washer (orange arrow) to the other side of the bracket holding it and loosening the nut to shorten the arm that pulls on the throttle. Now it idles at about 1000.
So my questions are:
... what is this thing?
...Is it part of the idle control? It was just a wild guess to adjust it like that.
...Is it safe for the engine to do this until I'm able to clean out the carb?
...and are there any other reasons why that would be causing her not to idle, but perform fairly well when driving?
Thanks guys!
Edited by belacane, 09 August 2013 - 09:29 PM.