I did it,
one of the experiences of my life.
I can't say it was easy, but it's finished and I learned a lot.
Here are the pics, start to finish, what began as a quick business car to flip turned in to a personal car that I loved and of course a love/hate relationship.
More towards the end of all this, a buddy wanted me to acquire his '86 Brat which I converted with a 5-speed DR trans and I ended up selling that car before I completed and got rid of this old '83! (which had actually been sold first) Both Brats underwent almost complete mechanical swaps/rebuilds in the end.
I drove this '83 Brat on three transmissions and two engines: a bad auto trans, an '81 single-range 4-speed manual w/ small clutch (put about 25K miles on that), and an '84 dual-range 4-speed manual w/ large clutch.
I sorted through the pics so they are generally chronological, mostly..
I could have taken many more pics of many more steps, but I was focused and taking things just one step at a time. In hindsight, nobody should ever try what I did on a car so gone of such little value, the thing was swiss cheese for real... Originally I got the car free basically, in the end what did I make $2/hr for all my labor? haha
But love is what makes a Subaru, and some experiences can't be matched
At first was going to sell it, then for a long time it was a personal car of mine I thought I needed to keep, then I acquired the '86 Brat and was going to sell this one again, then the kid who found me and wanted to buy this contracted me to finish the body/paint work and basically finish everything before I gave him the car back.. so in the end I completed the full start to finish of the project all on my own, only some help from a mechanic friend a little at times i was going mechanical swaps/wiring.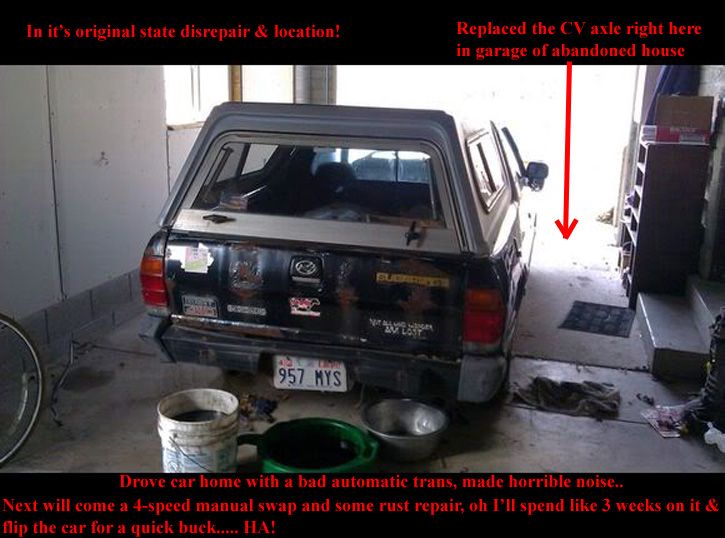 Not All Who Wander Are Lost - by J. R. R. Tolkien was a sticker on the original tailgate of this original old Brat which had over 20 owners I think who had put it through a lot over the years!